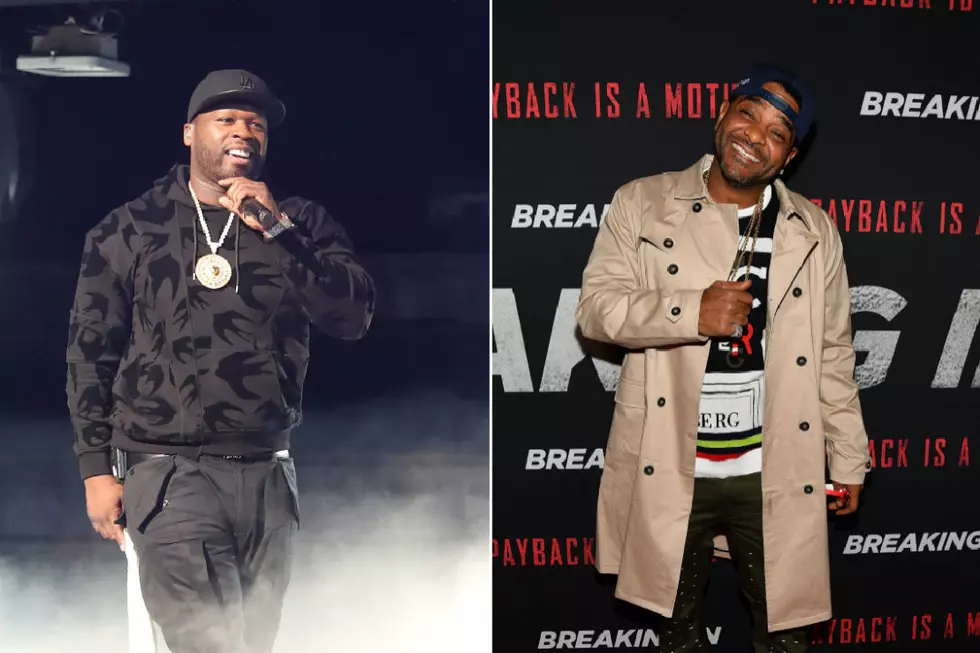 50 Cent and Jim Jones Trade Shots on Instagram
Cindy Ord / Paras Griffin, Getty Images (2)
50 Cent is a different type of petty. At any moment, anyone can get it. On Friday (Oct. 12), he set his sights on Jim Jones, clowning the Dipset rapper on social media, and Capo returned fire.
Fif appeared to set it off when he posted a photo of Jimmy on Instagram. The unflattering picture shows the Harlem MC in mid-blink and appearing to just be waking up. "This is jimmys old Mangy dog Drip. LOL making Harlem look bad ‍♂️," Curtis captioned the post. The Queens rapper also clowned Jim's Vamp Life apparel in another post, calling it knockoff.
It didn't take long before Jones got wind of the jab and posted his reply. Uploading photos of 50 in very close facial proximity to Floyd Mayweather and The Game, he captioned pics, "I ain't taking no more pics wit u Booboo wht is u doin baaaaby lol this is becoming a pattern stop cheekin nighas thts why u ain't got no friends now. Ps u sure u wanna do this today cause I'm up."
He also found a photo of Power actor Omari Hardwick sharing a laugh with 50 while he kisses him on the temple and used the opportunity to pounce. "At Booboo I know power is a dope show but now I'm curious of how he got his lead part," Capo questioned. "I ain't wit all this cheekin u doin ok I'm out I got a few meetings to go to."
It is unclear what sparked this round of jokes. 50 and Dipset have had their issues in the past. And the G-Unit boss and Jimmy have traded light shots before.
Check out the latest back and forth below.
See Hip-Hop Fans Name The Most Disrespectful Diss Track of All Time