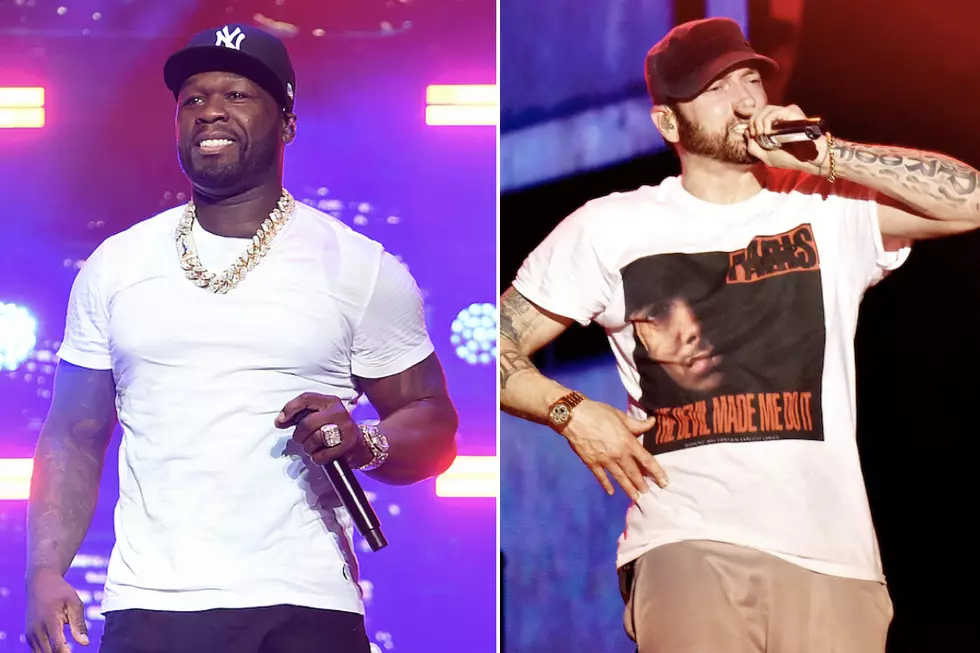 50 Cent Claims Eminem Has New Music Coming
Jamie McCarthy / C Flanigan, Getty Images (2)
While speaking to Bootleg Kev and DJ Hed for a Tuesday (Sept. 17) interview on Los Angeles' Real 92.3 radio station, the 44-year-old rapper claims that Eminem has been cooking up some new music in the studio.
"[Eminem] sent me a record now, he working now," 50 Cent says. "He got some things, man. We're doing it now."
Eminem's next LP would mark his third album he's dropped since 2013. His most recent project, Kamikaze, dropped last year. 
As the conversation continues, Fif hints that he's also cooking up some heat with Eminem. "I got something I am going to do with him now," 50 says.
Eminem and 50 last collaborated on Ed Sheeran's "Remember the Name" back in June, and, considering that Em signed 50 all the way back in 2002, it's no surprise that the two have chemistry on wax.
"No. There's nothing there. I never wanted to work with him," 50 told Kev after the host asked 50 if he respected what Ross brought to the rap game. "Look, I understand from a perspective of someone who's just listening to what it sounds like. But does it matter that he's a correction officer? Does that ever matter? Look at the irony of the artists to come under him. Prison reform, and all of the wrongfully convicted and wrongfully treated people in the prison system while he's on the whole other side of them? So just look at it."
Watch 50 Cent's full interview with Real 92.3 below. The parts about Eminem's new music come in at around the 29-minute mark.
See 32 Eminem Songs Ranked