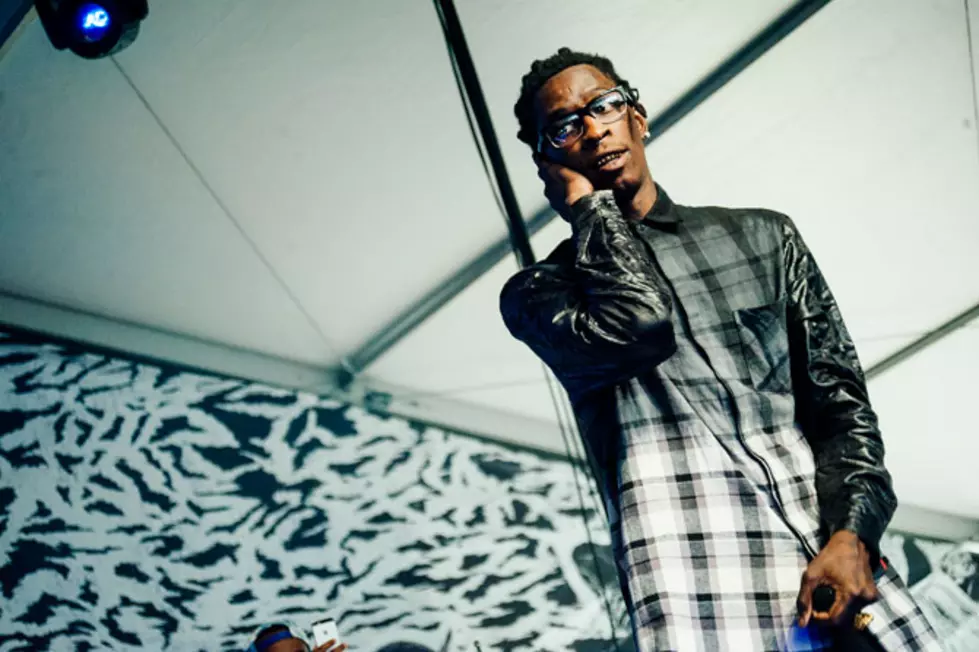 The 25 Best Songs Of 2014 (So Far)
Young Thug - Photo by Ryan Muir
We're officially at halftime of 2014. This year, we've seen a lot of rap songs pop off and dominate the radio and our playlists. Most of them come from albums and mixtapes, but there have been a few Internet-only singles that have created a lot of noise. Last year was big with songs like Rich Homie Quan's "Type Of Way," Drake's "Started From The Bottom" and Meek Mill's "Levels" playing absolutely everywhere you went. This year it seems the songs are blowing up quicker and there's a lot more to chose from. That's where we come in to create our top 25 list.
At this point, you've probably heard a lot of these before. Moving forward for the rest of the year, you'll more than likely keep hearing these tracks until the New Year rings in. Songs like Lil Wayne and Drake's "Believe Me" and Big K.R.I.T.'s "Mt. Olympus" had us rapping along every time they came on. Others like Migos' "Fight Night" or TeeFlii's "24 Hours" tore the clubs up once the DJ dropped them. Overall, this year has showcased a wide range of hip-hop that shows the genre is constantly evolving and growing.
Ab-Soul featuring Action Bronson and Asaad, "Stigmata"
With the help of Action Bronson, Asaad and multiple ScHoolboy Q ad-libs, the song serves as the first single from Ab-Soul's These Days... Delivering lyrical greatness over a psych-rap beat, the three detail their lives and ambitions collectively. It's the content and authenticity of the song that has drawn so much attention. After several threats to leak his own album, fans were finally able to taste what Ab was cooking up. This was a firm representation of it.—MM
Big K.R.I.T., "MT. Olympus"
Big K.R.I.T. has been prepping fans for the arrival of his sophomore Def Jam album, Cadillactica, for some time now. On this track, K.R.I.T. delivers so much emotion and harbored frustration that you can almost feel it in your body. The Mississippi MC was determined to dismiss anyone who second-guessed his abilities and versatility after being called out on K. Dot's "Control" verse. Fans have been instantly drawn to the song's powerful lyrics and intense delivery.—MM
Chris Brown featuring Lil Wayne and Tyga, "Loyal"
Chris Brown's latest summer anthem is heating up all across the nation. Serving up both an East Coast and West Coast version for the song, Breezy's track includes features from hip-hop heavyweights like Lil Wayne, French Montana and Tyga. The song has also went on to inspire several remixes from the likes of Keyshia Cole, Mila J and The LOX. Due to criminal court issues, Breezy was not able to perform the song live until performing at 2014's BET Awards.—MJ
Drake, "0 To 100/The Catch Up"
Throughout all the songs Drake has been dropping since Nothing Was The Same—"Trophies," "We Made It," "Draft Day"— the undertone is very clear—he's not the up-and-comer anymore, he's one of the big dogs. "0 To 100" isn't any different. The boastful anthem sticks to the back of your mind like glue and Drake dishes another round of quotable lyrics and hashtags. While delivering a party anthem for anyone to turn up to, "0 To 100" is another testament that Drake knows his worth, and everyone else better catch up real quick. Real fuckin' quick.—ECM
Future featuring Andre 3000, "Benz Friendz (Whatchutola)"
Future's Honest was both a step forward creatively and a return of sorts to his Atlanta roots, and this turn up banger with Three Stacks perfectly embodied what he was going for with the entire album. The level of not giving a fuck is extraordinarily high here; Future supplies a typically unintelligible verse, while Andre swings through to supply the hook and a verse that reminds a younger generation why he's one of the greatest to ever pick up a mic.—DR
G-Unit, "Nah I'm Talking Bout"
G-G-G-G-G-G-G-Unit! After blowing the crowd away at this year's Summer Jam, G-Unit is back and ready to take back the hip-hop scene with no remorse. Last time G-Unit blessed their fans with an album was 2008's Terminate On Sight. After six years apart, the Unit blessed the airwaves with their remix to Hit-Boy and HS87's "Grindin' My Whole Life" called "Nah I'm Talking 'Bout." Back to their guerilla tactics, "Nah I'm Talking 'Bout" gives the younger generation a little taste of the mighty, mighty unit. The song features 50 Cent, Lloyd Banks, Young Buck, Tony Yayo and Kidd Kidd, who all bring their signature styles to the record. Other than the hype of G-Unit being back, "Nah I'm Talkin 'Bout" may actually return the sound of the NYC streets back to the mainstream. That alone is worth talking about again.—RI
Iggy Azalea featuring Charli XCX, "Fancy"
Not only is it a No. 1 hit—and the longest a female rapper has held the No. 1 slot on the Hot 100—the smash single off Iggy Azalea's debut album got everyone respecting her hustle. The song's braggadocious chorus and fun rhymes led her to continuing reign on the Billboard charts and nabbed her a platinum plaque. With the help of "Fancy," Iggy joined the likes of Mariah Carey and OutKast as the only artists in history to replace their chart-topping song with their own track. —MJ
Jay Z featuring Jay Electronica, "We Made It (Remix)"
What made this song an instant hit, like original version, was the "innocent" feud between Jay Z and Drake. The two had been firing subliminal shots at each other ever since Drake's Rolling Stone article was released and fans have been going crazy over it. To this day, celebratory occasions aren't complete without someone yelling, "We made it!"—MM
Lil Wayne featuring Drake, "Believe Me"
Carter Season was officially underway when Weezy dropped this gem on us late on a Friday night, and it was worth every second of the wait. Drake opens the track rapping about holding things down while Wayne was locked up, and then Tune comes through and absolutely demolishes his verse, sparking anticipation for Tha Carter V into a barely-contained hyperdrive. If this track is an indication of what we can expect on the fifth installment of the series, then count us in.—DR
The LOX reunion is in full swing, and this track is maybe the freshest that Styles, Jada and Sheek have sounded since getting back together on wax with their surprise Trinity EP at the end of last year. Kiss' distinctive voice remains as gritty as ever, while Styles and Sheek stunt all over this track. If New York is really coming back, it will need The LOX to sound like this as often as possible. L-O-X D-Block up in this bitch.—DR
Meek Mill featuring Paloma Ford, "I Don't Know"
"I Don't Know" is set to appear on Meek's sophomore album titled Dreams Worth More Than Money. The song  is a little step away from typical Meek, but the basis of the track is generally the same—Meek talks about beating out the odds, addressing the haters, riding for his team, making money and surviving out the hood. His relatable "American Dream" songs are the reason why his tracks become street anthems. Riding with his team on his back, Meek reminds us of his determination to reach his dreams.—RI
The rap trio is known for making chart-topping hits that get crowds hyped. With their history of songs like "Versace," which took over the music scene last summer, and "Hannah Montana," Migos' ability to make radio hits is a force to be reckoned with. Already making the top 20 on Billboard's Hot Rap Songs chart, "Fight Night" contains a bouncy trap beat and catchy lyrics to get their listeners pumped up. Can "Fight Night" beat the summer success of "Versace"? Well, we have the whole summer to find out. —RI
Nicki Minaj, "Pills N Potions"
More and more of the old Nicki Minaj has been showing up in her verses lately and despite the slow tempo of the song, Nicki was still able to supply her classic witty lines with a hard undertone. The somewhat hypnotizing hook about loving someone through the good and bad has a way of effortlessly getting stuck in your brain despite how hard you try. The anticipation for her forthcoming album The Pink Print continues to grow stronger and stronger.—MM
Rick Ross featuring Big Sean and Kanye West, "Sanctified"
Ross' sixth album Mastermind largely stuck to his well-established Maybach formula, which is what made "Sanctified" stand out all the more. The soul-infused track got the Kanye treatment, and an eminently quotable hook—"All I wanted was a hundred million dollars and a bad bitch"—as well as fun and formidable verses from all three rappers. We'd love to hear more of this type of production—done jointly by Yeezy and DJ Mustard—in hip-hop. Big Sean showed up nicely on the track, though rapping "God, I've been guilty fornicating from my status" became an unfortunate line for him after his engagement to Naya Rivera fell apart shortly thereafter. —DR
ScHoolboy Q featuring BJ The Chicago Kid, "Studio"
A debut album full of gangsta rap and party anthems also produced this slow jam, a groove perfect for late-night reflection and boozy conversation. It became an unexpected hit for Q, picking up serious radio airplay and opening him up to a new audience that may not have been picking up on his more up-tempo bangers like "Collard Greens," "Man Of The Year" or "Break The Bank."—DR
SZA featuring Chance The Rapper, "Child's Play"
Over a hypnotic XXYYXX & Dae One beat, SZA sings you into a trance that will make you remember all your past relationships. The atmospheric record describes the trials and tribulations of love. SZA's voice is beautiful, but what sends this song to the next level is Chance The Rapper's verse. Chano bounces from flow to flow without a hiccup and delivers impressive bars ("Used to pay the piper, 'til Peter picked it better/Now the first thing you should tell is where the hell is all the paper?"). You'll find yourself having "Child's Play" on repeat.—ECM
TeeFlii featuring 2 Chainz, "24 Hours"
The first big offering from TeeFlii, signed to YG, DJ Mustard and Ty Dolla $ign's label, Pushaz Ink, the song tells the tale of the ultimate one night stand. TeeFlii sings of spending 24 hours making sure his mate has the time of her life. With the song, Flii makes a presence for himself in the game with the catchy club banging tune. 2 Chainz also features on the track adding in a Southern touch to the DJ Mustard-driven record. —MJ
T.I. featuring Young Thug, "About The Money"
As the mood-setter for T.I.'s upcoming ninth studio album Paperwork: The Motion Picture, the Young Thug-assisted track surely did the job. Serving up hip-hop's first slow tempo club banger in a while, Tip certainly took it back to his Paper Trail days with the sound of this one. Backed by a smooth beat and a rowdy message, the song does a great job blending the old Tip with 2014 Tip. Not to mention, "About The Money" has a great underlying message encouraging people to be more focused on their money and straying away from meaningless endeavors.—MJ
Troy Ave featuring Puff Daddy, Ma$e and T.I., "Your Style (Remix)"
Troy Ave drops a summer gem with "Your Style (Remix)" that should make every New Yorker happy. The nostalgic feeling the song possesses when Puffy and Ma$e reunited again is instant. Memories of Bad Boy Records in their heyday flood the mind, but not to be outdone, T.I. closes the song with a great verse. The Brooklyn young gunner has a hit on his hands.—ECM
Ty Dolla $ign featuring Wiz Khalifa and The Weeknd, "Or Nah"
This year Ty Dolla $ign provided us with hits, remixes and great features such as "Paranoid," "Familiar," "Money Baby (Remix)," "Down On Me" and many more. Out of all these releases, "Or Nah" stands apart. The phrase, with the help of Vine, may have been this year's catchiest and most overused phrase. The song is produced by DJ Mustard, one of the go-to producers of the year already. Just when one may have questioned the everlasting hit of this song, The Weeknd dropped his verse on the remix, and the track's trajectory grew even higher. With a mix of lust and fun, can you really ever get over this song? Or nah?—RI
Tyga featuring Lil Wayne and Nicki Minaj, "Senile"
After taking home the "Best Group" award at the BET Awards this past Sunday and with upcoming albums from Lil Wayne, Nicki Minaj and Tyga all on deck, Young Money is killing the game. On "Senile," the slow creeping beat at the beginning gives off a sinister feel, which is something you'd find in a scary movie soundtrack. Nicki reminds the haters that she still has bars, can rap alongside her male counterparts, and, in case you forgot, writes her own lyrics. The creepiness of the song is one of the key elements that drew fans to it. Can you see now? —RI
Vic Mensa, "Down On My Luck"
Vic Mensa's range of music is remarkable, and "Down On My Luck" is an infectious record that has the Chi-Town native flexing his musical abilities. The beauty about "Down On My Luck" is that you can essentially play this song anywhere—a hip-hop club, in an EDM rave, during a concert, house party, anywhere. The song just makes you want to grab someone and dance. Coupled with the fantastic video, "Down On My Luck" shows you the boundless talent that the SAVEMONEY member has.—ECM
Wiz Khalifa, "We Dem Boyz"
As the premiere single from Wiz Khalifa's Blacc Hollywood, "We Dem Boyz" hit the Internet with a bang. With what may be the catchiest hook of 2014 (though "Loyal" might give it a run for its money), the banger is already a top contender for song of the summer. Although Trap Wiz has given up very little information on Blacc Hollywood, "We Dem Boyz" serves as a great preview to Khalifa's next batch of work.—MJ
YG, "Bicken Back Being Bool"
YG's "Bicken Back Being Bool" is a standout record on his debut album, My Krazy Life. It personifies West Coast music and quite frankly makes you feel like the toughest person alive. Over another fire DJ Mustard beat, YG delivered an anthem to turn up to, and you've got to love the honesty of YG on this record: "My bitch wouldn't come see me, I was in there masturbating." Well then.—ECM
Young Thug featuring Nicki Minaj, "Danny Glover (Remix)"
Nicki Minaj wanted to start off the year in a big way. And what better way than to remix the hottest song in the game? After Young Thug's "Danny Glover" got big co-signs from Kanye West and Drake, his buzz catapulted into superstardom. Nicki's fierce verse sparked a lot of excitement that she was returning to her hip-hop artists. At the same time, Thugger got the right assist to become one the most sought-after talents today. With a slew of collaborative projects from the likes of Metro Boomin' and Rich Homie Quan, you can bet that Thug is gonna be very busy this year.—ED