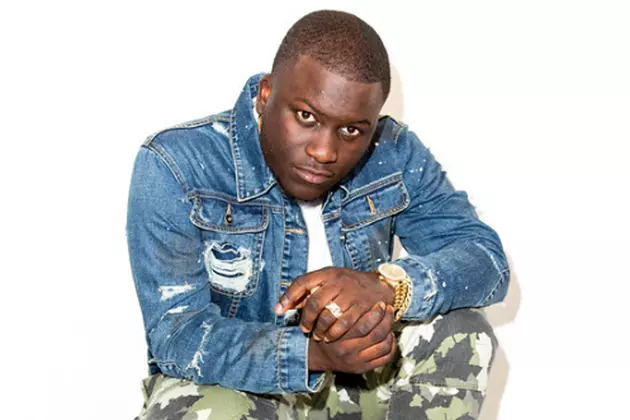 Zoey Dollaz Hopes to Change People's Lives With His Debut Album
Ramos Valencia
Last year, when XXL spoke to Zoey Dollaz for his Show and Prove interview, it was over the phone on the heels of his breakout single "Blow a Check," which made him the talk of South Florida and beyond. The buzz around the Smash David-produced banger was so deafening that heavyweights like Diddy and French Montana took notice, both hopping on the official remix of the track. This led both industry insiders and rap fans to ponder "Who the heck is Zoey Dollaz?" Now, as he and his entourage sit down across a table in a conference room in the XXL office in New York, a lot has changed for Zoey a year later.
With the sizzle surrounding "Blow a Check" boosting his profile, the Freebandz signee has not let success cause him to rest on his laurels, dropping the mixtapes October and Nobody's Safe, while burning down radio airwaves with impressive freestyles and taking mumble rappers to task.
In addition to servicing his fans, Zoey has also been taking his show on the road as a featured act on label boss Future's Nobody's Safe and HNDRXX tours, and has made sure to put on for his Haitian community and his hometown of Miami through his hurricane relief initiative, as well as his new foundation, Dollaz 4 Kids. Philanthropic efforts may be indicative of Zoey's character, but his most recent mixtape release, M'ap Boule, is a clear reminder that the young spitter hasn't forgotten his roots.
M'ap Boule, which includes the Chris Brown-assisted single, "Post & Delete," was a surprise to fans who were expecting his mixtape Black Elvis to drop instead. However, M'ap Boule has been well-received and increased clamor for Zoey Dollaz's forthcoming debut album, which appears to be looming nearer as the calendar turns.
As his recognition as a promising artist increases, XXL spoke to Zoey Dollaz about his charitable initiatives, working with Chris Brown, the status of his debut album and more.
XXL: 2017 has been an eventful year for you. How does it feel to build on your initial success and get your props as one of the hottest new artists in rap?
Zoey Dollaz: I mean, you gotta evolve, as far as an artist, every year, period. The more time you spend, the more better you get, the more you get better as a person, as an artist. Music-wise, you gotta grow, you know?
Being from Florida, you've taken it upon yourself to get involved with hurricane relief initiatives, including your work with Trae Tha Truth and the brand LRG in Houston after Hurricane Harvey hit. How did those partnerships come about?
The work I did with the hurricane was just something that I genuinely did, like everything else I do. But it was more so seeing that those people were in their hometown and they were stuck and the only help they could get was help from outside. And I was an outsider, so I just came in with an open heart and did it.
Another philanthropic endeavor of yours is your foundation, Dollaz for Kid. What is the spirit or mission behind that initiative?
It's just a help thing. We're gonna start with the kids and then we'll go to the teenagers and then we're gonna go to the young adults and then we're gonna go to the adults. We're just gonna help everybody out, but for now, we're gonna focus on the kids; they're the future. You know, shoes, clothes, book bags, school supplies. You know, little field trips, parties and stuff like that. Stuff that the kids need.
Is that in Haiti or in Florida?
We're gonna do it everywhere we can, wherever it's the less fortunate, in general.
You recently released your M'ap Boule EP. What was your reaction to the fans response to it?
I did expect it to do good because my fan base got a little bigger than it was the last few tapes I dropped so I expected the response because I felt good about it myself and I felt it would do what it do.
One song from the project, "Post & Delete," which features Chris Brown, has been getting a lot of buzz. How did that collaboration come to life?
Definitely different. Definitely was something that I was hoping for, but it happened because me and Chris Brown always run into each other and it's never about music. It's always about, "Yo, what's up? You grinding, keep doing your thing, I rock wit you." And then once we was in L.A., but I took off from L.A. and my DJ linked up with him and my DJ ended up making "Post & Delete" happen.
You also shot a visual for "Post & Delete." How did the concept for that video come together?
Well, we had two different scripts for this video. The first one I had more ideas towards it, the second one, which is what we actually shot, that was the director's idea. He put his whole input in there and we shot a little mini-movie and we put it out.
What was the experience like working on a music video with Breezy?
It was a pretty easy video shoot. It wasn't too complicated. We didn't have too much time on our hands. I was there before he was, got my scenes out the way and when he came, we did our scenes together. He did his solo scenes and that was about it.
You also spent a huge chunk of the year on tour with Future. What was that experience like?
The experience was a great experience. It was a learning experience, you know? I learned how to interact better with the crowd, learning, like, how to perform better. It was just a great experience overall. Watching Future perform, doing a whole bunch of songs a night and, you know, just giving me the motivation to be able to be in the same position he in now later on in my career.
What was the most memorable moment of the tour for you personally?
One of the most memorable moments for me was when I brought my son onstage with me. He was just standing there looking at me, all frozen and stuff. I think that was the first show we had in Florida. That was West Palm Beach, Fla.
What are three items you have to have on your tour rider before doing a show?
Bread, ham and cheese. Kraft cheese for sure. Yellow Kraft cheese.
I thought you were gonna say liquor [laughs].
You've seemed to strike a lot of friendships with fellow artists, who are some rappers you'd say you're tight with or have grown fond of?
Outside of music, my nigga Dave East. That's my dog. We be on the phone 'bout personal shit, like family shit. Hours. It don't even be about no music or nothing like that.
How did you and Dave East link up?
We just linked from both of us just coming up damn near at the same time. We started popping up at different places at the same time. A lot of people were like, "Yo, y'all the only spitters left in this shit," and we just linked up.
You recently announced plans to release a project titled Black Elvis. What's the status update on that?
Man, the Black Elvis project, I had it. Originally that was supposed to be M'ap Boule, but Future kinda had an issue with the name 'cause he didn't want me to sound like I was wave-riding with the whole "Black Beatles." But him not understanding Black Elvis is what they called me in my hood 'cause my government name is Elvis and then I'm a Black boy. I didn't tell him all that, but that's my big bro. He called me and was like, "I don't think you should name it that," and I was like, "Aight, cool. We're just gonna run with the M'ap Boule then." But I still wanna get a whole new pattern of recording down and then still put it out.
So is it the same music or did you change the music?
Nah, the music changed, for sure. It's a lot of music that didn't go on there.
What was the steps in that transition 'cause it's like you have one concept in your head and then you gotta change the title?
We just grabbed different records and we left, like, a few records that was gonna be on there anyway.
Why do you feel M'ap Boule differs from you previous work was a statement project? 'Cause it's kind of Black Elvis in an essence and you were talking real heavy about that project.
Because of the title. I titled it M'ap Boule. It just stood out, especially to the island people and especially to Haitian folk.
What would you say are three songs from M'ap Boule that you would pick out for someone that hasn't heard your music that really sets the tone for who you are as an artist and why?
I'd pick a "One of One," "My Thang" and "It's OK." They're like my three favorite songs on the tape, period. In general, the vibe, the beat, the song. Yeah.
With the end of the year approaching, do you have any plans for the music you'll be releasing in 2018?
Yeah, I definitely wanted to drop Who Don't Like Dollaz 2, but I been so caught up with everything else I ain't even get the chance to really record everything I wanna record. I got a few freestyles I wanna record, I got a few records that I wanna put out, but dealing with a label situation, you just can't put out original music for free like that. But I'm gonna work our way around it.
Would you say that's been a major adjustment, not moving how you want to move, and if so, how do you balance that?
Exactly. I just gotta roll with the punches, man. Still gotta put out content though to stay relevant. Videos, blogs and freestyles, however.
Do you have any collaborations coming up or is there anybody you've been in the studio with that people can look forward to?
Nobody I can think of. I'm trying to think of who I recently collabed with. Nobody. I really work solo a lot. Not that I can't work with my few friends that I have in the industry, but I just come up with everything solo so if I feel like having someone on there, I'll just send it to 'em and stuff.
Who are some of the producers you've been working with as of late?
As far as production, I been working with Smash David a lot, that's the kid that did "Blow a Check." I got Major 7, I got Killa Watts, I got Go Grizzly. There's a few producers that I came in with and I'm still working with. I ain't really switch up and work with anybody different. I plan on working with other people though, like Timbaland, Metro Boomin and all them guys.
With the end of the year approaching, do you have anything that the fans can expect that you wanna plug?
Man, I might have a jet ski game coming out. I don't know when it's gonna be ready yet, but I got this jet ski game coming out. More visuals, bigger visuals and a lot more stuff, man.
Is that gonna be a mobile game?
It's a phone game. Like how Meek had Bike Life, I'ma have a game called Ride the Wave.
Is there a timetable for when the people can expect that?
If not by the end of this year, top of next year, for sure.
Are you doing it with the same people that did the Meek Mill Bike Life game?
Yeah, I think they are the same folks. Same people.
How did that partnership come about?
The people is really close friends with my manager so he linked that up and then they see how I be on the jet skis in Miami, I be throwing the jet ski parties. And then everybody comes to Miami comes to hit me up for the jet ski. So they was like, "Yo, you should come out with a game," and I was like let's do it.
When did you get into the jet skis or has that always been your thing?
Yeah, I been jet skiing since I was about 12, 13 years old. A long time now.
What would you say are some of the new directions you're trying to take in your your career moving forward? Are there any new avenues you're trying to explore?
I mean, I do wanna merge to movies and stuff like that once I get the real knowledge of it. Acting and all that; I'm definitely down for that part.
Are you just looking to do acting or would you wanna pursue writing scripts?
I can do that and I wanna do the acting. Anything that I can have a passion for, I wanna do it. I'm just looking to start it up and see what I need and see what I don't need, besides from music video acting, of course.
What's the type of role that you see yourself playing? Do you see yourself doing something more comedic or like a drama?
I'm up for whatever, to be real with you.
What would you say is your biggest goal heading into the new year and moving forward beyond that?
Biggest goal heading into the new year, musically, I definitely wanna get a platinum record, gold or get like a top 10 or something like that. And definitely wanna build more fans and do more shows and interact with people more.
Being from Florida, there's a lot of buzz on your state in many of the areas. You got all of these artists popping up from there. It's like a renaissance and y'all got the spotlight on y'all right now and are producing a lot of talent. So how does it feel to be in that mix basically?
Man, being in the mix in South Florida right now and Florida in general is great 'cause a lot of cats from Florida is doing their thing and they putting the light on us. So I feel like me being a part of that mix knowing people are looking for Florida artists that's dope, they gonna come across me, too. Just like if my fans is looking for other people that's dope, they gonna come across the Lil Pumps, the Smoke[purpps]s, the XXX[tentacion]s, the Kodak [Black]s and them guys.
What do you think is the biggest difference in the scene now with all the buzz from how it was the past decade?
Social media. Instagram, Twitter, all of that is a huge difference from the last decade.
So it's like y'all have been doing this, but that just shines a light on it basically?
Exactly, that's exactly what it do. It allow people from other countries to be a part of it without having to pay a certain amount of money, you know?
Do you have any singles or songs coming out soon?
My single "Post & Delete" is out right now, featuring Chris Brown. I just put out something for the streets called "Move Like the Mob." It's me, Young Thug and Lil Durk. I'm just letting that be the first release from the Who Don't Like Dollaz 2 project.
What's the timetable on that project
I'd say before the year's out. Mandatory.
What's the status on your debut album?
Album? Well, I got a single right now that I just recorded that I plan on presenting to my label, depends on how they go for it. wWe gonna be able to get a due date for an album. Even though I wanna build before I put it out, but you never know what'll happen.
How far along in the process are you, as far as the album?
Oh, for the album, I'm 80 percent, but I really wanna be in my zone and go away for a month and come back with a whole new regime of records. 'Cause I got records to make an album right now, two albums, but I really wanna focus on the title and the direction, and the mood I'm in. I want people to relate to it. I want it to connect with people. I don't just want it to be a fast social media vibe and hype off my buzz. I want people to really connect. I want that album to change people and stuff.
Is there anything else you wanna plug or tell the people in general?
Uh, nah, man. Just tell the people don't go Joe Budden.
Don't lose the bad bitch on TV [laughs].
See 21 of Hip-Hop's Biggest First-Week Sales in 2017 (So Far)