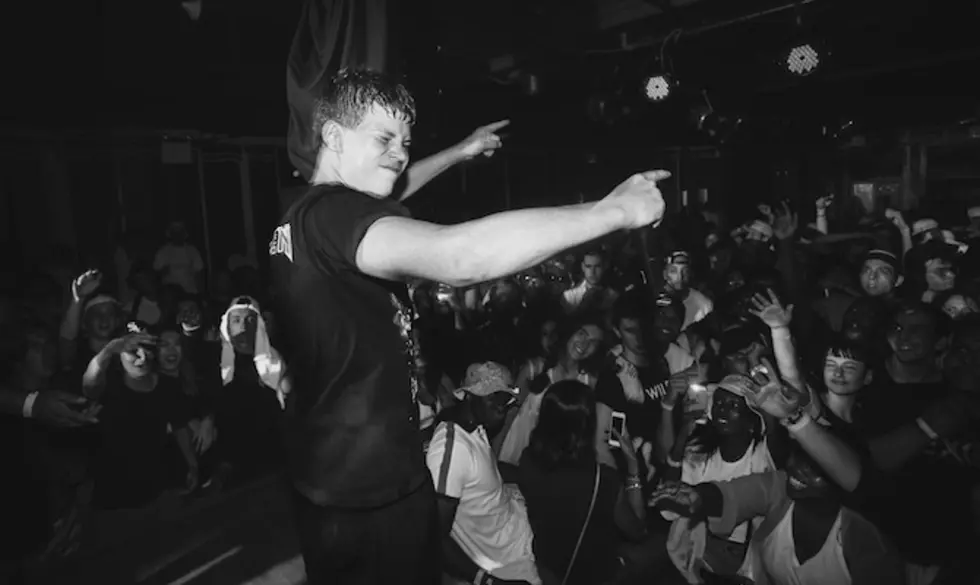 Yung Lean Surprises With An Energetic Show In NYC
Photo Credit: Stefan Kohli
Seventeen-year-old Swedish rapper Yung Lean has been a growing Internet sensation for around three years now, bringing his "Sad Boys" movement to a fan base which has slowly transitioned from ironically invested to honestly intrigued. And when he was booking his first-ever New York City shows, the demand was so high that he sold out Webster Hall last night in Manhattan not once, but twice, performing both an early and late show. And while he's been pushing this sad boys movement, his performance was anything but what you'd expect from that tag.
Outside, the venue was flooded with kids wearing bucket hats, comparing notes on how long they'd waited to see Yung Lean perform live, and the second he took the stage that anticipation turned into raw energy. The floor was literally shaking at certain points, with fans jumping and pushing to get as close to the stage as possible. Yung Lean himself was almost immediately soaked in sweat, his simple black t-shirt bleeding through as his gigantic beats filled the room, while his hype man wore a backpack and a baseball hat and was just as animated as Lean.
"Oreomilkshake" bled into a chant of "sad boys" that wove through "Nitevision" and came out as "Lightsaber//Saviour" while the crowd treated Lean like a rock star. Guys were crowd surfing and, despite the best efforts of security, a handful made the stage dive leap of faith, and even Lean jumped into the crowd at one point. He's undoubtedly a great performer, particularly for someone so young and for a genre that doesn't often produce truly great live shows. The music itself had the venue's bartenders audibly talking about how terrible it was, but the wildly diverse crowd was locked in regardless.
The show entered a slight lull towards the middle but ramped right back up with "Hurt," "Yoshi City" and "Kyoto." It's hard to tell what, exactly, the appeal of rapping about being sad and depressed over gigantic dreamy beats really is, but Yung Lean has tapped into it. Whether or not he's here to stay is up for debate. But with two sell-out shows and a barely-controlled crowd hanging on every word, Yung Lean's appeal right now is only getting bigger. —Dan Rys