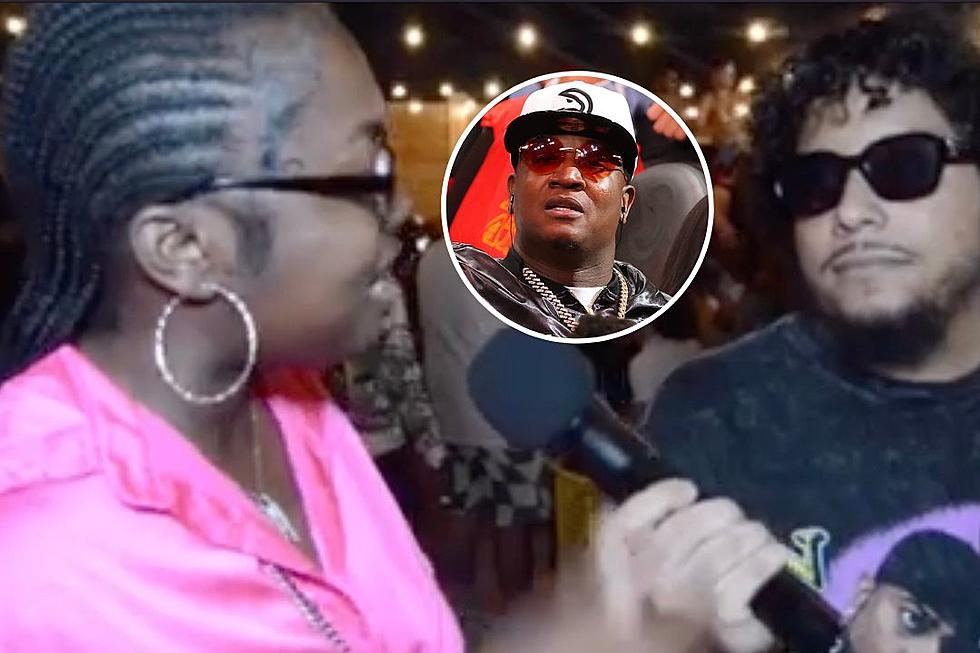 Yung Joc Isn't Too Happy Women Choose $50 Amazon Gift Card Over Spending 30 Minutes With Him
856_ent/Instagram/Kevin C. Cox/Getty Images
Yung Joc was not happy that a bevy of women chose a $50 Amazon gift card instead of spending 30 minutes with him.
Yung Joc Reacts to People Picking a $50 Amazon Gift Card Instead of Meeting Him
On Monday (July 3), Instagram account 856_ent posted a video featuring an interviewer asking mostly women to pick between two options: a $50 Amazon gift card or spending 30 minutes with Yung Joc. Unanimously, every woman picked the $50 Amazon card instead of meeting the "It's Goin' Down'" rapper.
"Mhmm...not no Yung Joc," said one woman. Several other women instantly selected the $50 Amazon gift card without hesitation. One woman explained her decision. "I don't want Yung Joc," she stated. "That n***a be wearing the swoops and the corny ass hairstyles. I'm alright."
Yung Joc caught wind of the viral video and had something to say to all the women who downplayed him for an Amazon gift card. The Atlanta rhymer jumped into the comment section and gave them a piece of his mind.
"Y'all would have no choice 'cause I wouldn't f**k with not one of them in the first place," he wrote. "1. I'm happily married 2. That s**t [blue cap emoji] 3. He never said have sex with me he just said 30 min with me and y'all would get at least $300 worth of food and shots if I did allow y'all in my immediate vicinity [three tears of joy emojis] 4. I ain't never had a problem getting no woman lol 5. I would give y'all $100 Amazon gift card to stay the f**k over there."
Yung Joc îs not the only rapper who got the cold shoulder by women who were asked a similar question. Back in March, Soulja Boy went on an angry tirade after he watched 856 Ent's viral video of people choosing $250 in food stamps instead of dinner with him.
"Y'all n***as are gon' die broke, broke-ass n***a. F**k-ass n***a," he spewed on Instagram Live at the time. "Y'all some broke-ass n***as. Y'all couldn't go out to dinner with me if y'all wanted to," he added.
So Where Did This Social Media-Inspired Question Come From?
The question itself came from a 2021 viral debate over whether to take $500,000 or have dinner with Jay-Z. Naturally, it sparked a heated discussions on Twitter, with some people believing that taking the money was the best option while others thought a dinner with Jay-Z was the better investment. Hov may have weighed in on the debate when Tidal, a streaming company he co-owned, jumped on Twitter and tweeted, "Take the $500K."
Nevertheless, Young Joc and Soulja Boy were not happy to see people frown at the idea of meeting them in person.
Check out 856 Ent.'s hilarious option video below.
Watch Women Choose $50 Amazon Gift Card Instead of Yung Joc for 30 Minutes Below
See Rappers With Either Twins or Triplets