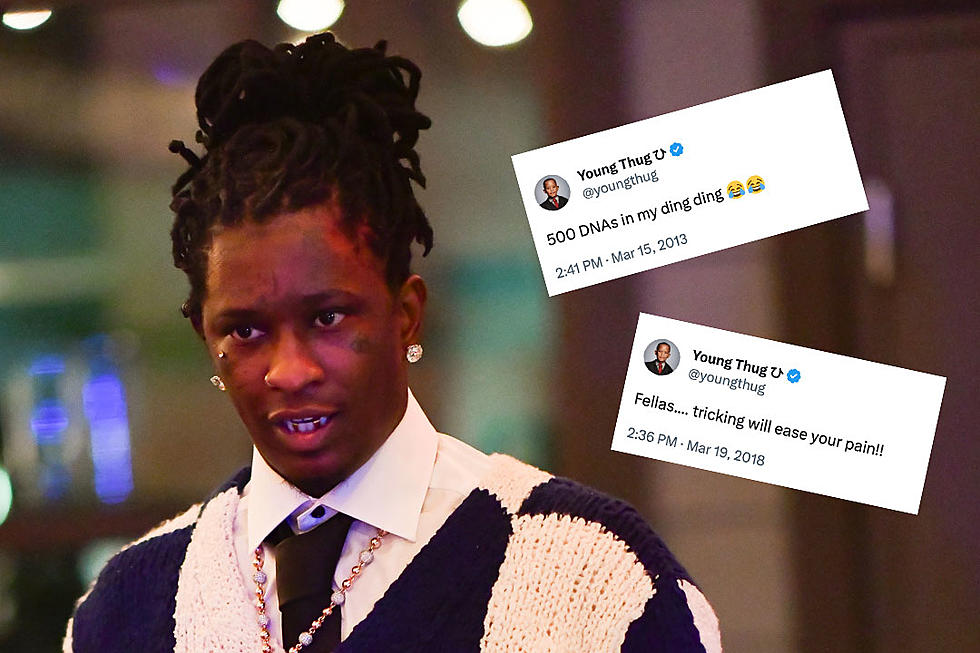 Here Are Young Thug's Most Outrageous Tweets
Prince Williams/WireImage/youngthug/Twitter (2)
Ever since Young Thug signed to Gucci Mane's label 1017 Brick Squad Records in 2013, the Atlanta rapper has effortlessly stood out from the rest. Whether it's through his wardrobe or occasional zany lyrics, Thugger has showcased the depths of his free-formed creativity throughout his career. Similarly, Young Thug's quirky side is mirrored in the tweets he's posted throughout the years.
After joining Twitter in 2011, Young Thug has typed up some bizarre tweets about his lifestyle choices, questionable observations, desires and more. Over the years, the YSL leader told his abundance of followers that curvaceous women have duck feet, why he refuses to drink water and has shared way too much information about his intimate life, to name a few.
Then, of course, there are moments when the 32-year-old rapper made attempts to drop off some comical advice. In 2018, he typed to his male followers, "Fellas.... tricking will ease your pain!!." That same year, he revealed a surprising fact about himself: that he sits on public toilet seats. "I've got to start putting down tissue down more when I use public restrooms," he wrote. He also admitted that toilets kept flooding everywhere he was going at the time.
Although Young Thug has also emphasized the importance of his music and love for other rappers and producers in the game on Twitter, the social media platform has given Thugger a place to let his eccentricity flow. From his sexual escapades to random thoughts, XXL takes a look at Young Thug's most outrageous tweets below.
See Young Thug's Most Outrageous Tweets
See Young Thug's Most Outrageous Tweets