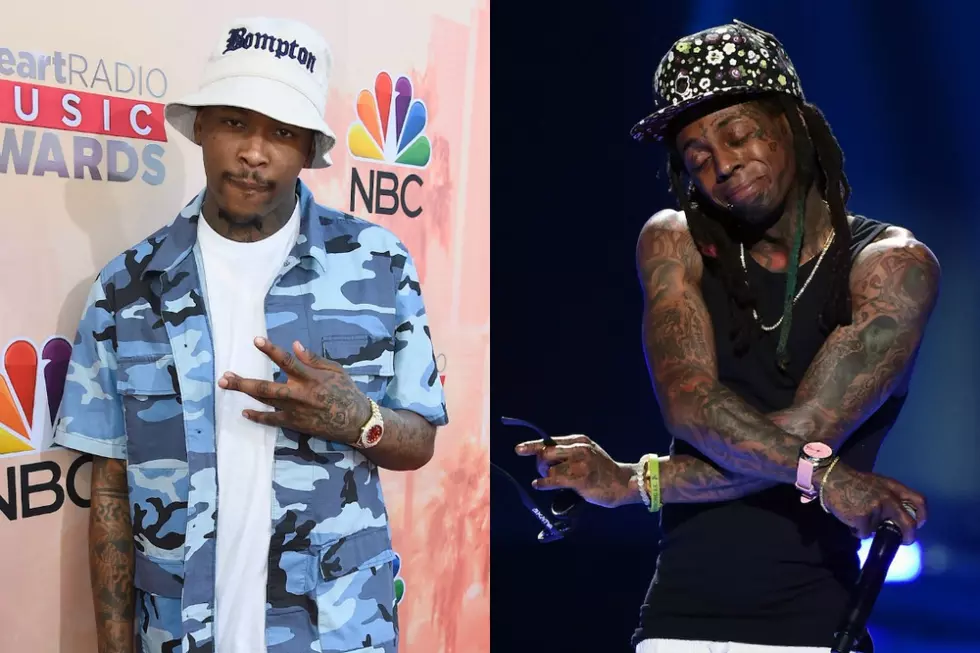 Hear YG and Lil Wayne's New Collab "Trill"
Frazer Harrison / Ethan Miller, Getty images
YG's Red Friday mixtape has been out for just two weeks, but the Compton rapper is already back with new music, teaming up with Lil Wayne for "Trill." The song is a part of Red Bull's annual "20 Before" series, which celebrates the brand's yearly moments in music, now in its third year. "20 Before 17" features 20 exclusive tracks, videos, lectures and interactive experiences from 40-plus artists including Erykah Badu and Mike WiLL Made-It.
"Trill" is produced by Boi-1da and co-produced by T-Minus and reunites YG and Wayne, who had previously collaborated on the "My Nigga" remix and "I Got a Question," off YG's Still Brazy album, released in June.
On the track, Wayne is as sharp as ever, mixing wordplay and tough talk. "My bitch died her hair red for the set, nigga/She a trill ass hoe and I'm the trillest nigga/I feel the holy ghost before I feel these niggas/I got these bitches on they toes, no achilles nigga/Spit on your grave, throw a rose and some lilies, nigga/I know the stove like I worked at Picadilly's, nigga," he raps. YG meanwhile keeps it a buck, rapping, "I done had a fucked up deal for bout four plus years but in God I trust so I'm still witcha."
Listen to the track up above, with Wayne likewise finding himself caught in a less than favorable label situation. As he continues to fight for a clean break from Cash Money, these feature verses should keep fans afloat.
20 of Your Favorite Rappers Naming Their Favorite Rappers