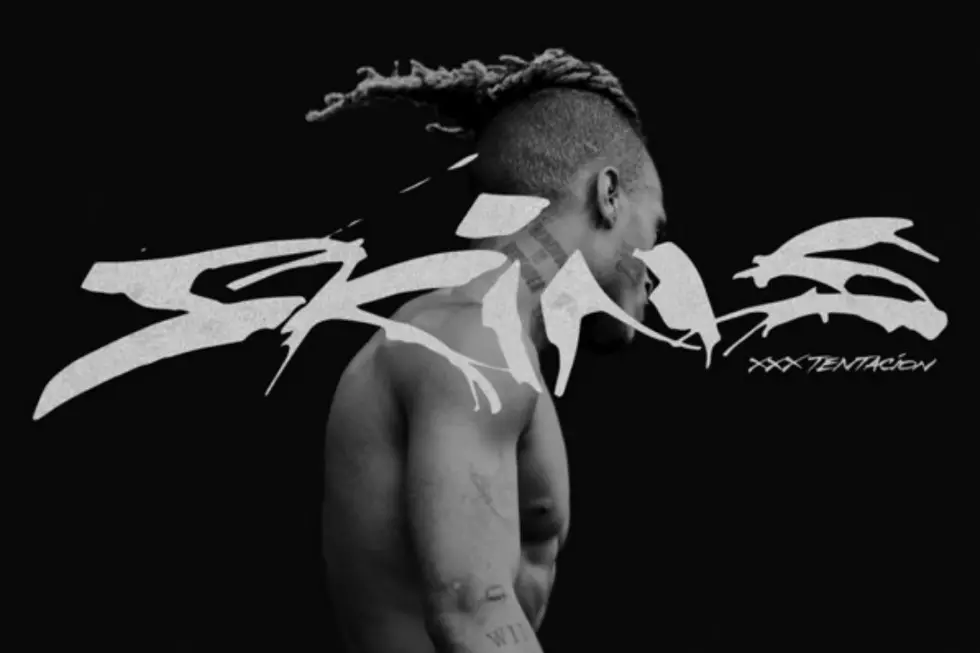 XXXTentacion's Posthumous 'Skins' Album Furthers His Contentious Legacy
Bad Vibes Forever / EMPIRE
Throughout his short-lived career XXXTentacion dealt with some cosmic-level controversy due to a troubling, lengthy criminal record and polarizing acts while in the public eye. Yet in the months leading up to his tragic June death, he claimed to have began embracing positive energy and taken on a stringent focus on making music. That music manifested itself into the wildly expressive ? album, and the vibes carry over to the 10-track Skins, his first posthumous offering.
In many ways, Skins picks up right where ? left off: It's a chaotic medley of rock and rap that leaves more questions than answers. "Introduction" sets the album off in the same cryptic way that his previous releases do, with a robotic voice asking listeners, "Feeling the need to inspire your soul?/Wanting to disappear to a place you could feel outside of your skin?" As enigmatic as that question is, there is no denying that this album (and XXX's persona as a whole) is built for those wanting to retreat into an altered state of emotional consciousness with X as their guide.
"Guardian Angel" is the album's first actual song and X holds nothing back as he details the heartbreak and mental turmoil he suffered following the death of his close friend Jocelyn Flores (who he previously memorialized on a namesake track from 2017). Remorseful lines like, "Never lonely when you flowin' through my mind, girl/I apologize, 'cause I couldn't see the pain in your damn eyes/'Cause a nigga made you leave with your heart in between different pains" sound even more somber with the heart-wrenching sample provided by Potsu. Despite how much the lyrics are reminiscent of mid-2000s emo-punk rock, X raps at a very high level, catching the intricate pocket effortlessly.
XXXTentacion actually delivers the album's best spat of rapping on "Train Food," where he flows over nothing but a slow piano chord and ambient train sounds. What's most impressive is X's ability to deliver unfiltered emotion without getting off beat or mistiming a rhyme. Lines like, "Could've had a son or a daughter, now what you finna do?" are haunting.
These redolent raps are met with screamo-rock on the back half of the album. "Staring in the Sky" and "One Minute" featuring Kanye West are abrasive rock songs with a death metal tinge. Kanye is the album's sole feature, and despite it being the controversial collaboration summit of 2018, the link-up makes sense with 'Ye's rough Auto-Tune tones. Their conjoined angst and desire for destruction of the norm makes for a punk rock cut fit for a raging mosh pit.
Elsewhere on the album X, dishes out his other musical disciplines, like the diet trap tracks ("Bad!" and "I Don't Let Go") and tropical rhythms of "Whoa (Mind In Awe)." In smaller and shakier instances, he dabbles in folky acoustic ballads, especially on album closer "What Are You So Afraid Of." Props are due to X for trying to tackle all these genres, yet despite the late artist's versatility, his third album feels a bit skeletal. The songs are short, not mixed particularly well and—perhaps due to his untimely passing—feel unfinished. Had X been around to see this album all the way through and hash out some of its rushed wrinkles, it has the potential to have been his best project yet. But as it sits right now, Skins renders itself another opportunity for XXXTentacion's cult-like following to continue enjoying new music.
See Behind-the-Scenes Photos of XXXTentacion at the 2017 XXL Freshman Shoot