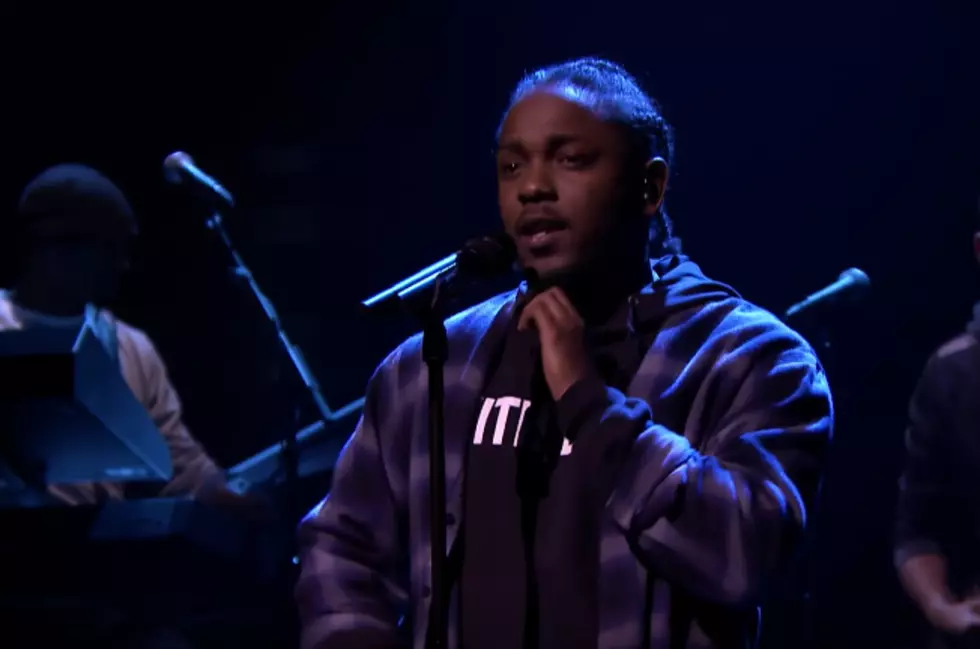 Watch Kendrick Lamar Perform "Untitled 2″ on 'The Tonight Show Starring Jimmy Fallon'
YouTube
Jimmy Fallon got it right when he said "Oh my God!"
Kendrick Lamar returned to The Tonight Show Starring Jimmy Fallon Thursday night (Jan. 7) and performed a rousing rendition of the yet to be released track "Untitled 2." Lamar had previously performed an untitled song on one of the final episodes of The Colbert Report, with last night's performance being the likely sequel.
The song focuses on the struggle to pursue one's dream when survival suggests they do otherwise. In the first verse, Lamar raps, "See a 9 to 5 was so jive turkey/But when Thanksgiving came checks didn't hurt me/You plead the 5th, I read the 5th amendment/We both criminals with bad intentions/They say time heals all/But if I could shortcut my success, Corvettes by tomorrow."
In the second verse, Kendrick tells a story of a young woman bound by the necessity for money, kept from pursuing higher education. "My home girl got a credit card scam/She got a scholarship to college but she don't give a damn/Intuition got a black woman wishing/She said this on the phone with the blues and the pen/I know you woman, I console you woman/You feel like the universe owe you woman/Oh the anticipation, hoping you can make it/Women don't prosper chasing education/But you're talented, and can't handle it/And your homegirls can't be your manager/365 times 4 plus more/Can't get it right, tell me do you got the stamina?/But ain't no money like fast money/Even today I'm considered a crash dummy/A rapper chasing stardom/how can I fast forward my accolades netter than all of them?"
The powerful song builds to a crescendo, the stationary Lamar grabbing the mic and exclaiming, "You aint gotta tell me that I'm the one." The whole performance suggests that Kendrick's writing and live show are still improving, with the easily impressed Fallon expressing his own shock at the potency of Lamar's ability.
See Best Rap Performance Nominees & Winners at the Grammys Over the Years