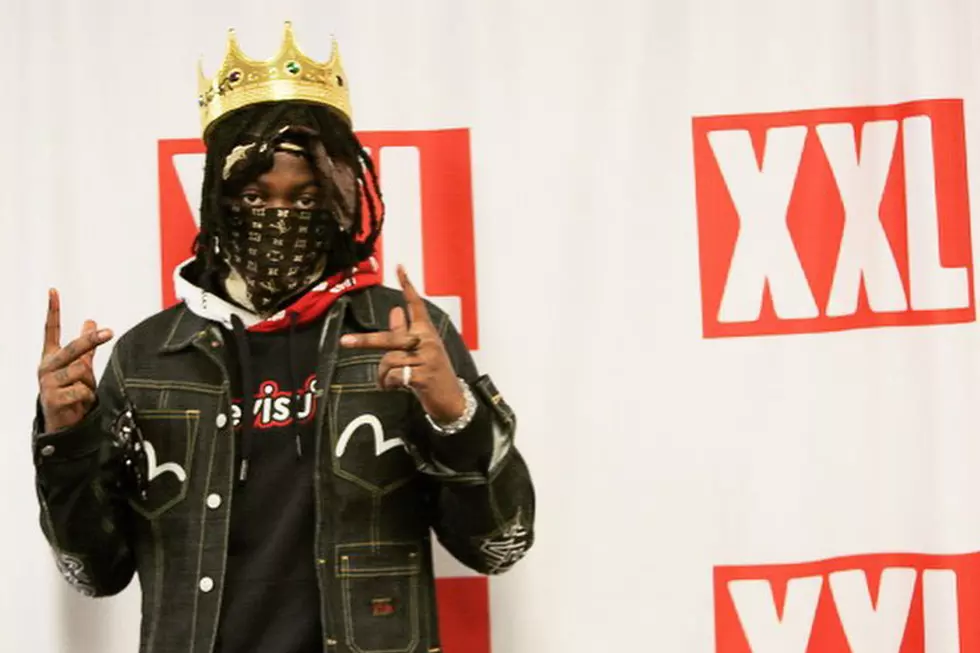 The Come Up: UnoTheActivist Is Shaping a New Music Genre With Travis Barker
GrandolpMedia
UnoTheActivist is in a good place. 2018 was a year of preparation for the Atlanta native, and with all that he's got planned, the new year is looking to be victorious.
One of the things Uno cooked up is a project with his compadre, fellow rapper Thouxanbanfauni. The two are dropping the follow up to their collaborative mixtape, For Christ Sake, and have been hanging out with guys like rock veteran Travis Barker for a little inspiration. A little over six months ago, UnoTheActivist met the Blink-182 star and cooked up what he considers an entirely new genre that they plan to share this month.
During a visit to XXL's Manhattan offices, UnoTheActivist shared details about the massive number of tracks they made together in Travis' North Hollywood studio. "Every time we link it's a song—a hit song," the "Sometimes I Wonder" artist says, with a Louis Vuitton scarf draped over his face.
With three projects slated to drop in early 2019 (including the third installment of his LImbus EP series), the year is bound to be a fruitful one for Uno. It's all part of his master plan.
"I'll be goin' by Troy Lane in five years—real businessman," he says. "I'ma have a business; the good label—Live Shyne Die Records. Yeah, they gon' be callin' me Mr. Troy."
Mr. Troy's matured a lot since his Break interview with XXL in 2017. It's telling of a promising future. Read below to find out more about the L's UnoTheActivist took in 2018 and how they prepped him for greatness in 2019 and beyond.
XXL: Let's take it back to high school. You dropped "I Doubt It" during your senior year but you were rapping prior to that. What was the exact moment you realized you wanted to become a rapper?
UnoTheActivist: I was in ninth grade. Me and [Playboi] Carti] had a group. It started in eighth grade; we went to the same school and shit. Our English classes, our teacher Mr. George—shoutout [to] Mr. George—he made us battle each other, 'cause he was from New York. He said, "I wanna see y'all put this in music." Just on some tryin' to get a nigga out the hood type, on some young tip. When we started battling against each other on some real New York freestyle battle type, that's when I really fell in love with it. And then next year we started a group, me and Carti. We was beefin' with the sophomores. That's when I took it serious. My first song in high school was a diss track.
Do you remember the name of it?
It's called "Look At Me Now." It's still on YouTube. I did it over [Chris Brown's] "Look At Me Now" beat.
How do you feel you've changed from then to now?
Aye, I'ma whole different person, ya hear me? I'm really in my glow now. I understand my craft and how to work it. At first I was experimentin', tryin' to find myself, my sound. Now I got it.
Based on Limbus Pt. 1, it's clear you bring a sound that's far from the traditional Atlanta sound you grew up listening to.
I try to make music that's a little bit of everything in one, so you can't really put it in a category. I wanna be in my own category.
What kind of sound should fans expect on the upcoming Limbus Pt. 3?
Oh, this a street classic mixed with a goddamn party classic mixed with a pop classic. It's all that.
Let's talk about your relationship with Travis Barker. Y'all dropped the song "Killer" and on Instagram he called you a "friend you can depend on." How did the two of you originally connect?
Shoutout my big brother Kenny Beats; love that man. Wherever he go, he play me. It don't matter who it's for, he droppin' some UnoTheAc. It don't matter who in the room—UnoTheAc gon' get played. I guess he was playin' something for Travis and Travis fell in love with it. He hit me up one day—my son Fabo got on the radio for the first time, I heard it on the radio while I was in the car freakin' out. He hit me up like, "Congratulations lil bro." I freaked out again, like, what the hell? This nigga Travis Barker just hit me up? I'm lit. [Then I] met up with him and the rest was history. And we've been working on music ever since. Every song we ever did we using it on the album.
When are y'all dropping that?
Y'all can expect it in January. It's called Might Not Make It.
And what can you tell fans about it?
It's real indie rock. Soft pop rock mixed with… It's a little bit of everything. Soft rock, heavy metal, hip-hop rock. It's all that in one. It's like me and him made a new sound.
We're aware of your hip-hop influences, but what about those in the rock genre?
My mom only used to listen to The Fray, Green Day. My little cousin Naija used to listen to Nirvana. I just subconsciously picked up on it 'cause it was being played around where I was, so it got instilled in me on accident.
Thouxanbanfauni mentioned that you have a tape with him on the way called If There Is a God.
Yeah, For Christ Sake 2: If There Is a God. That shit drop in January, too. It might drop the same day as Travis.
Do you have any features on any of these projects?
I mean, shit. 'Fauni featuring me and I'm featuring him [on For Christ Sake 2: If There Is a God]. Me and Travis, we got [YBN] Nahmir on the album. My boy Paris. I don't think y'all know him yet, but he coming up. I got 'Fauni on there and my young boy Fresher, he from L.A.
What producer are you working with for 'Fauni's tape?
Staccato and Crooks is the only two producers on the whole tape. They made it happen.
How did you and 'Fauni cement your friendship with one another?
Basically we was on some young nigga shit; all the young niggas, we connected. You young, I'm young—these niggas is old. And they're trying to stop our shine. That's what it is. But now he kinda old now, so...
Will he be joining you on your Shyne tour?
Unfortunately I couldn't afford him.
Yeah. I'ma have the best local artist in every city. The artist that's comin' up the most in y'all city, I'ma have 'em on there. I wanna bring D. Savage on tour with me, though.
How is the rest of 2019 looking for you?
2019 is looking really lovely to me right now. Really lovely. As I see stuff now, it's a lot of chaos but I see the beauty in all of it. You could never really get me down, even if shit don't go my way.
What's one of the important lessons you learned in 2018?
You gotta take a loss. Rule no. 1: If you don't take it you ain't gon' learn. You can't make adjustments. So I learned you gotta go with the curveballs. Learnin' how to hit them muthafuckas out the park, for sho'.
Do you have a new year's resolution?
I don't. I don't believe in New Year's resolutions 'cause nobody can change overnight. Why it take you for [a] new year to change?
See 15 of Hip-Hop's Weirdest Album Titles