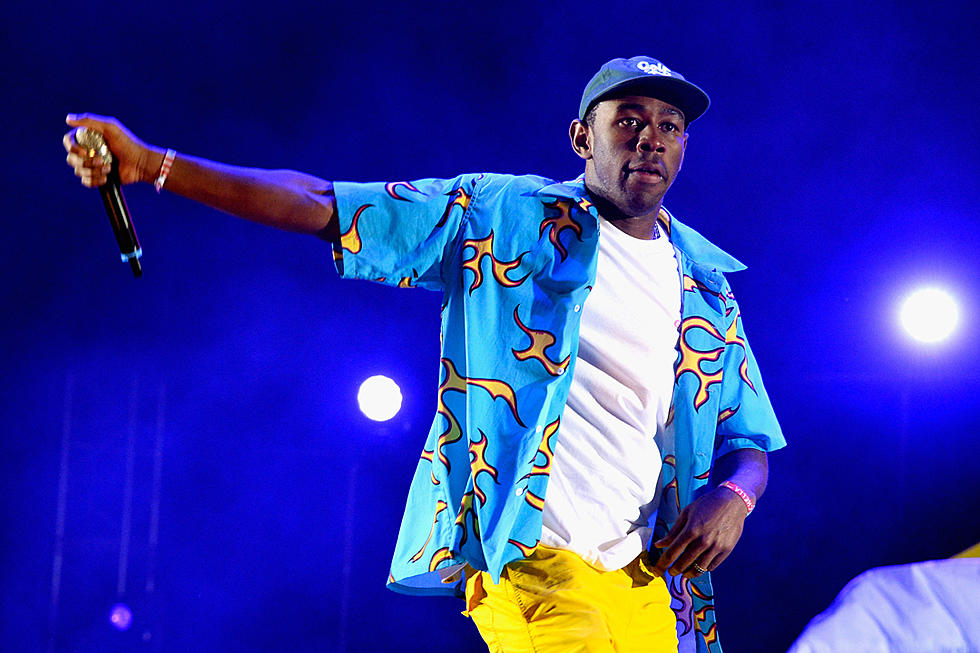 Tyler, The Creator Performs His Version of Kanye West's "Freestyle 4″ at San Diego Concert
Frazier Harrison, Getty Images
Tyler, The Creator's live shows are known to be some of the most energetic in the biz and Friday's (April 1) show at Observatory North Park in San Diego, Calif. was turned all the way up.
Early last month, Tyler released a freestyle over Kanye West's "Freestyle 4," which he titled "What the Fuck Right Now," and when he hit the stage to perform the joint, the crowd went crazy. Running and jumping across the stage while screaming his lyrics, Tyler looked out and saw nothing but mosh pits and arms in the air.
The Odd Future founder is currently on a tour that will take him throughout the United States and to places as far as Russia and The Netherlands. Check out the dates below.
April 1: San Diego, Calif. – Observatory North Park
April 2: Ventura, Calif. – Majestic Ventura Theater
April 3: Santa Ana, Calif. – The Observatory
April 4: Fresno, Calif. – Rainbow Room
April 6: Sacramento, Calif. – Ace of Spades
April 8: Chico, Calif. – Senator Theatre
April 9: Santa Cruz, Calif. – The Catalyst
April 10: Santa Cruz, Calif. – The Catalyst
May 25: Tempe, Ariz. – TBA *
May 26: Tucson, Ariz. – TBA *
May 28 El Paso, Texas Neon Desert Music Festival
May 29: Austin, Texas – TBA *
June 1: Tulsa, Okla. – TBA *
June 3: Kansas City, Mo. – TBA *
June 4: Clive, Iowa – TBA *
June 5: Omaha, Neb. – TBA *
June 7: Minneapolis, Minn. – TBA *
June 10: Manchester, Tenn. – Bonnaroo Festival
June 28: Yekaterinburg, Russia – TBA
June 29: St Petersburg, Russia – TBA
June 30 :Moscow, Russia – TBA
July 2: Tilburg, Netherlands – Woo Hah! Festival
July 5: Vienna, Austria – Beat the Fish Deluxe ‒ Marxhalle
July 6: Prague, Czech Republic – Lucerna Music Bar
July 7: Zamardi, Hungary – Balaton Sound Festival
July 9: Roeser, Luxembourg – Rock a Field
July 10: Liege, Belgium – Les Ardentes
July 15: Dublin, Ireland – Longitude Festival
20 Albums Turning 10 in 2016