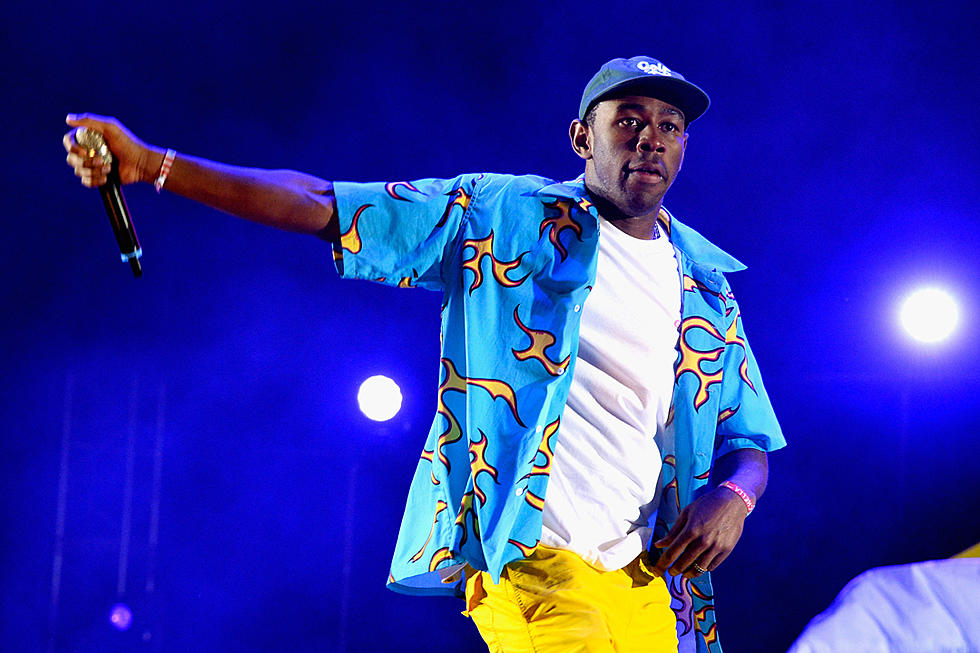 Tyler, The Creator Is Going on Tour
Frazier Harrison, Getty Images
Tyler The Creator is a touring machine. Fresh off a joint tour with A$AP Rocky in 2015, the Odd Future frontman has announced today (March 28) that he's going back on the road. The California MC/producer/director has released new tour dates on Twitter with support from his OFWGKTA co-hort Taco.
It's a wonder Tyler has time to make music in between his rigorous show schedule, but the Los Angeles native makes it work. He recently dropped his own verse on Kanye West's "Freestyle 4" and linked up with Domo Genesis, Juicy J and Wiz Khalifa for a single off Domo's debut album, "Go (Gas)."
Tyler will be taking on primarily his native West Coast and the Mid West before hitting up Europe, stopping in Russia, Austria and Ireland. Tyler is also going to be on the festival circuit heavy this summer with top billing at Bonnaroo Festival and Les Ardentes in Belguim.
At just 25 years old, Tyler has gained a reputation as one of the most rowdy, reckless, fun and unpredictable live performers in hip-hop. This makes his shows a must-see for any Odd Future fan. Back in 2011 at South by Southwest Festival in Austin, Texas, Tyler and Odd Future nearly incited a riot when he did a stage dive off a speaker and urged fans who couldn't get into his show to bum rush the stage.
Long story short, Tyler's set to have a pretty lit summer. Peep his tour dates and locations below and make sure to follow his weird yet hilarious Twitter feed for behind-the-scenes action.
Tyler, The Creator Tour Dates
April 1: San Diego, CA - Observatory North Park
April 2: Ventura, CA - Majestic Ventura Theater
April 3: Santa Ana, CA - The Observatory
April 4: Fresno, CA - Rainbow Room
April 6: Sacramento, CA - Ace of Spades
April 8: Chico, CA - Senator Theatre
April 9: Santa Cruz, CA - The Catalyst
April 10: Santa Cruz, CA - The Catalyst
May 25: Tempe, AZ - TBA *
May 26: Tucson, AZ - TBA *
May 28 El Paso, TX Neon Desert Music Festival
May 29: Austin, TX - TBA *
June 1: Tulsa, OK - TBA *
June 3: Kansas City, MO - TBA *
June 4: Clive, IA - TBA *
June 5: Omaha, NE - TBA *
June 7: Minneapolis, MN - TBA *
June 10: Manchester, TN - Bonnaroo Festival
June 28: Yekaterinburg, Russia - TBA
June 29: St Petersburg, Russia - TBA
June 30 :Moscow, Russia - TBA
July 2: Tilburg, Netherlands - Woo Hah! Festival
July 5: Vienna, Austria - Beat the Fish Deluxe ‒ Marxhalle
July 6: Prague, Czech Republic - Lucerna Music Bar
July 7: Zamardi, Hungary - Balaton Sound Festival
July 9: Roeser, Luxembourg - Rock a Field
July 10: Liege, Belgium - Les Ardentes
July 15: Dublin, Ireland - Longitude Festival
30 Albums That Will Make You Appreciate Hip-Hop