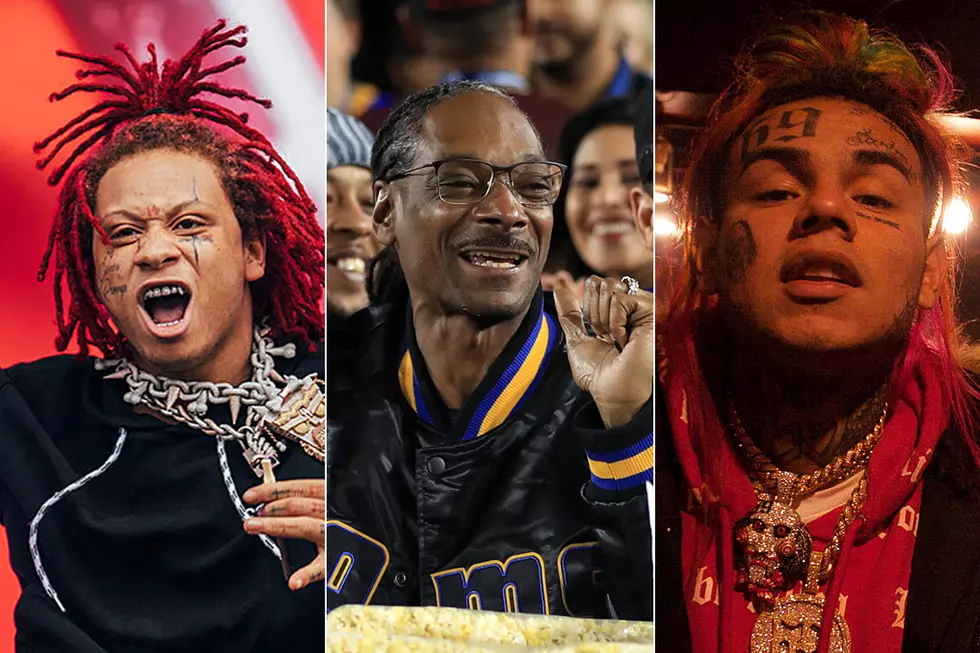 Trippie Redd Calls 6ix9ine a Goofball for Trying to Ask Snoop Dogg for Help
@theinfamousjc / Sean M. Haffey / Johnny Nunez, Getty Images (2)
Recently, the folks at TMZ reported that 6ix9ine attempted to reach out to California rap legend Snoop Dogg for help easing tensions with West Coast gang members. Now, the Brooklyn rapper's one-time friend Trippie Redd has offered up his take on Trippie's attempt, and in a few words, he's not feeling it.
Speaking with celebrity news outlet once again this past Saturday (May 19), Trippie answered a question about Tekashi's alleged attempt to get help from Snoop, who was recently in New York City to DJ at 1 Oak.
"That guy's a goofball," Trippie says in the video. "You're supposed to be the biggest Blood and you're just asking all the Crips for help?" 6ix9ine has been said to be a member of the Bloods and Snoop has been a Crip for over 20 years.
It can't be said for sure why—or if—6ix9ine attempted to reach Snoop while he was in N-Y, but if he did, Trippie definitely doesn't respect the move. These days, it seems like the Canton, Ohio-bred rapper doesn't like much of anything the 6ix9ine does.
In other bits of the short interview, Trippie implies that he's not against meeting with President Trump. He also says that, although he wouldn't make songs with viral sensation Lil Tay, he'd definitely hang out with her.
Some time after this interview, a bouncer came out to confront Trippie and his crew, but the 18-year-old quickly managed to drive away. The bouncer claims a fight had just popped off inside of a West Hollywood, Calif. restaurant by the name of Delilah, and that Trippie's crew was connected.
Watch the interview below.
See 60 Hip-Hop Albums Turning 20 in 2018