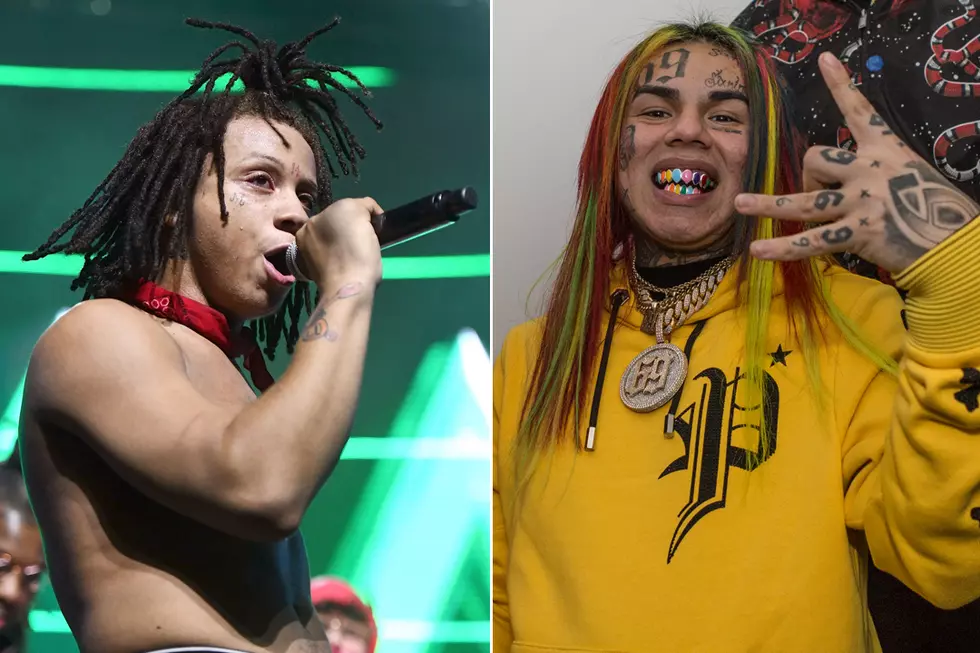 Trippie Redd Claims He Made 6ix9ine, "Gummo" Rapper Fires Back
Scott Dudelson, Getty Images / Thaddaeus McAdams, FilmMagic
Trippie Redd and 6ix9ine are at it again. Three months after their last public spat, the two rhymers are again exchanging insults on Instagram.
Things started on Friday (May 4), when 6ix posted a video on IG showing his elation about New York City being "on top." Trippie let an IG user know how he really felt in the comment section noting, "He should pay homage 'cause he wouldn't be shit without me. I set the beef shit aside. But I gave dude a name and he should be happy and showing me mad love cause without Trippie Redd he wouldn't have no Billboard hits."
Of course this kicked off a back and forth between the rappers. 6ix appeared to clap back with a follow-up video. "You don't have the power to make somebody if you can't make yourself," he said. "I can't say I made that person but that person more lit than me."
Trippie didn't back down, noting his own success on the charts and later asserting he gets paid a "finder's fee" for the "Gummo" rapper. 6ix then challenged Trippie to show paperwork to back up his claims.
Trippie Redd and 6ix9ine having issues is nothing new. They initially started out working together on tracks like "Poles 1469" and "Owee" in 2017, but Trippie appeared to distance himself from the Brooklyn rapper following his charges of sexual misconduct. Trippie later accused 6ix of having his people attack him in New York. In February, the two had a war of words on Instagram hurling insults each other's way.
Check out the back and forth below.
See 46 Hip-Hop Artists Who've Gone Gold in 2018