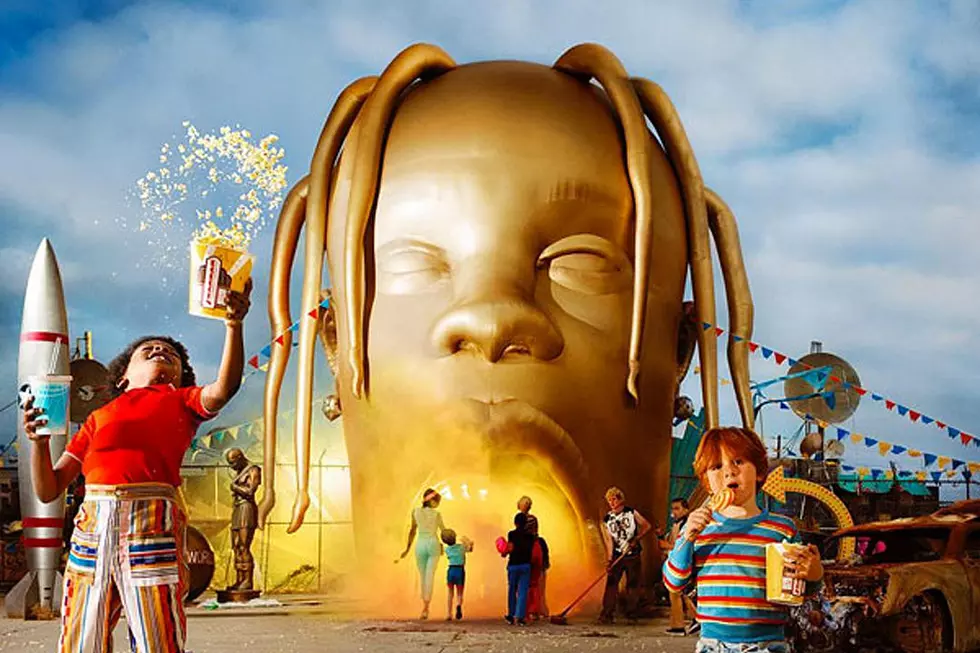 Here Are the Production Credits for Travis Scott's 'Astroworld' Album
Epic Records
Scott and frequent collaborator Mike Dean share executive producer duties, helming a tracklist stuffed with contributors. In total, 29 producers appear in the credits including established forces like Hit-Boy, Sonny Digital, Wondagurl, Cardo and Boi-1da, rising talents like Fki 1st and Tay Keith, and several curious genre crossovers.
"Skeletons," a rock-ish track featuring Tame Impala, The Weeknd and Pharrell Williams, was produced by Kevin Parker's band. Similarly, "Astrothunder" was produced by John Mayer, Thundercat, Scott and Frank Dukes. La Flame ultimately co-produced three of the album's 17 cuts.
Upon the release, several producers chimed in to express their excitement and thanks. "Me and my brother [30 Roc] went hammer time. YES SIRRRRRRRRR," Cardo wrote on Instagram, referencing their song "Who? What!" Hit-Boy, who co-produced the Frank Ocean-featuring "Carousel" and the Drake-assisted "Sicko Mode," hat-tipped Scott and Drizzy in his own Instagram post. "Thank you for the for the opportunity fr," he wrote.
You can view Travis Scott's full Astroworld production credits and several producers' Instagram posts below.
Travis Scott's Astroworld Production Credits
1. "Stargazing"
Produced by Sonny Digital, B Wheezy, B Korn & 30 Roc
Lyrics:
Travis Scott
Jamie Lepe
B Wheezy
Mike Dean
CyHi the Prynce
B Korn
30 Roc
Sonny Digital
2. "Carousel" featuring Frank Ocean
Produced by Hit-Boy
Lyrics:
Hit-Boy
Travis Scott
Frank Ocean
3. "Sicko Mode" featuring Drake
Produced by Tay Keith, Oz, Rogét Chahayed, Cubeatz & Hit-Boy
Lyrics:
Mike Dean
Hit-Boy
Travis Scott
Drake
Tay Keith
Oz
Mirsad Dervic
CyHi the Prynce
4. "R.I.P. Screw"
Produced by FKi 1st & Travis Scott
Lyrics:
Swae Lee
Travis Scott
Mike Dean
5. "Stop Trying to Be God"
Produced by J Beatzz, Travis Scott & Mike Dean #MWA
Lyrics:
Cubeatz
James Blake
Travis Scott
6. "No Bystanders"
Produced by Gezin 808 Mafia, wondaGURL, TM88 & Mike Dean #MWA
Lyrics:
Travis Scott
Sheck Wes
Juice WRLD
Mike Dean
WondaGurl
7. "Skeletons" featuring Tame Impala, The Weeknd & Pharrell
Produced by Tame Impala
Lyrics:
Reine Fiske
Kevin Parker
Mike Dean
The Weeknd
Pharrell Williams
Travis Scott
8. "Wake Up" featuring The Weeknd
Produced by Sevn Thomas, Wallis Lane & Frank Dukes
Lyrics:
Frank Dukes
Travis Scott
Wallis Lane
Sevn Thomas
The Weeknd
Mike Dean
9. "5% Tint"
Produced by FKi 1st
Lyrics:
FKi 1st
Mike Dean
CyHi the Prynce​​​​​​​
Travis Scott
10. "NC-17" featuring 21 Savage
Produced by Boi-1da & Cubeatz
Lyrics:
Boi-1da
Mike Dean
Travis Scott
21 Savage
Johnny Stefene
11. "Astrothunder"
Produced by Frank Dukes, John Mayer, Travis Scott & Thundercat
Lyrics:
John Mayer
Thundercat
Frank Dukes
Travis Scott
12. "Yosemite"
Produced by Turbo & June James
Lyrics:
June James
Gunna
NAV
Travis Scott
13. "Can't Say" featuring Nav
Produced by wondaGURL & Frank Dukes
Lyrics:
WondaGurl
London Cyr
Travis Scott
Sonny Digital
Mike Dean
Frank Dukes
Don Toliver
14. "Who? What!" featuring Migos
Produced by 30 Roc &Cardo
Lyrics:
Cardo
Travis Scott
Quavo
30 Roc
Takeoff
15. "Butterfly Effect"
Produced by Murda Beatz
Lyrics:
Donald Paton
Jacques Webster
Murda Beatz
16. "Houstonfornication"
Produced by Sevn Thomas & Wallis Lane
Lyrics:
Travis Scott
Sevn Thomas
Wallis Lane
17. "Coffee Bean"
Produced by Nineteen85
Lyrics:
Mike Dean
Nineteen85
Tim Suby
Travis Scott
CyHi the Prynce
See Photos of Travis Scott's Different Looks Over the Years