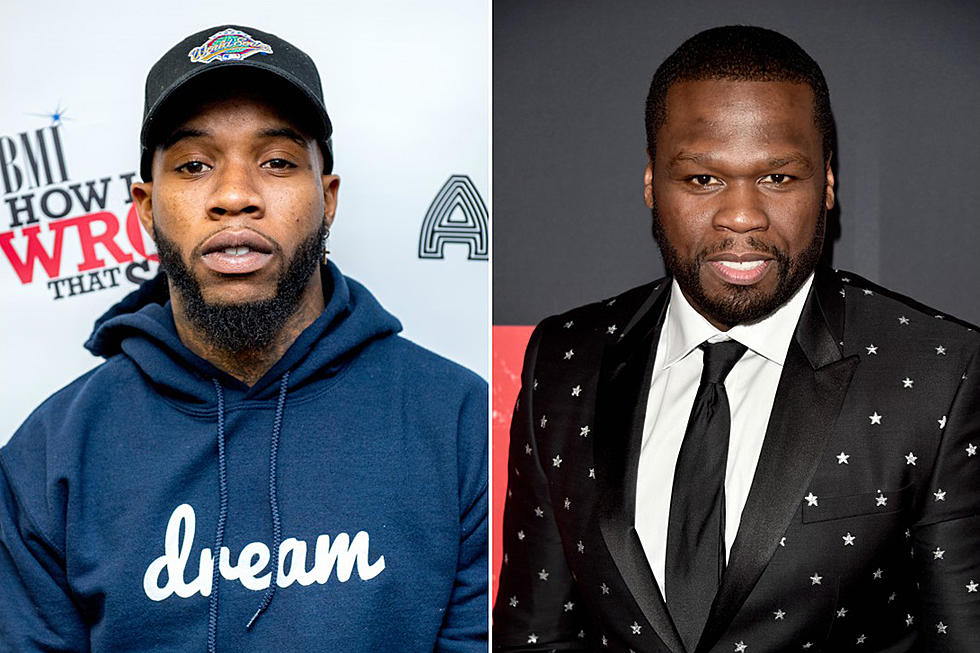 Tory Lanez and 50 Cent Tell a Tale of Revenge on New Song "Pieces"
Roy Rochlin / Alberto E. Rodriguez, Getty Images (2)
Using the same Sting sample featured in Nas' "The Message," Tory's track kicks off with a few bars from 50 before the Toronto artist comes in and paints a picture of a young girl who is the victim of rape at the hands of her uncle. "He fell asleep on his sofa, then woke up a new persona/And walked inside of her room and told her remove her clothing/And forcefully started chokin' her and tellin' her not to move/Before she could even finish, she rolled out in tears and did it," he raps.
Similar to De La Soul's "Millie Pulled a Pistol on Santa," the unnamed girl in Tory's story eventually gets her revenge. "Ran off in her uncle's spot with the stainless steel/Put the burner to his face with this aim to kill/And said, she don't fuck with niggas, 'cause niggas is the reason/She got herself inside of this situation in the first place/Figured this intimidation was the worst case/She sat back and blew six in that boy face," the rapper spits.
While 50 only delivers a few bars on "Pieces," the Queens rapper's verse plays an important role in the song. 50's verse that kicks off the song actually takes place later in the story. "Adrenaline pumpin', heart pacer racing, altercations, we lit/Blood drip stain the ground, boy get down, you hit," 50 raps.
Listen to "Pieces" below.
See New Music Releases for March 2018