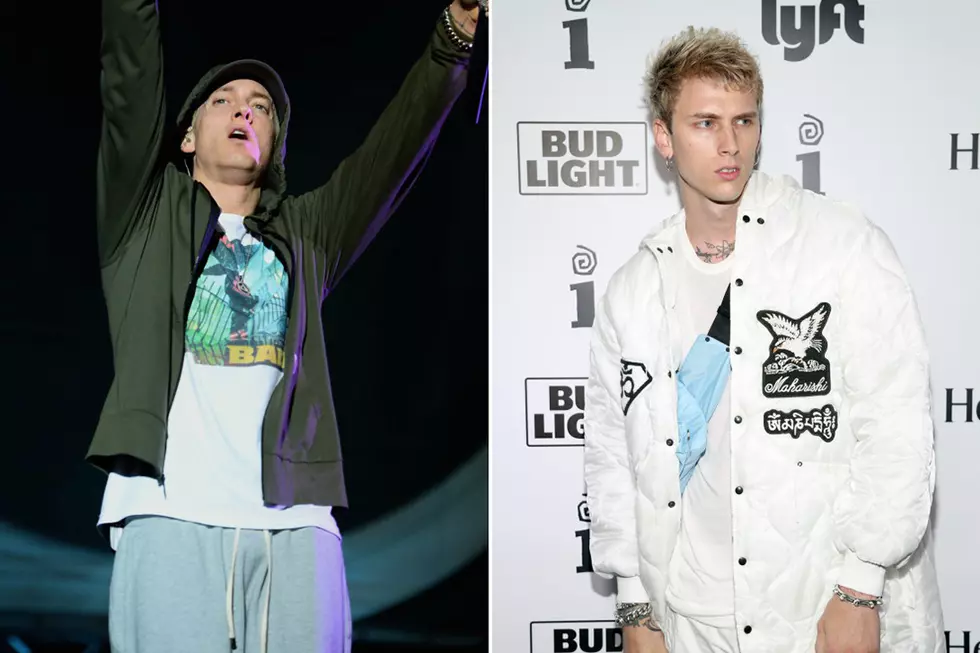 Here's a Timeline of Eminem and Machine Gun Kelly's Beef
Theo Wargo / Cassidy Sparrow, Getty Images (2)
2018 has been a year of heartwarming cease-fires and intense beef flare ups. The latest lyrical squabble to take over news feeds is the war of words between rap legend Eminem and former XXL Freshman Machine Gun Kelly. The feud dates as far back as 2012, and while it went dormant for a while, its boiled over this past month, when Eminem sent shots at MGK on "Not Alike," from his surprise album, Kamikaze. The song, which features an appearance from Royce Da 5'9, instantly caught the attention of listeners, Machine Gun Kelly included. He did not take too kindly to Eminem's commentary.
Since, each artist has verbally attacked the other and unleashed diss songs attacking their rival. MGK dropped "Rap Devil"—its title a play on Em's "Rap God"—while Eminem countered with his own "Killshot." The discord between Em and MGK has even extended beyond the two rappers, with Shady affiliates like Denaun Porter and Bizarre of D12 both hopping in the fray to give their opinions on the battle. Even Ozark actor Gabriel "G-Rod" Rodriguez got involved, allegedly getting into an altercation with MGK's security team after he confronted the rapper about his role in the beef.
With both artists fully engaged in warfare, it's unclear where this beef may go next. In light of the bad blood between the two, XXL compiles of timeline of Eminem and Machine Gun Kelly's ongoing spat to sort out all of the incidents of this feud.
Machine Gun Kelly Tweets About Eminem's Daughter, Hailie

May 7, 2012

The bad blood between Eminem and Machine Gun Kelly began to boil in May 2012, when the Cleveland rep made a comment about Em's daughter, Hailie, in a post on his Twitter account. Referring to Hailie as "hot as fuck" after a photo of the then-16 year-old went viral, Machine Gun Kelly's comment proved to be the genesis of his rift with Eminem.

Machine Gun Kelly Accuses Eminem of Having Him Blackballed

October 2015

In October 2015, Machine Gun Kelly indirectly accused Eminem of having him blackballed and banned from Shade 45—presumably due to his tweet about Hailie—during an appearance on Hot 97.

"Certain people won't even listen or review this joint," MGK explained while talking about the lack of media coverage surrounding his sophomore album, General Admission. "Certain places you won't even hear Machine Gun Kelly on... Fuck anybody who's trying to take food off not just my plate, but a whole city. It's more than just me. Let us win. Help us, man."

Although Machine Gun Kelly didn't mention Eminem by name, many fans assumed that he was the source of MGK's ire.

Machine Gun Kelly Subliminally Disses Eminem On Wax

March 1, 2018

On March 1, 2018, Tech N9ne released the song "No Reason," which features an appearance by Machine Gun Kelly. His verse includes a line that some listeners felt was aimed at Slim Shady.

"Popped in on the top charts out the cop car/To remind y'all you just rap, you're not God," Machine Gun Kelly rhymes, lines that seemingly allude to Eminem's 2013 single "Rap God."

Eminem Directly Disses Machine Gun Kelly

August 31, 2018

When Eminem released his surprise album Kamikaze in August, rap fans reveled at the Detroit legend's return to form following the critically panned Revival. Yet the Royce Da 5'9" collaboration "Not Alike" stirred up lots of controversy. Eminem sends direct shots at Machine Gun Kelly, calling him out by name and taking him to task for his comments about Hailie and his subliminal jab on "No Reason." Although the tension between the two had been brewing for some time, "Not Alike" is the first instance of either rapper throwing down the gauntlet and taking a direct shot.

Machine Gun Kelly Releases "Rap Devil"

September 3, 2018

Days after Eminem dissed Machine Gun Kelly on "Not Alike," MGK unleashed his own retort, the harsh "Rap Devil," in which he accuses Eminem of being bitter, out of touch and having him banned from Shade 45. It was the first on-wax response to Kamikaze's barbs by any rapper, leading many to wonder whether Eminem would counter.

Eminem Previews Machine Gun Kelly Diss

September 7, 2018

With rumors swirling about Eminem's plans to release as Machine Gun Kelly diss track, the Shady one gave fans a preview of the song on Instagram Live, a rare instance of Em utilizing social media to wage war.

Eminem Addresses Beef During an Interview

September 12, 2018

During an exclusive interview with Sway Calloway about his new album Kamikaze, Eminem went into detail about his beef with Machine Gun Kelly and the root of their back-and-forth:

First he said, 'I'm the greatest rapper alive since my fave rapper banned me from Shade 45.' I could give a fuck about your career. You think I actually fuckin' think about you? Do you know how many fuckin' rappers that are better than you? You're not even in the conversation.

Eminem Releases "Killshot"

September 14, 2018

On September 14, 2018, Eminem unleashed the Machine Gun Kelly diss "Killshot," in which he poked fun at Machine Gun Kelly's appearance and lack of commercial success. The song broke YouTube's record for most plays in its first 24 hours, amassing 38.1 million views.

Machine Gun Kelly Reacts to "Killshot"

September 14, 2018

After Eminem released "Killshot," MGK shared his thoughts on the record in a post on Twitter. He appeared to be less than impressed with Em's response.

"2 weeks and 3 interviews later," he tweeted, adding emojis of a toilet and a man tossing something into the trash. "#legshot #letstalkaboutit."#letstalkaboutit."

Machine Gun Kelly's Security Team Beats Up Actor for Criticizing His Eminem Diss

September 14, 2018

The MGK and Eminem beef started to get weird once spectators got involved. While Machine Gun Kelly was at an Atlanta restaurant, he was approached by Ozark actor Gabriel "G-Rod" Rodriguez, who recorded himself calling the rapper "a pussy for going for family"—apparently referring to Kelly bringing up Em's daughter, Hailie.

After what Rodriguez described as a series of squabbles with the rapper that night, he says he was jumped by five members of MGK's security team at a Hampton Inn.

Machine Gun Kelly Disses Eminem During Concert

September 16, 2018

MGK continued to disparage Eminem's "Killshot" during a concert in Orlando, Fla. He took the stage wearing a shirt with the artwork of Em's diss track printed on the front.

"Fuck Marshall Mathers," MGK said as he opened his set, according to TMZ. He later added, "The real Slim Shady can't stand up."

A video from the concert circulated that seems to show some audience members booing when MGK performed "Rap Devil." Machine Gun Kelly later claimed that Eminem fans doctored the video and added the boos.

Machine Gun Kelly Says He Doesn't Plan to Respond to "Killshot"

September 20, 2018

It looks like this beef may go dormant—at least on the part of Machine Gun Kelly. The rapper appeared on The Breakfast Club and spoke about the back-and-forth with Eminem, calling the Detroit rapper's latest diss "out of touch." MGK said that he has another diss record in the stash, but is shelving it for now.

"I had a clip ready," MGK said. "I heard 'Killshot' and I put that shit back in the holster."