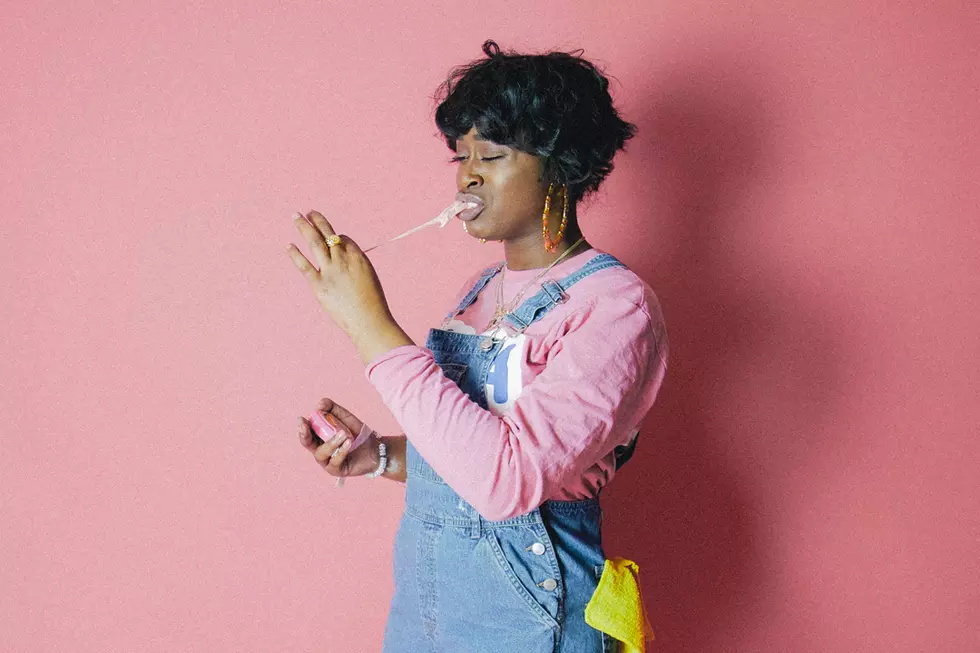 The Break Presents: Tierra Whack
Erik Rivera
When Tierra Whack was a teenager, she rapped under the moniker Dizzle Dizz. In 2011, she was catching the attention of hip-hop fans in Philadelphia because of her raw freestyles. She got a chance to rap in front of big names like A$AP Rocky and Meek Mill once and was even featured on DJ Cosmic Kev's Power 99 radio show a few times. Even though she was earning local success in Philly, Tierra was still finding her voice.
Eventually, she changed her name to Tierra Whack and began making music she felt was true to herself. The result is a collection of unique songs that strangely connect even when the lyrics are hard to decipher. Her latest single, "Mumbo Jumbo," is a hit yet she's barely rapping any actual words. Though it may seem like the perfect song to describe mumble rap—Tierra delivers her verses as if she's got a dental retractor in her mouth—the song creates a feeling that can't be denied as the melody gets stuck in your head and the indistinct lyrics continue over a rattling beat.
The video that accompanies "Mumbo Jumbo" is just as bizarre and a bit creepy, yet it's addictive to watch. It's easily one of the best music videos of the year, proving creativity is never lacking when it comes to this 22-year-old Philly native. "I want people to appreciate all the time and effort that I put into my art and my music," she tells XXL.
Now that she's found her voice and is using her platform to showcase that wild imagination, get to know Tierra Whack here for The Break.
I grew up listening to: "I grew up listening to different shit. Lauryn Hill, that's like my top, favorite album, [The] Miseducation [of Lauryn Hill], Missy Elliott, Busta Rhymes, Eminem, OutKast; all the icons. I remember being in the studio for the first time and I was learning how to freestyle over this beat. I just changed from poetry, spoken word to rap, so basically rapping my poems over beats. I went to the studio for the first time and this was at the same time of me thinking what am I going to be talking about.
"I had an uncle who would say, 'Your flow is hot but you got to rap about being in the streets.' So I started rapping about guns and whatever. When I go in the studio, they were like, and 'What are you doing talking about that stuff?' I was kind of discouraged a little bit because I thought that what people wanted. So I went through a journey of trying to figure out how to stay true to myself and not just talk about what people want to hear. I felt like I was maturing and taking a step higher so I said let me just take this all the way and be me."
My style's been compared to: "I can't describe my sound. That's something I don't ever think about and I kinda don't want to think about it. I like to create whatever that pops up in my head, bring whatever idea to life. People compare me to the people I listen to, the people I'm influenced by, André 3000, Missy, Busta. That's about it."
Most people don't know: "I put a lot of fun facts in the 'Mumbo Jumbo' video. I think people think I'm a extrovert but really I'm a introvert. I sit in the house, I don't party, I don't drink, I don't smoke. I'm only going on when it's time to perform or pay bills [laughs]."
My standout moment to date: "My biggest song would be 'Mumbo Jumbo' because of how fast it's moving, but I'm really proud of 'Toe Jam.'"
My goal in hip-hop is: "To be successful and to show people you can do whatever you want to do. Stay true to yourself. So many people compromise everything; you don't have to do that. You see one opportunity and you're scared to turn it down. You don't have to take everything that comes your way and there's always something else on the other side. There's always something else behind every closed door, a next step."
I'm going to be the next: "Superstar."
See New Music Releases for December 2017