The 10 Best Sneakers Designed By Rappers
Rappers and footwear companies have always had a mutually beneficial relationship, with artists cosigning brands and brands repaying the favor by giving rappers their own endorsement deals and signature shoes. Now, in one of the biggest footwear collaborations in recent memory, Pittsburgh rapper Wiz Khalifa is releasing a new collection with Converse later this week. In anticipation of that collab, XXL pulled together 10 of its favorite rapper/sneaker collections in the past, from Questlove's AF1 to Kanye's Louis Vuitton line. Check them out.
Reebok x Jay Z S. Carter Collection (2003) 
This is a classic throwback to the early 2000s. The signature shoe represented Jay's newfound comfort with the grown and mature lifestyle, and the collaboration ended up spawning two signature styles.
Pharrell Williams' Ice Cream Collection (2003) 
While Ice Cream was an entire brand that Skateboard P helped co-found, the initial run of sneakers was a full-on representation of everything Pharrell was about: bright colors, skateboarding influences and heavy inspiration from Japanese brand BAPE.
Questlove x Nike Air Force 1 (2008) 
What better way to celebrate Nike's longstanding AF1 line than by collaborating with The Roots' Questo, who has always had a keen eye for design? For this team-up, Questo took the classic Air Force 1 and put a colorful spin on it by adding burgundy leather and a neon green elephant print with a gold Nike swoosh.
Kanye West x Louis Vuitton Line (2009) 
While Yeezy has always been a high fashion connoseuer, he shocked the world when he announced a collaboration with famed French fashion house Louis Vuitton. The result of the collab was equal parts classy and street, much like West himself.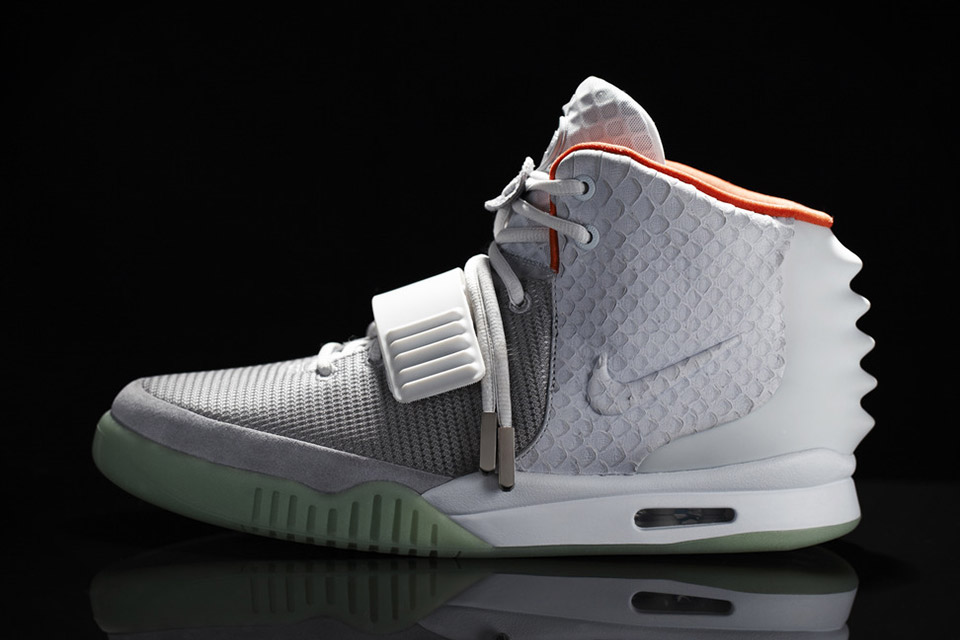 Kanye West x Nike Air Yeezy (2009) 
Though Kanye had already cut his shoe-designing teeth on a collaboration with Louis Vuitton, his partnership with Nike was way more major. By getting his very own line of sneakers, the Air Yeezy, with the famed athletics brand, Kanye set a precedent for rappers-turned-designers. Two styles have been released from the collection so far, with the Air Yeezy 2 Red Octobers hitting the streets next month.
Big Sean x Adidas Originals Pro Model Snakeskin (2011) 
G.O.O.D. Music artist Big Sean clearly took cues from his big brother Kanye West when he got into the fashion game. For this unexpected collaboration with famed brand Adidas, Sean released a snakeskin-print hightop version of the Adidas shell toe classic.
Rick Ross x Reebok Classics (2012) 
With Swizz Beatz coming on board as creative director at Reebok, it only seemed fitting that he'd bring along a team of his favorite rappers to be spokesmen. Though Rozay never put out his own signature Reebok shoe, he repped the throwback Classics with ease.
 Lupe Fiasco x Vans OTW Stovepipe (2012) 
For a guy who came in the game rapping about skateboarding, a collaboration with legendary skating brand Vans made perfect sense. Nearly a year ago, the two connected for this edition of Vans' OTW line for a shoe called the "Native Tongues" Stovepipe, which features a smooth black leather upper with a vibrant tongue and yellow outsole.
Lil Wayne x SUPRA SPECTRE Line (2013) 
In an unprecedented all-out partnership, Lil Wayne teamed up with skateboard-heavy footwear brand SUPRA for his own line called SPECTRE. The result? A collection of high-end, over-the-top but totally wearable sneakers that only Wayne could've dreamed up.
Wiz Khalifa x Converse Collection (2013)
In a slight update on the classic Chuck Taylor, which Khalifa has championed since the start of his career, Wiz adds a bit of his own signature flare to the Chucks and makes it his own. The collection hits stores on August 23.