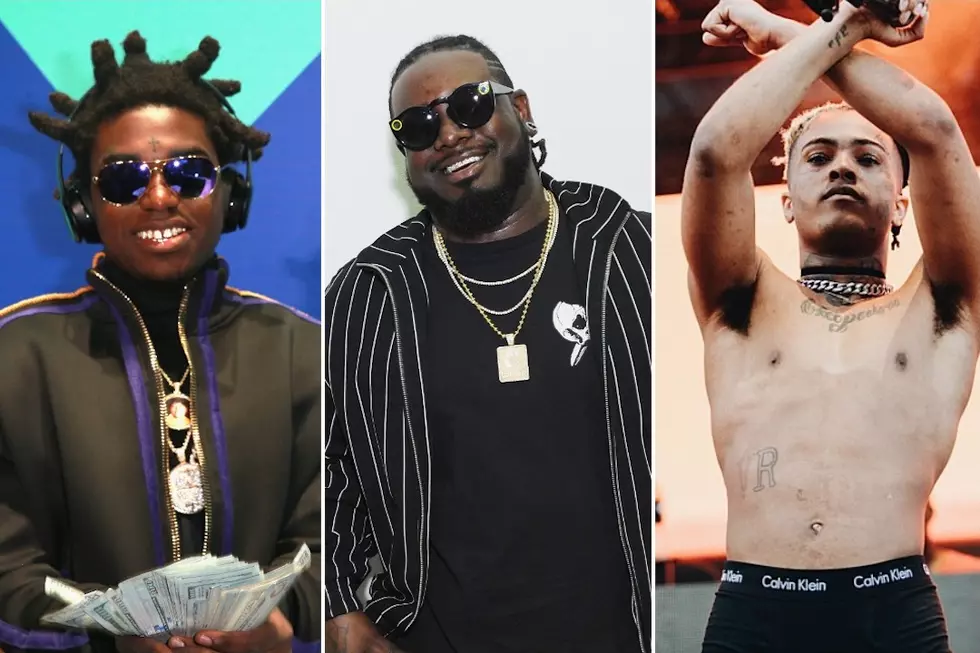 Listen to T-Pain's Remix of Kodak Black's "Roll in Peace" Featuring XXXTentacion
Rich Fury/Craig Barritt, Getty Images (2)/@theinfamousjc
While Georgia and Texas tend to be the popular states coming out of hip-hop's southern region, the community should never sleep on Florida's veteran and rising talents. T-Pain joins two of his fellow Floridian rap peers by delivering the remix of Kodak Black's "Roll in  Peace" featuring XXXTentacion. The hitmaker represents hard for The Sunshine State on this one.
Lacing the first two minutes of his "T-Mix" with some of his signature vocalized raps, Pain offers up some bars that ask for Black's release from prison. He continues to shout out his home state before transitioning the mix back to Kodak and XXX's original verses.
"Set my nigga Kodak free (why?), that ain't where he supposed to be (oh yeah)," Pain rhymes during his remix verse. "Niggas must wanna bleed (ooh), they don't wanna play my beat (ooh)/Niggas ain't rats where I'm from (why?) so they don't fuck with my cheese (nah)."
Unfortunately, Kodak has found himself in trouble again. Last week, the 20-year-old rap star was arrested on seven charges including grand theft of a firearm, two charges of possession of a weapon or ammo by a Florida delinquent adult felon, possession of cannabis over 20 grams, child neglect without great bodily harm and two counts of parole violation.
See 50 of the Best Hip-Hop Projects of 2017