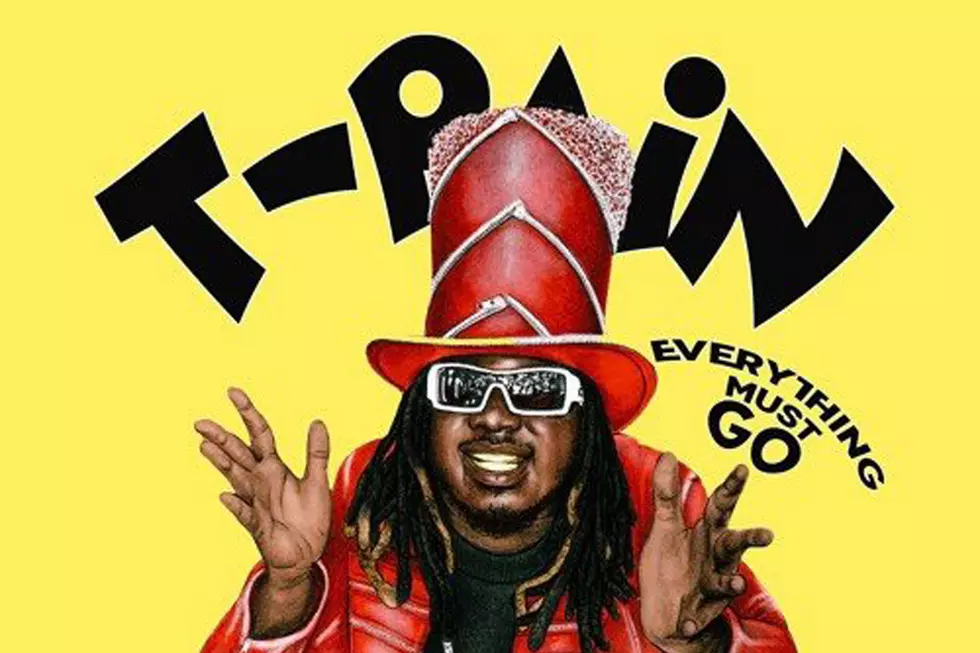 T-Pain 'Everything Must Go (Vol. 1)' Project: Joey Badass, Ace Hood and More Deliver Guest Verses
T-Pain
Today (Aug. 17), out of nowhere, T-Pain has dropped off a new project. This one is called Everything Must Go (Vol. 1), and it's comprised of 13 tracks the Tallahassee, Fla. rapper recorded in his home studio. Joey Bada$$, Ace Hood and Joe Budden lend features on the project, which T-Pain announced with a hilarious new commercial.
In the ad, a comedian by the name of Funny Mike plays a salesman advertising a mega-sale with a cheesy commercial. T-Pain himself doesn't appear in the ad, but cut-outs of the Auto-Tune-wielding innovator appear right next to him. It's definitely worth a watch.
Tweeting about the project and the commercial, T-Pain wrote, "#EverythingMustGo is now live! All the old original recordings from my home studio directly to your ears for your listening pleasure!! @1funnymike is the best salesman of all time."
At the moment, Everything Must Go (Vol. 1) isn't available on streaming services, but you can download the project by visiting T-Pain's Everything Must Go website and entering in your name and email address. Sounds pretty easy.
This drop arrives a month after T-Pain teased some unreleased music featuring Gucci Mane and Tory Lanez. Considering that those bits don't appear on this project, and the fact that the singer adds in the "Vol. 1" to the title of his new project, it feels like we could be hearing them soon enough.
T-Pain's Everything Must Go (Vol. 1) Tracklist
1. "Like Bam"
2. "Miami" featuring Ace Hood
3. "Rest Of Your Life"
4. "Airplane"
5. "Dance All Night"
6. "Do It"
7. "See Whats Happening" .
8. "Hallelujah"
9. "She Wanna Go"
10. "Time Nor Place"
11. "Sittin Around"
12. "That's Me" featuring Joey Bada$$ and Joe Budden
13. "Two Week Notice"
See Photos of T-Pain's Different Looks Over the Years