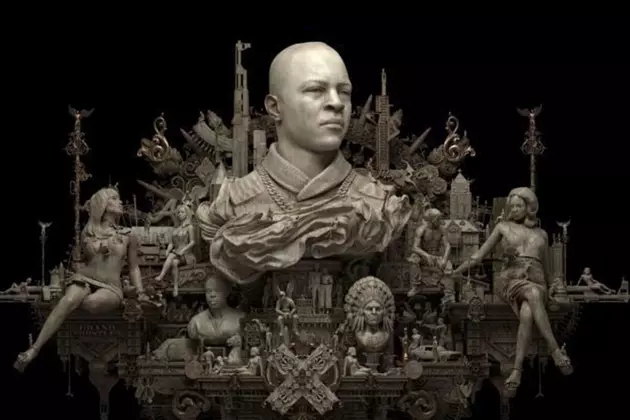 T.I.'s 'Dime Trap' Album Tracklist Features Young Thug, Anderson .Paak and More
Grand Hustle
The wait is finally over. Four years after he dropped his Paperwork album, T.I. shares the release date for his upcoming 10th studio LP, Dime Trap, along with the album cover and tracklist.
The album will arrive on Oct. 5 and feature the likes of Meek Mill, Young Thug, Anderson .Paak, Jeezy, YFN Lucci, Yo Gotti, London Jae and more. Previously released songs like "Jefe" featuring Meek and "Wraith" with Gotti will also appear on the effort. As for the cover art, a bust of T.I. is surrounded by unidentified men and women, an AK-47, an Indian, cars and much more.
Ahead of his new album's release, Tip also unleashes the project's third single, "The Weekend," which features Young Thug. This isn't the first time these two Atlanta natives have linked up for a track. Back in 2014, the duo released their hit song "About the Money."
"I got no time for the fuck shit, I get money or die/Get the fuck on with distraction, I'm way too dope not to have it/Rather say, 'Bye' and stay fly than stay, a part of me die/Some shit, it just ain't no teachin', either you with it or not/If you gon' measure my bad more than you measure my good/Just think it coulda been worse, I could be dead in the hood," T.I. delivers over a guitar-laced beat provided by Swizz Beatz.
Fans can also expect the newly minted Epic Records signee to feature Dave Chappelle on the album as a voice narrating his thoughts. Tip revealed Chappelle's part in a clip released on Twitter. "All my life all I wanted to do was be great," Chappelle states as T.I.'s inner voice. "If the stakes are everything, you'll tell yourself anything you need to hear to survive. Everything I say is the truth and that's a lie, and that's the muthafuckin' truth."
The Atlanta rapper left Columbia Records in 2015, and signed a distribution deal with Roc Nation in 2016. Now in 2018, he'll release his first album under the Epic Records umbrella.
Check out T.I. and Young Thug's latest offering, the Dime Trap album tracklist and cover art below.—Dayna Haffenden
 T.I.'s Dime Trap Album Tracklist
1. "Seasons" featuring Sam Hook
2. "Laugh at Em"
3. "Big Ol Drip" featuring Watch the Duck
4. "Wraith" featuring Yo Gotti
5. "The Weekend" featuring Young Thug
6. "The Amazing Mr. Fuck Up" featuring Victoria Monét
7. "At Least I Know" featuring Anderson .Paak
8. "What Can I Say"
9. "Jefe" feat. Meek Mill
10. "More & More" featuring Jeezy
11. "Pray for Me" featuring YFN Lucci
12. "Looking Back"
13. "Light Day"
14. "You" featuring Teyana Taylor
15. "Be There" featuring London Jae
Here's the Ultimate Guide to Rappers With Acronyms in Their Name