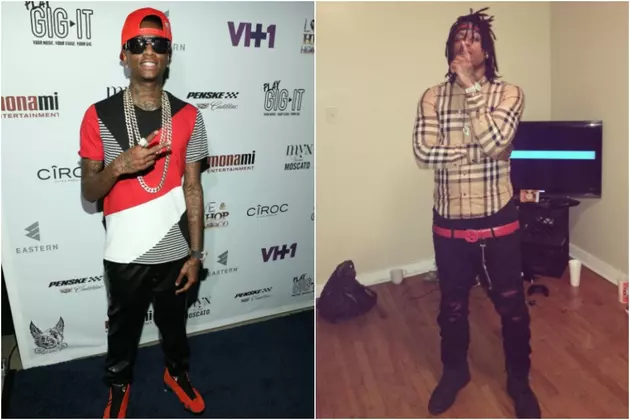 Soulja Boy Puts $100,000 Bounty on Chicago Rapper Rico Recklezz's Head
Jesse Grant, Getty Images, kushsmokegunsmoke_ via Instagram
Chicago rapper Rico Recklezz recently dropped a Soulja Boy diss record called "No Talking." Now, Soulja Boy puts a $100,000 bounty on Rico's head.
On "No Talking," Recklezz spits, "Soulja hoe ass keep dissing Yachty, his bitch ass ain't even got no bodies/Talking tough on Twitter, but his scary ass was scared to come to the lobby." Soulja Boy caught wind of the diss and took to Twitter, typing, "I just made a million dollars what I look like dissin an unsigned Chicago rapper? Fuck rap beef we really doing drills ... he want some clout." Five minutes later, SB upped the ante, tweeting, "He gone be dead before 2017. We sliding. I got 100k on his head." Recklezz quickly replied, "FUK IT LETS BOX 1 ON 1 FOR 10K @souljaboy WE CAN YOUTUBE IT TMZ IT WATEVA WEN U READY ???? ." You can view the "No Talking" video below, along with the back-and-forth via social media.
All of this stemmed from Soulja Boy's beef with Lil Yachty over their mutual friend India Love. SB threatened to kill Yachty if Lil Boat came to Chicago. However, Rico Recklezz stepped in and defended Yachty, saying the 2016 XXL Freshman was good in his hometown. About a week ago, Yachty posted a phone conversation he had with SB, in which the "Kiss Me Thru the Phone" rapper tried to make amends.
Hopefully, Recklezz and Soulja Boy can find a way to resolve their issue non-violently. In other SB-related news, the Atlanta artist recently dropped a new mixtape with Bow Wow called Ignorant Shit. The 11-track body of work contains one guest feature from Rich The Kid. Throughout the project, Soulja Boy and Bow Wow rap about their luxurious lifestyles over a variety of trap instrumentals. Bow Wow spits on the album's intro track, "Just bought a private jet/We don't land at LAX/You know Bow get it poppin'/Shh, rich niggas talkin'/Shut up nigga, let me speak mine/Been ballin' for a long time/You know hoes come and go, dawg/Just like LeBron's hairline."
134 Rapper-Launched Record Labels From the Past and Present