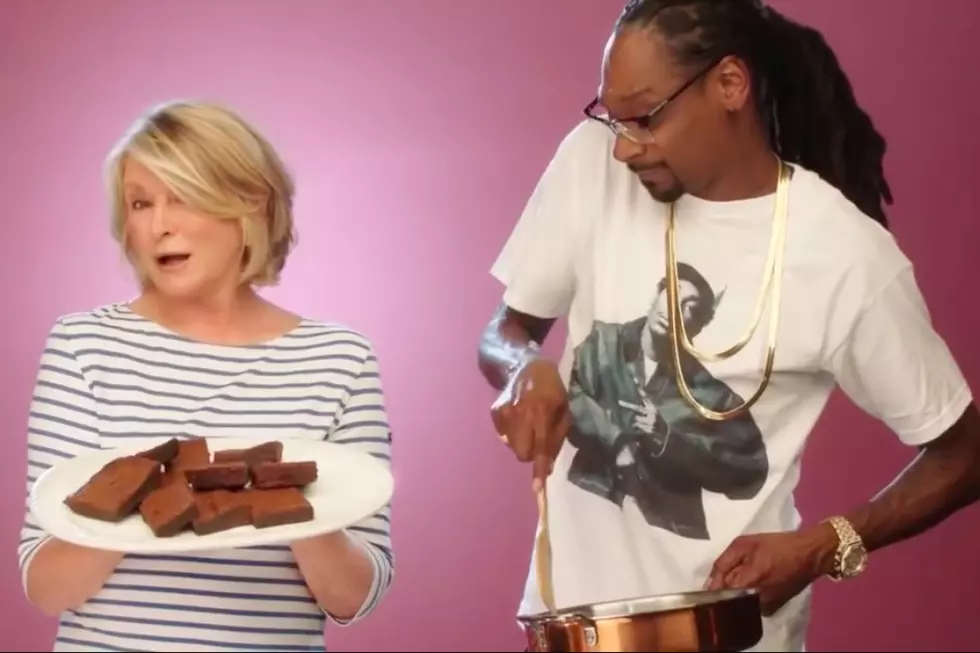 Snoop Dogg and Martha Stewart Preview New Cooking Show on VH1
VH1 via YouTube
Snoop Dogg and Martha Stewart have a new cooking show coming to VH1. Snoop Dogg & Martha Stewart's Potluck Dinner Party debuts Nov. 7 at 10 p.m. on the popular TV network.
The West Coast rap legend and the 75-year-old Stewart cracked jokes at each other at Comedy Central's Roast of Justin Bieber in 2015, and now they're taking their chemistry to their own cable TV show. You can watch the 30-second preview above via YouTube. During the brief clip, Snoop and Stewart get up close and personal - touching each other, dancing, baking brownies and popping bottles.
Details of the new show are unclear, but it'll probably be a series of laid-back episodes, in which Snoop and Stewart cook food, flirt and talk about whatever they want. In case you forgot, these two made mashed potatoes together back in 2008, and, a few years later, they made brownies.
In case you missed it, Snoop Dogg recently reached out to Ken Bone (of presidential debate fame and Internet fascination) and asked the red sweater-rocking Illinois native to swing by the crib. However, shortly thereafter, the world learned that Bone is not so innocent. He's actually a pretty creepy dude who posts strange comments on Reddit.
Snoop, whose Reddit username is Here_Comes_The_King, asked Bone, "KBone !! When you coming thru tha doggy den 4 a little chit chat ?? I got something special at tha crib for u !" Bone promptly replied, saying, "I'm in LA next week, maybe we can hook up. Big fan here. My dad wants to roll wit da Dogg big time, you me and him could do some tight stuff. That didn't sound cool at all, did it?"
A Guide to Rappers on Television Right Now