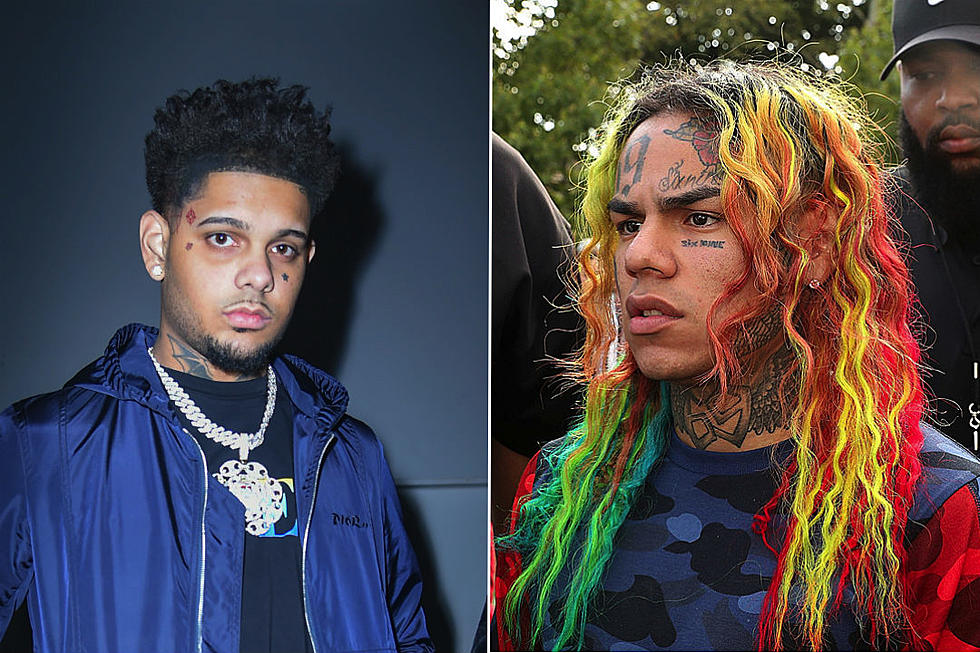 Smokepurpp Disses 6ix9ine on New Song "Duck!": Listen
Yuchen Liao / Shareif Ziyadat, Getty Images (2)
On Friday night (Aug. 2), the South Florida rapper released the new track "Duck!," in which he disses the incarcerated Brooklyn rapper and the mother of his child, Sara Molina. Over an unorthodox Apex-produced beat, Purpp goes off.
"They know Lil Purpp shock a bitch like some thunder (Yeah)/Talking that shit then I put him up under (Prr)/He  not a savage, that nigga a runner (Bitch!)/Look  at my diamonds' they bright like the summer (Yeah)," he raps on the chorus.
In the only verse of the short single, Purpp calls out Tekashi by name and mentions the mother of the rapper's child. "You niggas clowns, all you niggas 6ix9ine/Fuck on his bitch then I make her 69 (Yeah)," he spits.
Earlier this week, Purpp called out 6ix9ine, labeling him a rat and inviting Molina into a polyamorous relationship. "Where's 6ix9ine's baby moms at? We need a fourth one, don't we? We need a fourth one!" Purpp said in a social media video while sitting with two women. "6ix9ine's baby mom, where you at? What's her name again? I don't know, but all four of us are trying to fuck—me and my two girlfriends."
He has since reneged on his invite and called Molina out by saying she looks like a horse.
Check out Purpp's 6ix9ine diss song below.
See Hip-Hop Fans Name The Most Disrespectful Diss Track of All Time