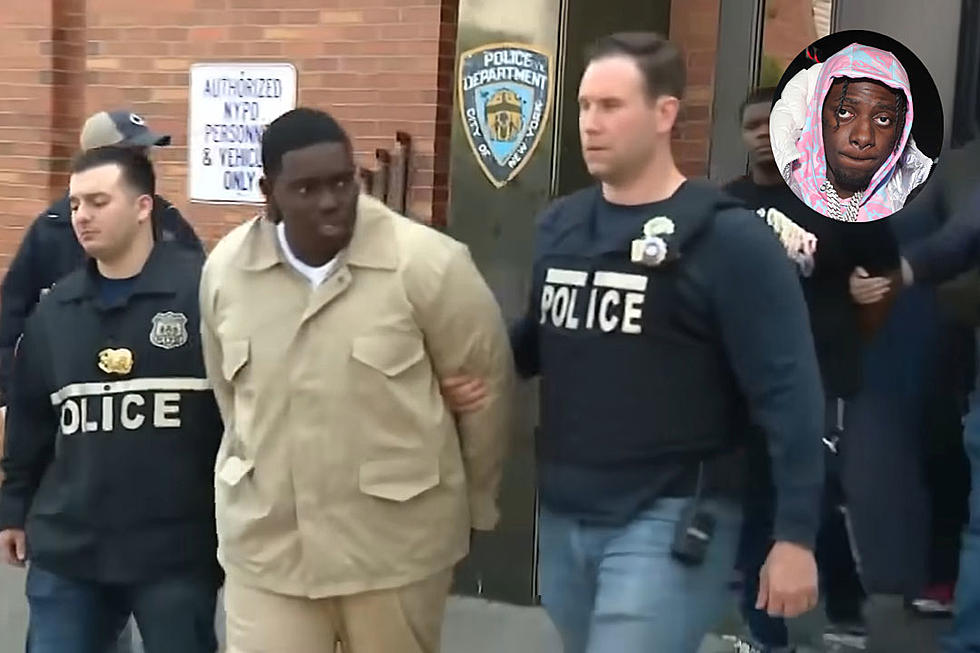 Sheff G, Sleepy Hallow and Alleged Gang Associates Used Pig Latin to Describe Crimes on Phone to Avoid Being Caught, Police Say
Fox 5 New York/YouTube/Johnny Nunez/WireImage
Sheff G, Sleepy Hallow and their alleged gang associates tried to use pig Latin to avoid being caught when talking about crimes on the phone, according to prosecutors.
The two rappers along with 30 other alleged members of the 8 Trey Crips and 9 Ways gang in New York City were charged in a 140-count indictment by the Brooklyn N.Y. District Attorneys Office on Tuesday (May 16), which alleges they've committed over two dozen violent acts. The indictment, obtained by XXL on Friday (May 19), details the lengths the groups went to to conceal their crimes including the use of pig Latin.
"Defendants and other members of the 8 Trey Crips and 9 Ways gang also used a distinct form of pig Latin to show gang allegiance and to attempt to disguise their discussions of acts of violence, gun possession and other gang business," an excerpt from the lengthy indictment reads. "In this version of pig Latin, the first letters or two of a word is removed from its beginning and moved to the end of the word, followed by the phrase 'oggada,' 'aggada,' or 'ay.' For example, 'shot' becomes 'otshay' or 'otshaggada' and 'chop' meaning firearm becomes 'opchay' or 'opchaggada.'"
The indictment, which dates back to March of 2019, accuses the alleged gang members of 12 shootings, resulting in 13 victims including one killing. Three innocent bystanders were shot during the string of shootings, police say. Sheff G, born Michael Williams, is accused of being the driving force behind the 8 Trey gang and using "the earnings from his music career to fuel gun violence in Brooklyn, by offering money and giving expensive jewelry to those who commit acts of violence," according to the indictment. Prosecutors say he also directed shootings and even served as a getaway driver in at least one incident.
"I'm confident that today's successful takedown will have a positive impact on public safety across several Brooklyn communities as we enter the summer months," Brooklyn District Attorney Eric Gonzalez said of the arrests on Tuesday. "The senseless gun violence, allegedly committed by these defendants, terrorized our neighbors for years and left more than a dozen people with serious injuries. It is distressing to know that some of the violence was allegedly fueled by a young man who used money he made from a successful music career to allegedly pay for and encourage acts of violence. Together with the NYPD, my office will continue to target the most violent individuals and to build strong cases against them, as we have in this case."
Sheff G has been charged with conspiracy to commit murder. He recently served a two-year sentence for a felony gun possession arrest in July of 2021.
See 44 of the Longest Prison Bids in Hip-Hop History
C-Murder, Max B, B.G. and more.