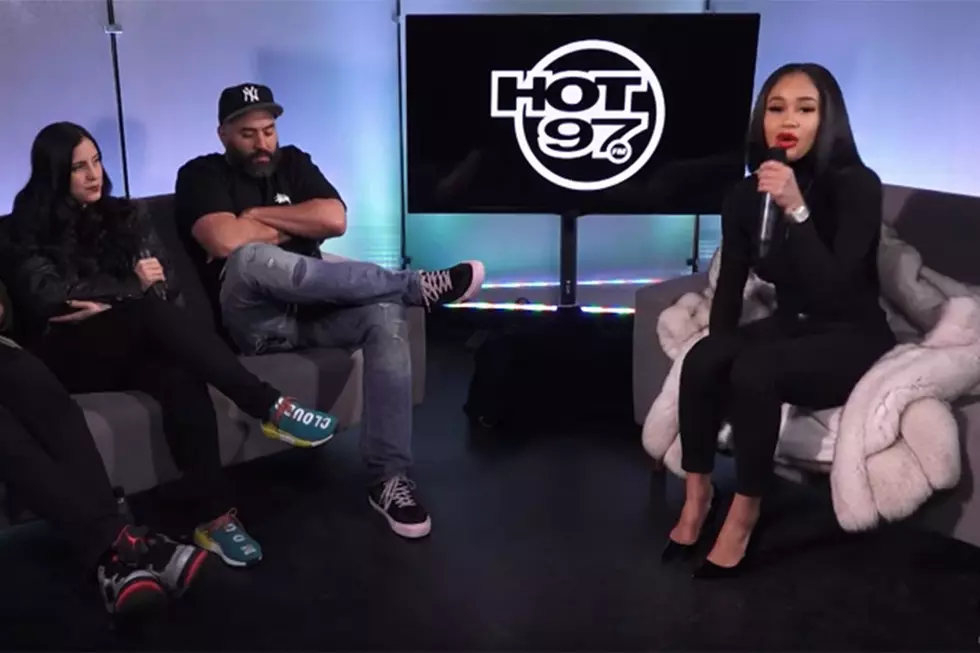 Saweetie Spits a Braggadocious New Freestyle
Hot 97 via YouTube
Saweetie has enjoyed a meteoric rise behind her viral hit "ICY GRL," which landed her a major deal with Warner Bros. Records. The 24-year-old stopped by Hot 97's Ebro In The Morning yesterday (Feb. 28) for a concise interview and even added a freestyle for the crew.
The Bay Area native was on a mission to convince the morning show that she was entirely focused on growing her hip-hop career. "I be rapping about myself, I'm a storyteller. I just learned to write songs at the beginning of this year. I was a freestyle rapper," admits the former USC Trojan.
Saweetie takes aim at her detractors during the live freestyle. "If you didn't know I'm the eighth wonder of the sea/If you asking about who's hot you better ask about me/I don't know a finer woman with a college degree/How to gossip when you too busy being a queen," she raps.
Ebro kept it brutally honest during his critique, which made for an awkward scene, but Saweetie took everything in stride. "If you was a dude I'd probably be harder on you. I just thought the raps was basic," said the radio personality. "I think you need to get a little sharper on your diction, clarity and your content."
Fans on Twitter uncovered a rap by Saweetie in a car from a year ago with almost identical lyrics she used in the Hot 97 freestyle. Compare the two for yourself.
Learn more about the budding rapper through XXL's The Break profile and check out Saweetie's freestyle and her interview with Hot 97 in its entirety below.
Check Out the 2018 Hip-Hop Music Festivals You Need to See