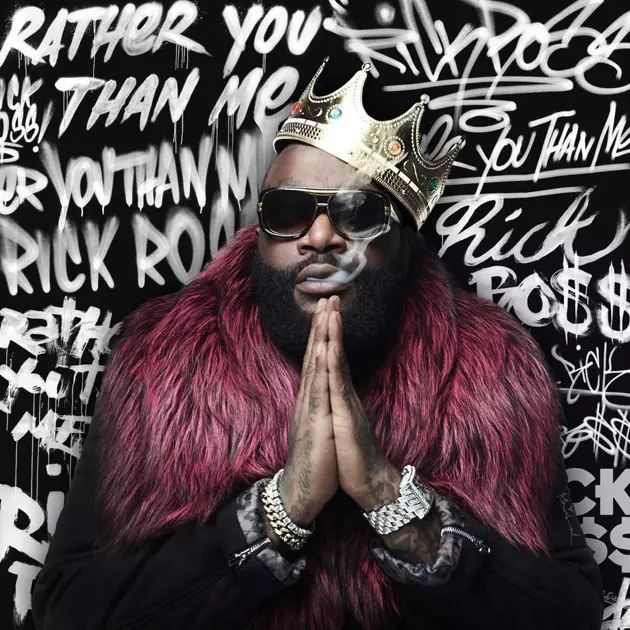 20 of the Best Lyrics From Rick Ross' 'Rather You Than Me' Album
Epic Records
Building a reputation for being consistent in your excellence is easier said than done in any medium, let alone the world of music, where tastes and trends can change on a whim, but Rick Ross has become one of the rare ones to do so effortlessly.
Ross has spent the last decade as one of the more popular and respected rappers out of the South. He's also proved to be one of the more reliable spitters in the rap game, from his 2006 debut album, Port of Miami, to his most recent effort, Rather You Than Me. Dominating the conversation and capturing the attention of rap enthusiasts, Rather You Than Me finds the MMG general returning to form with what many are already calling one of the more impressive long players of his career.
While he chose to fall back a bit in 2016, with no album release, Rick Ross appears to have a lot to say on Rather You Than Me, and leaves no rumor unaddressed or stone unturned, resulting in a personal body of work that brings the listener into the psyche of the bawse.
From the undeniable "Santorini Greece," on which Ross basks in the trappings of his opulence, to the scathing Birdman diss "Idols Become Rivals," Rather You Than Me has plenty of firepower to spare. Including guest appearances from MMG snipers Wale and Meek Mill, as well as A-List talent like comedian Chris Rock, Nas, Young Thug, Jeezy, Gucci Mane, Ty Dolla $ign, DeJ Loaf, Yo Gotti and others, Ross' latest opus is definitely a star-studded affair.
Here are 20 of the best lyrics from Rather You Than Me that are sure to jump out at you, cause controversy or will have you wearing out your rewind button.
"Apple of My Eye"

Rick Ross Featuring Raphael Saadiq

"I told Meek I wouldn't trust Nicki/Instead of beefing with your dog you just give him some distance/We all make mistakes, lets not be to specific/You rather be a killer than be statistic" - Rick Ross

"Apple of My Eye"

Rick Ross Featuring Raphael Saadiq

"Dead presidents tattooed on a nigga chest/U.S. Treasury addressing me, mad at my address/Own the biggest residential pool in the U.S/Drake and Kanye can invite every bitch they ever met/Finger fuckin' bitches in the holy water/Then I go an tell what happened to my only daughter" - Rick Ross

"Santorini Greece"

Rick Ross

"We in the last days, these racist agendas/Blatant double standards because I'm a nigga/Jesse Jackson on them people payroll (fuck him)/When you black, lips chapped cause the game cold" - Rick Ross

"Idols Become Rivals"

Rick Ross Featuring Chris Rock

"So us gettin' money, that's just a conversation/It's so hard stayin' rich and miss the confrontations/Cigars in the Oval Office, Ronald Reagan/Heard Barack Obama whisper as-salāmu ʿalaykum/Live for the moment, die for the streets/Bible on the dash, kilos on the seat" - Rick Ross

"Idols Become Rivals"

Rick Ross Featuring Chris Rock

"Rap game, so much fuck shit done/That's why this .45 in my Trukfit trunks/Fuck a skateboard, I went and got a Wraith, boy/Catholic record labels, niggas gettin' raped, boy/Birdman's a priest, moans in his synagogue/Publishin' is a sin, repent, forgive me, Lord" - Rick Ross

"Idols Become Rivals"

Rick Ross Featuring Chris Rock

"Shootin' dope, usin' coke, movin' like you the Folks/Sacrificin' half our life for your new music cult/You would give us self esteem and motivate our drive/But was in our pockets by the time we count to five/I pray you find the kindness in your heart for WayneHis entire life, he gave you what there was to gain/I watched this whole debacle so I'm part to blame/Last request, can all producers please get paid?" - Rick Ross

"Trap Trap Trap"

Rick Ross Featuring Young Thug and Wale

"I ain't nothin' like them trap guys, I mean I kinda do bag dimes/I kinda never do back down, leave a nigga high via rap lines/Get a beat, leave it baptized/Mob ties, but it's black lives/Black lives, nigga, trap lives/Gimme five on the black side" - Wale

"Dead Presidents"

Rick Ross Featuring Future, Jeezy, Yo Gotti

"Fuck this Philippine pussy in some house shoes/I got dope money, nigga, I got war wounds/Get to the clutching on the hammer, ain't no dance moves/I was posted on the.. stoop, hanging with my Haitians/The murder's on the.. news, all front pages/Young niggas catching bodies, ain't no relations" - Future

"She On My Dick"

Rick Ross Featuring Gucci Mane

"And she just wanna make a scene, tryna join the team/And I just wanna paint her face like it's Maybelline/Bill Belichick, I just got another ring/Bust another check and I just bought a new machine/And like the Chargers I'm about to move the team/You bought a Charger, well Gucci bought a Lamborghin'" - Gucci Mane

"Lamborghini Doors"

Rick Ross Featuring Meek Mill & Anthony Hamilton

"Nice sweaters and these icy diamonds on my wrist/Ice Cube lookin' nigga, you know life a bitch/I once got no allowance, now I got the crown/I said I was the boss, nobody made a sound/Really had to see them things, this level story tellin'/Who else could flip a chorus into 40 million?" - Rick Ross

"Powers That Be"

Rick Ross Featuring Nas

"Dirty money get bloody, you still see the gun wounds/But what's funny are the ones that we put the guns to/Fuck 'em all, kill or be killed, it's still a thug rule/Back of class, high on grass, 'til I said, 'Fuck school!'/What's meant to be is meant to be, I rather you than me/Die with pride, forty shells on the murder scene" - Rick Ross

"Powers That Be"

Rick Ross Featuring Nas

"Like Hannibal Barker, running through Carthage/Pan of our watches, conquer the nonsense, conquering lion/Armée var, Son, God combined in one/Most prolific, you off point/Like the coke addicted lawyer, Klienfeldt's gun" - Nas

"Game Ain't Based on Sympathy"

Rick Ross

"Renovating the ghettoes, moving me elsewhere/Daddy didn't see pension they took his healthcare/Affordable housing and they fed us welfare/Showed us Tony Montana, teachers couldn't care less/A young prince in Miami, son of a pharaoh/This is deeper than raps, I can't run from the echoes" - Rick Ross

"Game Ain't Based on Sympathy"

Rick Ross

"Gang violence ongoing, let's fight our own wars/Chicago been out of hand, the city lost its soul/Funeral every weekend or either you cremated/Homie's son, he been murdered, he didn't seem faded/Holding guns on the gram, out of my league baby/Real killers and hitters would rather live nameless" - Rick Ross

"Labels, we playing chess/Nothing I'm not contested, you niggas is stupid/Thinking Craig Kallman won't send his shooters/They've been robbing for years. no fear to blow out your noodles/Looking at B.I.G. and Pac imagining all the profits/A fiend sitting at home/Picture me rolling out and no royalties in the pocket" - Rick Ross

"Lamborghini Doors"

Rick Ross Featuring Meek Mill and Anthony Hamilton

"Poverty stricken, boy you gotta be kidding/Living like we hit the lottery nigga/I been tippin' since Scottie was Pippen, Chad was sippin'/And before I had that bag I used to bag them bitches/I'm so cocky and I'm confident/All these killers in my ambiance/Say what I want, nobody's stopping it" - Meek Mill

"Triple Platinum"

Rick Ross Featuring Scrilla

"Somebody tried to kill me, still I'm optimistic/Told the detectives 'Fuck 'em' and I bought a rocket missile/Bathing Ape draped on my label-mates/You not a boss until everybody at your table ate/100 bands on me, really that's my sneaker money/'Cause when they land, they be whiter than the Easter bunny" - Rick Ross

"Maybach Music V"

Rick Ross Featuring DeJ Loaf

"Thug passion, he's so compassionate/MMG, yeah, that's his acronym/Call him D-A-D-D-Y, like I'm in a bassinet/He's in pieces, he be all up into my fashion shit/Poppin', rockin', my panties, they match my slips/Been through it all; I could give a narrative/No fiction, nah, we ain't no characters" - DeJ Loaf

"Summer Seventeen"

Rick Ross Featuring Yo Gotti

"Glass panoramic top, I don't got no roof/Your bitch wishing on a star, I can see the moon/I can count to a million with my eyes closed/And shoot a pussy with that chopper while I'm blindfolded/Draco, draco, draco (draco), fitted cap a halo (halo)/Activis and Faygo, no pussies on my payroll" - Yo Gotti

"Summer Seventeen"

Rick Ross Featuring Yo Gotti

"Shots fired; you short of breathing/Barefoot, cause them kids took your Adidas/I'm keepin' fried fish up in my mama pan/Homicide detectives call yo' boy the son of Sam/Zaca flesh shake up the block, that's with a hundred grand/Put that voodoo on you niggas so that gun'll jam" - Rick Ross