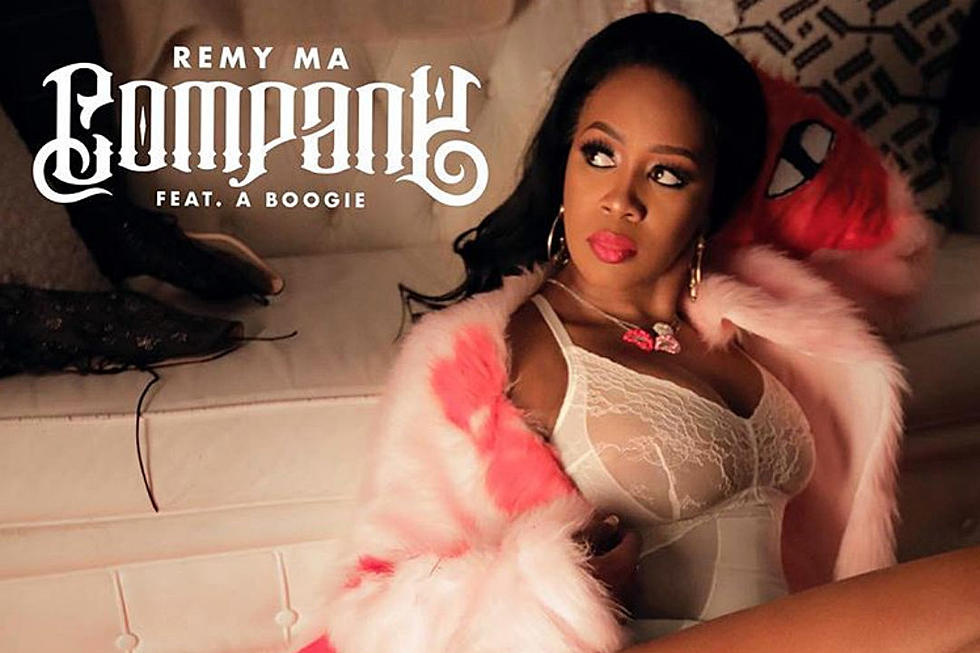 Remy Ma and A Boogie Wit Da Hoodie Drop New "Company" Song and Video
Reminisce Records / Columbia
It sounds like Remy has a banger on her hands with this one. The Bronx rapper rides the thumping track, which is accented by choppy chords. "Baby, what you want from me?/I been gettin' money, I could really put you on your feet," Remy rhymes. "I was gettin' one visit, two phone calls, three showers a week/Now I get like 90K for my voice just to touch the beat, but yo/I will never ask you what you got for me/I just want some sloppy, every couple days I want the D/I don't need no E, I got some M's and now I got a G/Can't explain the new V I bought it's somethin' you gotta see, but yeah."
A Boogie tackles the first chorus on the offering, before dropping his own 16. "She just want good vibes, she just need company (company)/She don't go outside unless she come for me (come for me)," he rhymes. "V12 and my 'Rari, scratchin' up to me/My baby said goodbye, now she don't fuck with me."
The official video for the song finds Remy and A Boogie in a posh hotel, chilling in luxury rooms and posting up in the halls.
Remy has been teasing the new track for a few days. "I wanted to do a record that was fun and different for me so I went home to the Bronx and linked up with my homie A Boogie to give you," she remarked about the song on Instagram.
The latest track follows "Melanin Magic" featuring Chris Brown, which dropped in January. Both tracks presumably will reside on Remy's forthcoming album, 7 Winters and 6 Summers. The follow-up to her 2006 album, There's Something About Remy: Based on a True Story, the upcoming LP still lacks a solid release date.
Listen to Remy Ma and A Boogie Wit Da Hoodie's new track "Company" below.
See New Music Releases for April 2018