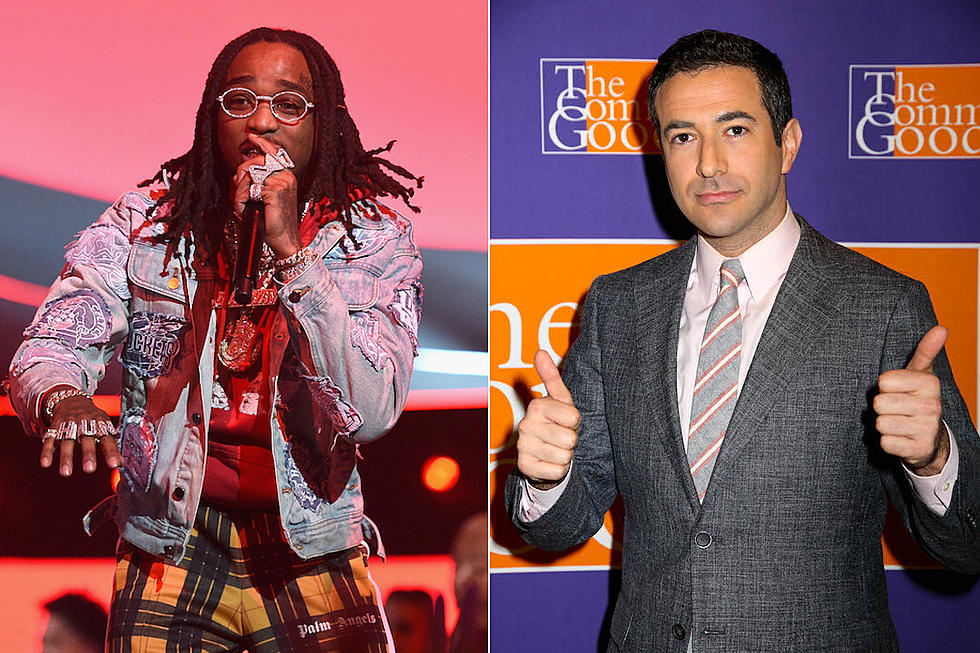 Quavo's "Walk It Talk It" Lyrics Quoted by MSNBC Reporter During Trump Rant
Kevork Djansezian/Donald Bowers, Getty Images (2)
There's no question that Migos' music is well-known by music fans these days, but it looks like some unlikely listeners are using their lyrics to argue against President Trump.
In a news broadcast for The Beat With Ari Melber, which was posted to YouTube this week (March 26), MSNBC reporter Ari Melber quoted a lyric from Quavo on the group's hit single, "Walk It Talk It," while ranting about our country's current leader. Melber believes that Trump is all talk when it comes to his infrastructure plans, and quotes his hook on the record to reiterate his points.
"Or take a more modern bar, Quavo, from the musical group Migos, who says, 'Walk it like I talk it.' Cause if you don't walk the walk, it's just not real."
Huncho reposted the footage from the broadcast to Instagram, captioning it with the song's title and a "Look of Triumph" emoji.
The rant stems from Trump's former claims that he had a big plan to help the infrastructure of the U.S., which included his "Infrastructure Week" that became a running joke on Twitter. Melber argues that he has been all talk, similarly to the politicians he spoke against during his presidential campaign run in 2016, which many believe helped him win the election.
This isn't the first time that Melber has used rap lyrics to make a point during his broadcast. Previously, MSNBC's Chief Legal Correspondent referenced lyrics from 50 Cent's "I'm a Hustler" record and has included his musical taste in his rants often. XXL also spoke to Melber about his hip-hop taste, where he listed Jay-Z, Kanye West, 2Pac, Biggie, old Mos Def as some of his favorite rappers.
Check out the footage of Ari Melber quoting Quavo while ranting about Trump in the video below.
See 10 Times Rappers Went at Fox News