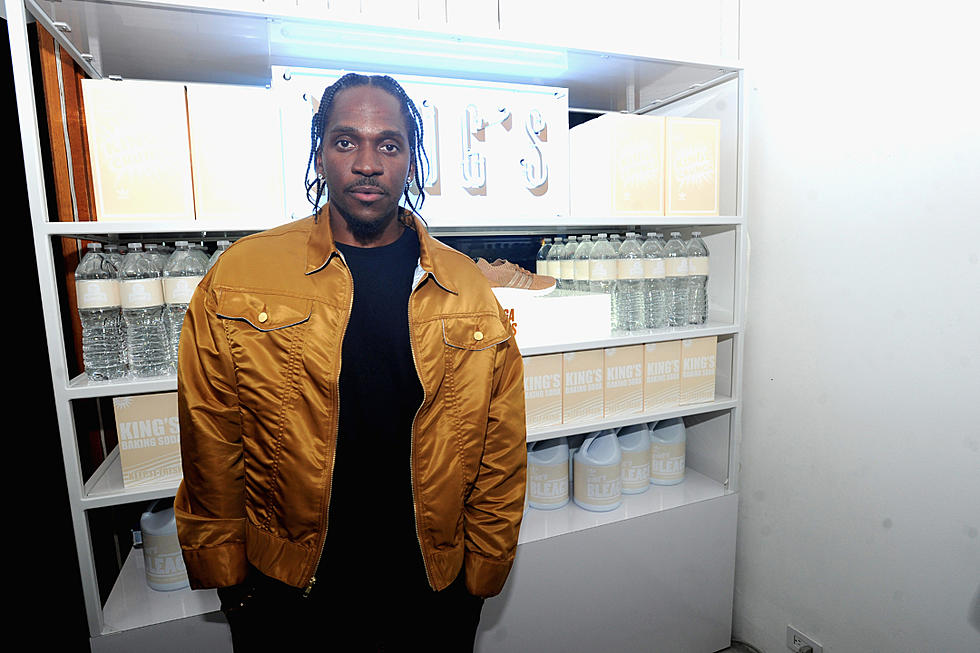 Pusha-T's New 'Daytona' Album Features Kanye West and Rick Ross
Brad Barket, Getty Images
Two days before the release of his new album, Pusha-T shares the first concrete details about the project via a series of tweets today (May 23).
The G.O.O.D. Music CEO, who has now officially added a hyphen to his name, announced the title of his third album has been changed from King Push to Daytona and will feature guest verses from Kanye West ("What Would Meek Do?") and Rick Ross ("Hard Piano"). In addition, Kanye produced all seven songs.
"I changed the album title from 'King Push' to 'DAYTONA' because I felt it didn't represent the overall message of this body of work," Pusha tweeted. "'DAYTONA' represents the fact that I have the luxury of time. That luxury only comes when u have a skill set that your confident in."
Pusha elaborated about the music's direction. "This album is for my family...high taste level, luxury, drug raps fans. Literally this is nothing more than the outcome of our musical therapy sessions," he wrote.
The former Clipse member has also dropped exclusive merchandise designed by Cali Thornhill Dewitt on shop.kingpush.com. Dewitt collaborated with Kanye West on his PABLO merch collection.
Last week, Kanye tweeted a video featuring a white board that lists the names of tracks allegedly featured on the album, including "Sociopath," "Infared" and Santaria." Def Jam released a tracklist today that confirms several of the song titles, and reminds us that Kanye misspelled "Infrared" and "Santería."
Daytona will be Pusha's third solo album, following 2015's King Push – Darkest Before Dawn: The Prelude. This will be the first project exclusively featuring Kanye beats since Life of Pablo.
The Daytona album arrives May 25. Up next, Pusha T will make an appearance on Jimmy Kimmel Live next Thurs., May 31.
Check out the tracklist and guest features for Pusha-T's Daytona album below.
Pusha-T's Daytona Tracklist
1. If You Know You Know"
2. "The Games We Play"
3. "Hard Piano" featuring Rick Ross
4. "Come Back Baby"
5. "Santeria"
6. "What Would Meek Do?" featuring Kanye West
7. "Infrared"
See Pusha T's Tweets About His New Daytona Album Featuring Kanye West & Rick Ross