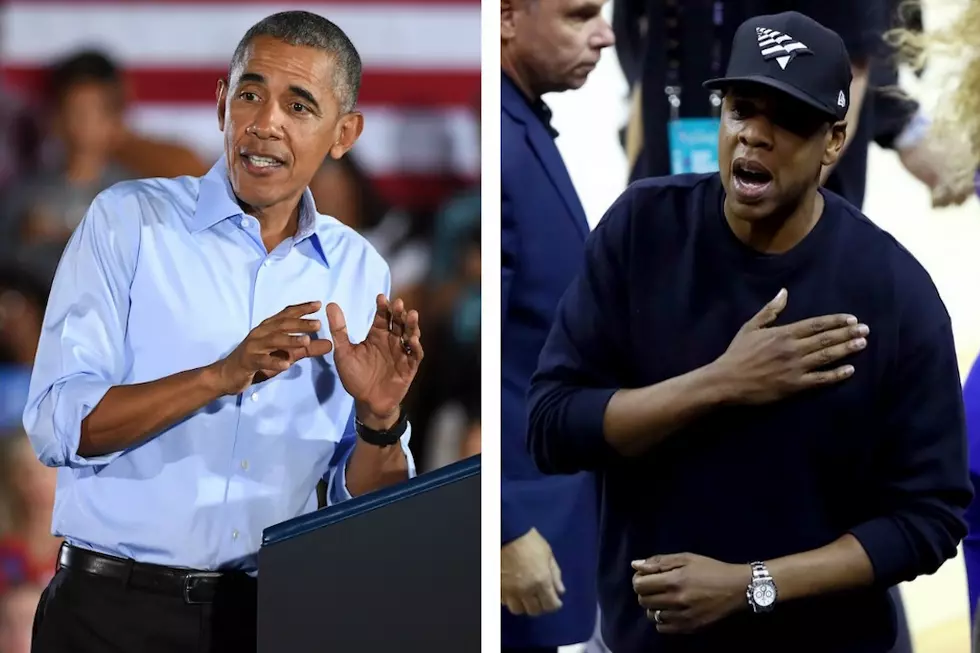 President Obama Says Jay Z Is King, Kendrick Lamar and Chance The Rapper Are Breaking New Ground
Ethan Miller / Ezra Shaw, Getty Images
President Obama's taste in music may go unrivaled by any future president, the Commander in Chief releasing workout and summertime playlists in recent months. Speaking with Sway for Sirius XM, Obama gave his take on the current start of the rap game, celebrating the breakout stars and longstanding figureheads.
"I think the young guys, Kendrick and Chance are doing amazing work..I love Drake and the girls love Drake. He's, commercially, just doing great and unbelievably talented," he says in the above clip. "Jay Z is still the king. You know, he's got a track record. Same with Kanye."
President Obama spoke glowingly about Chance and Kendrick, two artist's he's had the opportunity to invite to the White House during his time in office. "There's a lot of talent out there, but when I look at who's breaking new ground, Kendrick and Chance, those guys are doing amazing work," he said. "And they're wonderful young men. Chance I've known for years 'cause his dad was my state director when I was a senator in Illinois. I first met Chance when he was eight years old. So we've been family for a while. And then Kendrick, he's blowing it up, he's doing great."
In the past, Obama has counseled Chance telling him to start selling his music, and recently invited the breakout rapper to his final state dinner at the White House. Listen to Obama's full comments above, while below, he speaks on who he thinks will win the NBA championship and whether Michelle will ever run for office.
20 of Your Favorite Rappers Naming Their Favorite Rappers