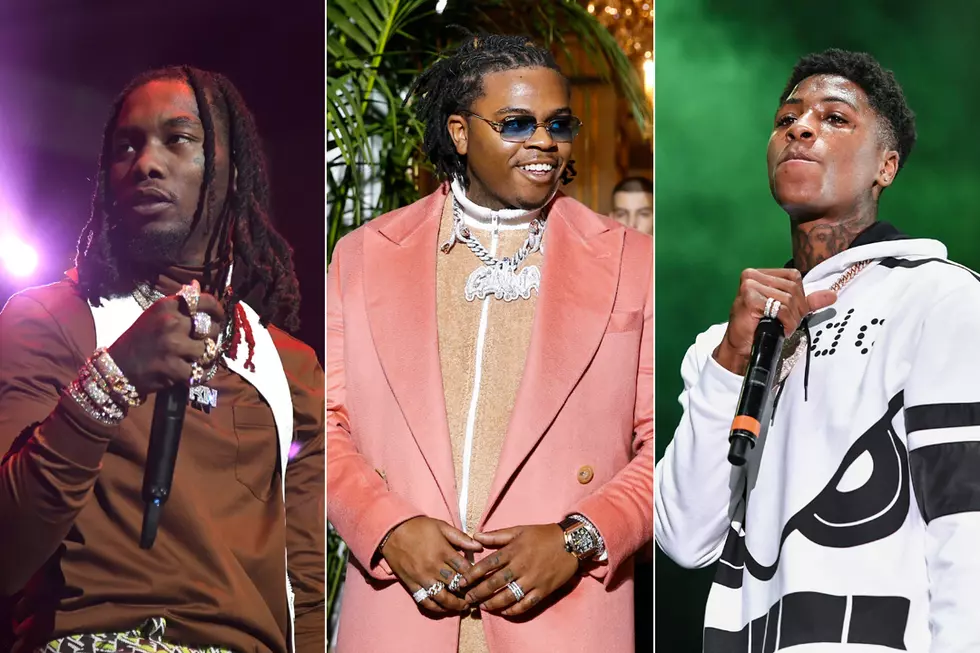 Offset, Gunna, YoungBoy Never Broke Again and More: Bangers This Week
Kevin Mazur / Richard Bord / Erika Goldring, Getty Images (3)
Another week comes to a close. With that said, plenty of songs dropped this week and XXL put them in a nice little package. Enjoy this week's music roundup.
The mystery surrounding Offset's solo album is almost over, with it's official release scheduled for next Friday (Feb. 22). The first single is "Red Room," an intensely personal exploration of 'Set's life. In it, he talks about his scary car crash, his children, familial strife and more. The track is intense and refreshing, making good on Offset's insistence that his solo music would be more relatable.
Gunna is an artist who could fairly be described as the people's champ, both amongst fans and his peers. Drip Or Drown II is just a week away, but his second single "Speed It Up" is here right now. The song features Gunna showing off the style that got him to this spot in the first place; stop and go flows that fit perfectly on whatever beat he touches. "Speed It Up" is compact, as Gunna uses less bars than usual, still getting his point across.
Part of YoungBoy Never Broke Again's appeal is his honesty. His new song "Gangsta Fever" features the rapper talking about his relationship issues, struggling with self-confidence and seeking revenge. A flurry of emotions fit into a sub-three minute package, with a sung hook that's hard to forget. He got into some trouble this week and dropped this song, turning his focus back to music.
"Gangsta Fever"

YoungBoy Never Broke Again

"Fire"

Remy Ma, Fat Joe, Big Pun and Reef Hustle

"Link Up"

Buddy featuring Kent Jamz, Bas, Guapdad 4000, J.I.D and Ari Lennox

"Ocean Drive"

Smif N Wessun featuring Musiq Soulchild and Rapsody

"Studio Gangstas"

Spice 1 featuring Lil Eazy E, MC Eiht and Nawfside Outlaw

"All I Want"

T-Pain featuring Flipp Dinero

"Yola!"

Bodega Bamz, Joell Ortiz , JR Writer , Axel , Flee Lord , ETO

"Precious Jewel"

Papoose featuring Musiq Soulchild

"Caramel"

Lloyd featuring City Girls

"Squad Up"

Street Life and Method Man featuring Havoc

"Fake Decent"

Kami featuring Vic Mensa

"Leave Me Alone"

Kari Faux

"Racks In The Middle"

Nipsey Hussle featuring Roddy Ricch and Hit-Boy

"Misery Needs Company"

Kid Buu

"Noddin'"

Berner and Mozzy

"Ice Me Out"

Kash Doll featuring 2 Chainz

"Something New"

Adé featuring Lil Baby

"Millions"

Z Money featuring Gucci Mane and Hoodrich Pablo juan

"Free 21 Freestyle"

Tory Lanez

"Find My Love"

Salaam Remi featuring Nas and Amy Winehouse

"NY Se Mumbai"

Nas, Divine, Naezy and Ranveer Singh

"Get Out My Face"

Hi-Rez featuring Emilio Rojas and Iman Shumpert

"Blood On My Hands"

August 08 featuring Smino