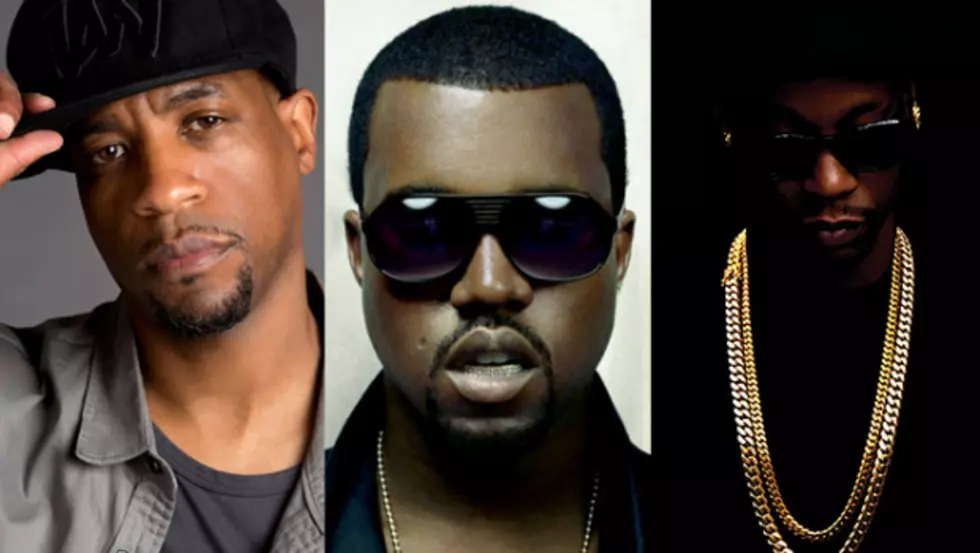 Six Unusual Rapper Side Hustles
From clothing lines to film production companies to even sports drinks, hip-hop has had a long history of rappers crossing over into the world of entrepreneurship. While some efforts have proved fruitful - most notably 50 Cent's Vitamin Water and Will Smith's Overbrook Entertainment - some have fallen completely flat. Through it all, however, most artists' cross-media business ventures have staid within the realm of entertainment.
That doesn't mean that some artists haven't gotten creative their auxiliary businesses, however. Now, XXL has put together a list of six atypical side hustles from rappers, from coaching football to oil drilling.
Side Hustle: Owns 10 Fatburger Restaurants
Even though Kanye West has become synonymous  with high fashion and art in the rap world, the Chicago veteran apparently owns multiple Fatburger restaurants in his native city. In 2008 - a few months before the release of his acclaimed fourth album 808s & Heartbreaks - Yeezy purchased the rights to 10 Fatburgers, with the first opening in September of that year. The move came a surprise to many hip-hop heads given the rapper's penchant for the finer things in life; however, the California-based Fatburger has a history of enlisting hip-hop luminaries - including Pharrell and Queen Latifah - to head the opening of new chains. Still, in 2011, Yeezy was forced to close down one of his chains due to poor performance.
"From time to time, Fatburger Corporation and our franchisees routinely review the performance of each of our stores, and make business decisions regarding their continued financial viability," said the company's marketing director Maria Brooks. "It's unfortunate that the Orland Park location owned by Kanye West Foods, LLC has closed, but we hope to have a presence in the Orland Park community at some time in the future."
Side Hustle: Heavy Metals Mine
With perhaps the exception of Jay-Z, 50 Cent's probably the best known rapper whose ancillary business ventures have been the most profitable. Yet despite the Vitamin Water investment, G-Unit clothing line, film production company and countless other endorsements, his most obscure side hustle is his heavy metals mine in Africa. According to Forbes, the Queens rapper travelled to South Africa to invest in a mine rich with platinum, palladium and iridium. "[I invest in] things that people wouldn't actually expect me to be involved in," he told the magazine. "I've got a diverse portfolio."
Although Fif's involvement in the operation is kept close to the chest, his brand manager Barry Williams described it as a natural progression. "The financials of the music business have changed to the point that we have to find ways to make money in other places," Williams noted. "I didn't think six years ago when we started trying to sell music that we'd be selling Vitamin Water and shoes and clothes. Now we're moving into other directions, and four or five years from now, it's exciting to think about us looking at natural resources and raw materials and other businesses."
Few realized how accurate 2 Chainz's rhyme that he "Came from the block/Now I got the whole thang" was until the Atlanta rapper chopped it up with the legendary Nardwuar. Last year, the Human Serviette revealed that the G.O.O.D. Music rapper behind hits like "No Lie" and "Birthday Song" moonlights as a landlord in his native Atlanta. In the interview, the former Playaz Circle rhymer broke down his hands-on approach to his side hustle and how he deals with tenants.
"I enjoy real estate - I own four properties," 2 Chainz explained. "I do a great job of interviewing the tenant before I just let 'em move in and I kind of get a gist of what they're gonna be like staying in the crib. You don't want them to tear up anything or ruin the property, but if it ever comes to a point you just have to figure out a way to do it. It's a law abiding way to go about doing it and I would just do it like that."
Side Hustle: Bronald Oil and Gas
Cash Money is the motto of Byran "Birdman" Williams' widely successful record label, and apparently, the New Orleans rapper stayed true to that sentiment in his oil side business. Like 50 Cent, Birdman looked to natural resources in 2010 when he and brother Ronald "Slim" Williams founded Bronald Oil and Gas, a venture that Baby commemorated with a tattoo on the side of his head. However, the project appears to have been short-lived, as an investigative report from Bloomberg revealed that official regulators in charge of oil and gas permits had never heard of Bronald. In addition, Bronald Oil and Gas' website - which provided scant details on the venture - has since been deleted.
Still, Birdman indicated that his time in the oil business was lucrative. "I've been in the oil business about 4 or 5 years now," he he told Ozone Magazine. "That's something me and my brother decided to do outside of music. I read about oil a lot and I was able to get in business...I'm making good money off that; that's something for my kids and my kids' kids. They can live off that money forever."
Side Hustle: Owns Five Salons
Although Lil Kim has a history of endorsement deals with the likes of Three-O Vodka and Candie's, the Queen Bee has kept her toes wet in the world of business with a series of beauty salons. In 2010, Kim teamed with North Carolina salon owner and cousin Katrise Jones to expand and franchise Jones' Salon Se Swa brand. However, in January 2011, Katrise was arrested on charges of Felony False Pretense after she reportedly pocketed money from her employees and failed to return property that came to a total of $4,000 in worth.
Still, the charges against Kim's cousin didn't seem to curtail the franchise's success, as Salon Se Swa celebrated the opening of its fifth location in November 2011. "This new location allows us to cater to a larger customer base and better serve the needs of not only Charlotte, but also its surrounding areas," Katrise Jones tol AllHipHop. "Our clientele is vital to the success of our blossoming business. They appreciate the high end services that we provide and we in turn appreciate the, returning for a few hours each week, as they get dolled up and pampered."
Side Hustle: High School Football Coach
Anyone who's heard Masta Ace's "Unfriendly Game" off 2001's Disposable Arts knows that the Juice Crew legend maintains a deep understanding of football. But last year, RESPECT Magazine confirmed that the legendary Brooklyn MC has been coaching high school football for the better part of the last decade. In fact, Ace revealed that he had been juggling his music and coaching duties since 2002. During that time, he's released four full length albums, including two collaborative with Edo G. and his super-group eMC.
Still, Ace says that he kept his football and music careers separate, even going as far as to not tour during the fall. "2002 was my first full season coaching," he revealed. "From that time, I would basically not tour between the months of August to November...I'm [coaching] at my second school. This is my second year in a new school. At my first school, I coached there for 9 years. There were kids that knew that I made music before, but I don't think the fact that I was really known ever really hit home with them. It's a younger generation, so if your song's not on the radio or you're not popular…they're not really aware of hip-hop history."