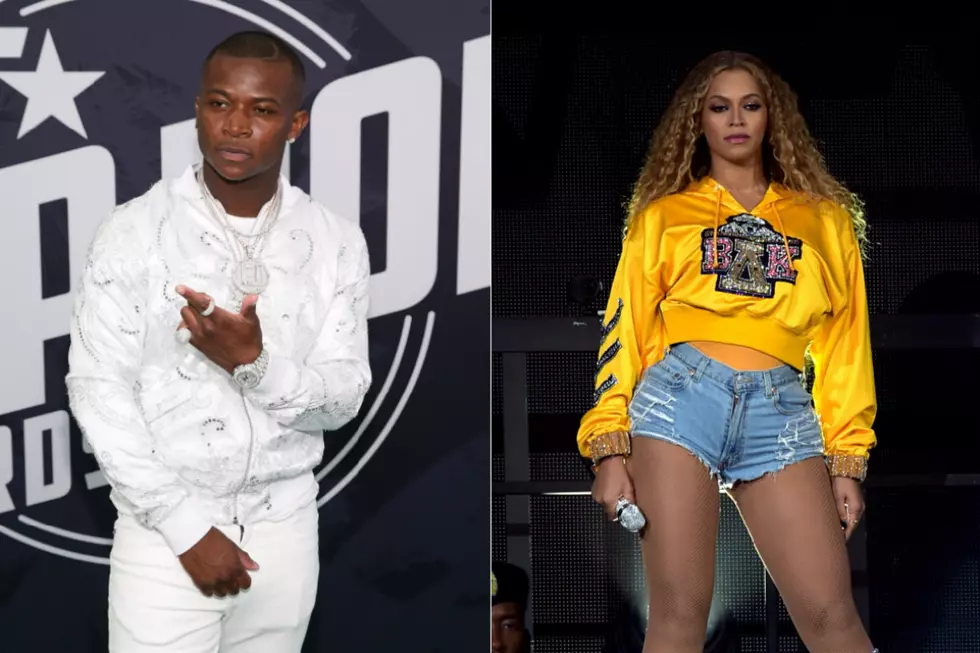 O.T. Genasis Thanks Beyonce for Dancing to His Song "Everybody Mad" at 2018 Coachella
Bennett Raglin / Kevin Winter, Getty Images (2)
One of O.T. Genasis' most recent bangers got a major plug from one of the biggest artists on the planet.
Saturday night (April 14) Beyoncé danced to the Cali rapper's "Everybody Mad" track during her epic set at Day Two of the 2018 Coachella Valley Music and Arts Festival. The gesture was not lost on O.T. who posted a clip of the performance on his Instagram page. "Thank you! @beyonce," he captioned the video. "Dance to my song? #Everybodymad ..Now that's lit🔥 Shout out to the 🐝 hive .. Stream everywhere now!!!! 🐝💪🏾 #beychella."
Beyoncé's set was big business, with major stage setups, multiple wardrobe changes and a bevy of dancers and performers. There was definitely an obvious cultural vibe, and as always, she put on a show to remember. Jay-Z made a cameo on the show, as well as the rest of Destiny's Child and Solange. Saturday's lineup also featured WizKid, Flatbush Zombies, Tyler, The Creator and BROCKHAMPTON. Post Malone put on a lively set that featured him performing "Rockstar" with 21 Savage and his latest hit "Psycho" with Ty Dolla $ign.
The show keeps rolling today (April 15). Artists slated to perform include French Montana, Migos, Cardi B, Amine, DeJ Loaf, Russ and the headliner Eminem.
Check out video of Beyoncé dancing to O.T. Genasis' "Everybody Mad" track at 2018 Coachella and O.T.'s "Everybody Mad" video below.
Check Out the 2018 Hip-Hop Music Festivals You Need to See