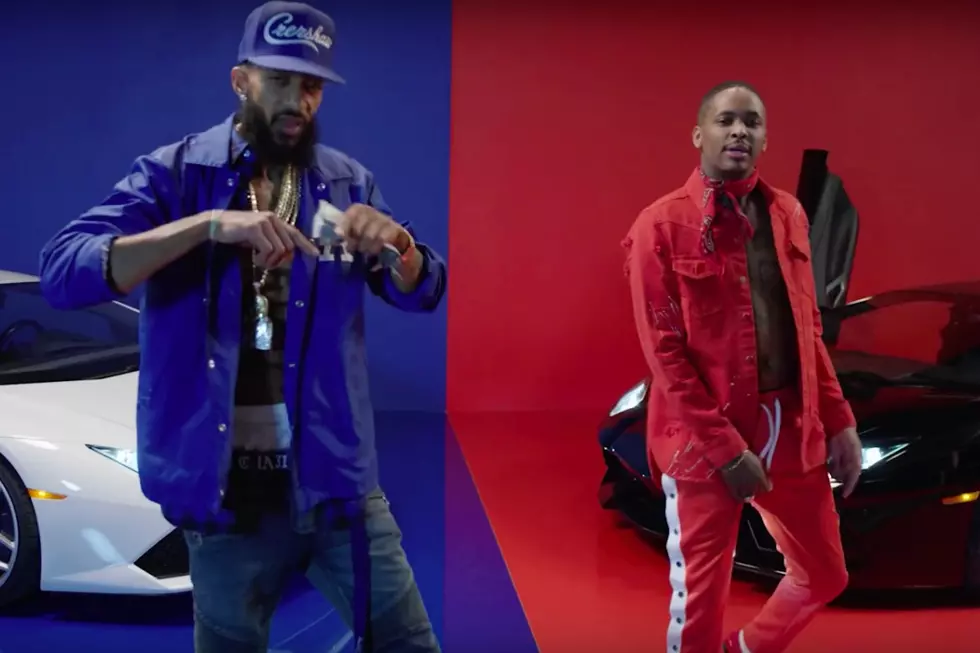 Nipsey Hussle Cruises the Streets in "Last Time That I Checc'd" Video With YG
Nipsey Hussle via YouTube
Ever since Nipsey Hussle announced his Victory Lap album a while back, just about everything the rapper's released has looked and sounded a lot like the title for the project. That's a trend that continues in the Los Angeles rapper's new visual for "Last Time That I Checc'd," a reunion with his "FDT" collaborator, YG.
The stylishly sleek, Sergio and Blacsam-directed visual finds Nipsey and YG standing in front of flossy whips while standing on blue and red floors respectively as they mouth the lyrics to their new track. When Nipsey's not doing that, he's riding through the streets with a police motorcade cruising beside him. Like we said, the guy looks like he's doing a victory lap.
The track itself is a triumphant one that finds Nipsey and YG letting the world know just where they stand—which is at the forefront of West Coast hip-hop.  "I come through fly," he raps. "No co-sign / I didn't need radio to do mine / I done fine and I take my time," raps Nip who recently partnered with Atlantic Records.
For his part, YG also comes with a big dose of confidence, echoing Nipsey's self-made ethos. "This that 'I done made it out the gutter' shit/Nip told you fuck the middle man, I told you fuck a bitch / Fuck wearing they clothes, I wear my own shit."
Peep the visual for "Last Time That I Checc'd" below. Read what Nipsey's got to say about cryptocurrency when you're done with that.
See New Music Releases for January 2018