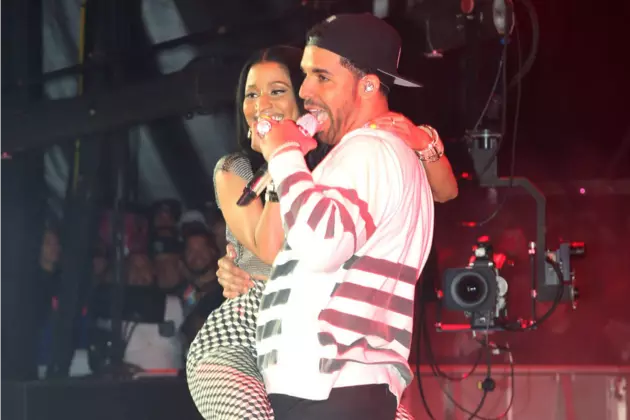 Nicki Minaj and Drake Reunite
Johnny Nunez, Getty Images
Update (Feb. 1, 12:53 p.m. EST):
According to TMZ, Drake and Nicki's reunion came about when Drizzy saw Nicki and Wayne together on ESPN back on Jan. 8. That prompted Drake to hit Young Money president Mack Maine and ask why Six God wasn't informed that the family was back together. He quickly boarded a flight to Miami, where all four of them sat down and ironed out their issues. This, just a week after Nicki and Meek split up.
Before that, Nicki and Drake hadn't spoken to each other in nearly two years since recording "Truffle Butter." Drake's beef with Nicki's ex Meek got in the way of their friendship, but now that Meek is out, the YM rappers are back to being buddy buddy.
A couple weeks ago, Nicki Minaj broke the news to Twitter: she and Meek Mill were finished. It was the final punctuation mark on a relationship fraught with constant public curiosity about when they'd break up (we as a people are so god damn morbid), and soon after Nicki was captured chilling with Wayne.
But today (Feb. 1), Nicki posted a selfie to her Instagram with none other than her labelmate Drake, and it's got everybody talking.
Ever since the two joined YMCMB, people have wondered whether they've ever been an item, with Nicki even clearing the air on their collab "Only" ("I never fucked Wayne, I never fucked Drake"). Drake's been quite vocal about how he feels regarding Nicki; in 2011, he said, "If there's any woman in my life that's the ideal woman for me, it's definitely Nicki. I like the stripped-down Nicki. I like Nicki with no makeup, black hair, some casual clothes in a recording booth rapping an amazing verse. That's sexy to me. I know some great women, but all jokes aside, Nicki is somebody I could spend my life with because I think we understand each other." And then there's the infamous Chelsea Handler interview from 2013.
Nonetheless, the two have never admitted to fooling around. That hasn't stopped the Net from going crazy over their new pic together, though. Peep it below, plus a pic of Drake, Nicki and Wayne that Drizzy captioned, "Big 3."
Twitter Reacts to Nicki Minaj and Meek Mill Breaking Up