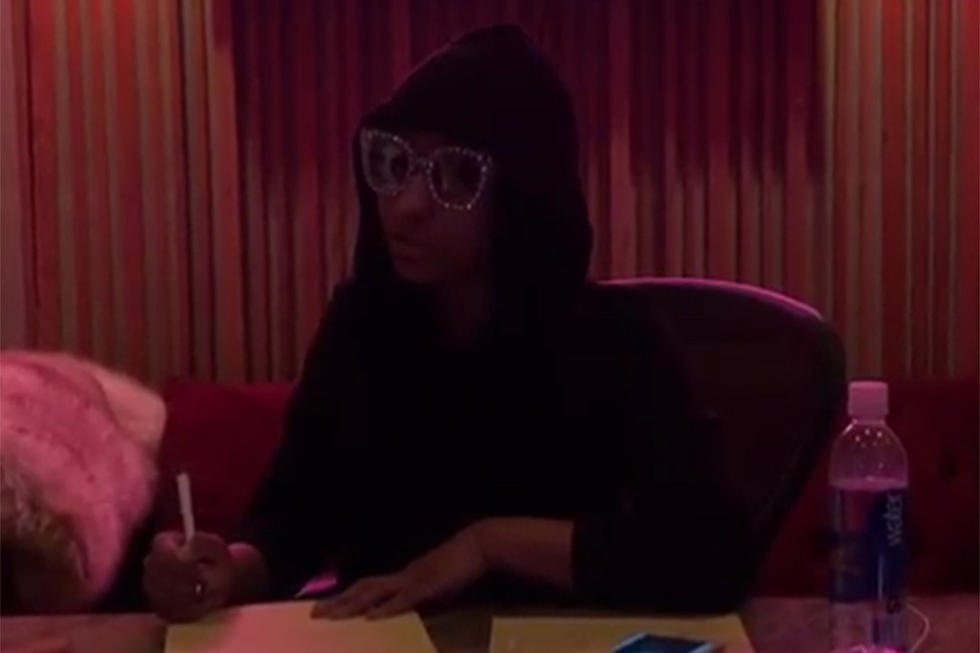 Watch Nicki Minaj Create "Chun-Li" in 'Making of Queen' Documentary Teaser
@nickiminaj via Instagram
While Nicki Minaj continues to gear up for the release of her Queen album, the New York rapper is sharing a behind-the-scenes look at the making of her hit single, "Chun-Li." In a three-part series of clips shared on Instagram from her upcoming The Making of Queen documentary, Nicki offers a glimpse at how the banger was created.
In the first part of the video, Nicki can be seen getting a massage while she listens to a number of different beats. The instrumental for what would become "Chun-Li" eventually catches Nicki's ear, as she starts vibing to the song. "Ain't you happy you stepped out your comfort zone? Ain't you happy you listened to me," she tells producer J. Reid.
Later in the videos, Nicki takes a sip from a bottle of Myx moscato before hitting the booth to spit a reference track for the song. While the lyrics for the song weren't set in place yet, Minaj already had an idea for the flow. The rapper can also be seen taking a hit from her blunt before coming up with what will become the "Ayo, I been on" hook.
While Minaj has been the subject of ghostwriting claims in the past, the behind-the-scenes footage shows that Nicki is the mastermind behind the "Chun-Li" lyrics. The third part of the video features Nicki sitting at a table coming up with the lyrics for the song.
"Here, get some haterade, get ya thirst quenched/Styled on 'em in this Burberry trench/These birds copy every word, every inch/But all my niggas keep the hammer and the," she raps, before settling on, "But gang gang got the hammer and the wrench."
Check out the behind-the-scenes footage of the making of "Chun-Li" below.
See Photos of Nicki Minaj's Different Looks Over the Years