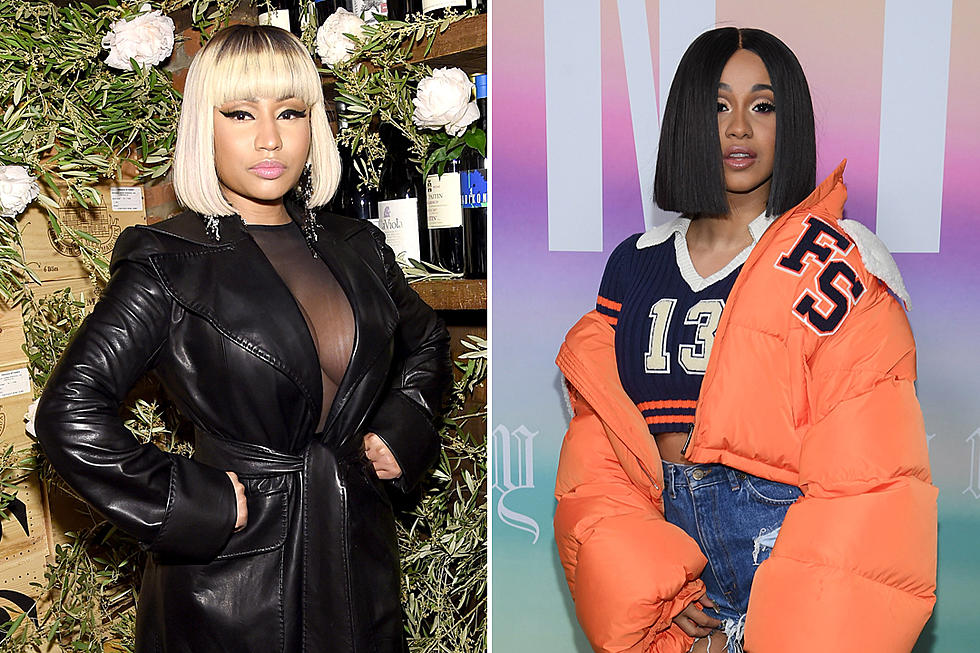 Fans Seem to Think Nicki Minaj Disses Cardi B on New Song "Ganja Burns"
Jamie McCarthy/Dimitrios Kambouris, Getty Images (2)
Nicki Minaj's fourth studio album, Queen, just dropped (Aug. 10) and fans have already pointed out bars that may be directed towards Cardi B and other female rap artists.
On the LP's intro track, "Ganja Burns," Nicki goes in for the kill and addresses everyone who's been taking shots at her since other women have stepped into the hip-hop ring.
Over J. Reid's island-tinged production, the self-proclaimed "Queen of Rap" spits bars. "They done went to witch doctors to bury the Barbie/But I double back, kill bitches, bury the body/And that go for anybody, you'll be thoroughly sorry/I could wage war or I come in peace like Gandhi." The line that has everyone up in arms is "bury the body," which at first listen may sound like "bury the Bardi," Cardi B's gang-affiliated nickname.
Cardi claims there was a "misunderstanding" between them and that has since been squashed. According to the Billboard record-breaker, Cardi and the Queens rapper were able to hash it out at the 2018 Met Gala. "It's always little issues but the thing is, fans are always gonna make it a big thing," Cardi explained to The Howard Stern Show. "I spoke to her about it. It's just like, see? It was just something that it had to be talked about."
While Nicki has yet to confirm or deny she's taking aim at Cardi specifically, listen to the track below and decide for yourself. Then check out the fans' reactions to Nicki Minaj possibly dissing Cardi B on "Ganja Burns" in the gallery below.
See Fans' Reactions to Nicki Minaj Dissing Cardi B on "Ganja Burns"