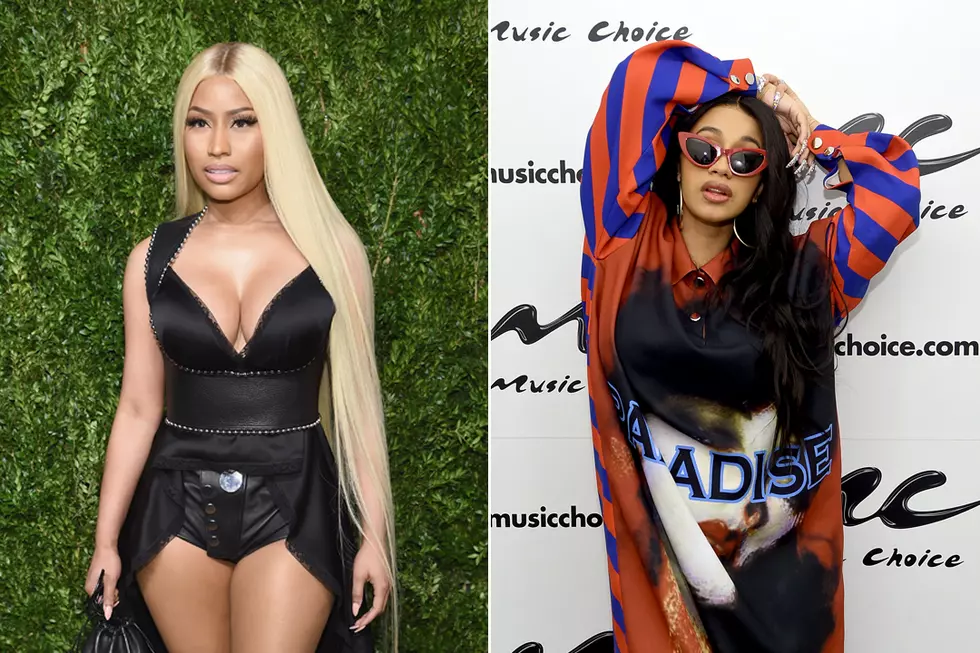 Nicki Minaj Was Hurt by Cardi B's First Interview Discussing Their "MotorSport" Collab
Dimitrios Kambouris / Jamie McCarthy, Getty Images (2)
For the last year or so, a number of fans have postulated that Nicki Minaj and Cardi B are engaged in a feud. Until today (April 12), both rappers have largely dismissed the idea of any negative vibes between them. However, Nicki keeps it real about how she feels during a sitdown discussion with Beats 1 Radio's Zane Lowe.
During the album-focused interview heard 'round the world today, Nicki bared her feelings on a myriad of topics before premiering her two new songs, "Chun-Li" and "Barbie Tingz." Some while into the show, Nicki explained her feelings about any perceived beef with Cardi B. Nicki feels that, at least until very, very recently, Bardi had never shown her any actual adoration.
"I have never seen her show me any genuine love during an interview," Nicki says. "I just see how many girls wish they had been on a song with Nicki Minaj."
Nicki also wasn't so happy about how she feels Cardi B handled "MotorSport," which is a Migos track she and Nicki jumped on last fall.
"The only thing with Cardi that really, really, really hurt me was the first interview [Cardi B] did after the first interview she did after 'MotorSport' came out, it just really hurt me," Nicki tells Lowe. "'Cause she looked so aggravated and angry and the only thing she kept saying was, 'Oh, I didn't hear that verse, I didn't hear that verse. She changed her verse.'"
The Cardi B interview Nicki refers to arrived around the time Migos first dropped their Bardi and Nicki-featuring collab. At the time, Cardi claimed that the Nicki verse she heard before she recorded her own 16 for the track was different than the one that ended up on the final version. Of course, this bit—whether Cardi intended for it to be this way or not—only perpetuated the idea that Nicki had adjusted her "MotorSport" verse so she didn't get out-rapped.
Nicki goes on to add that she'd seen Cardi say some nice things about her around the time she jumped back onto Instagram. That made her "feel good," and she notes that this was the first time she felt Cardi had said something genuinely nice about her. But then, Nicki jumps back to the rough period of time in which "MotorSport" was released, a time in which Nicki says she felt blindsided by the speculative bashing and the perceived lack of assistance from people she trusted—namely, Quavo.
"With 'MotorSport,' I kinda felt ambushed," Nicki says. "I love Quavo, and at the time, on Twitter, I explained how 'Motorsport' came about, and you know, people were saying that I was lying. So I texted Quavo and I said, 'Hey, just, you know, could you back me up on this because I don't want people to think I'm lying. What do I have to lie about?"
Nicki didn't get the response she wanted. "And he didn't back me up," Nicki recalls in her conversation with Lowe. "He texted me, and he was like, 'I would go on Twitter and back you up if you were my girl lol.' And that hurt, because he's somebody—I love him."
Check out Nicki's two new songs, "Barbie Tingz" and "Chun-Li," below.
Check Out the 2018 Hip-Hop Music Festivals You Need to See