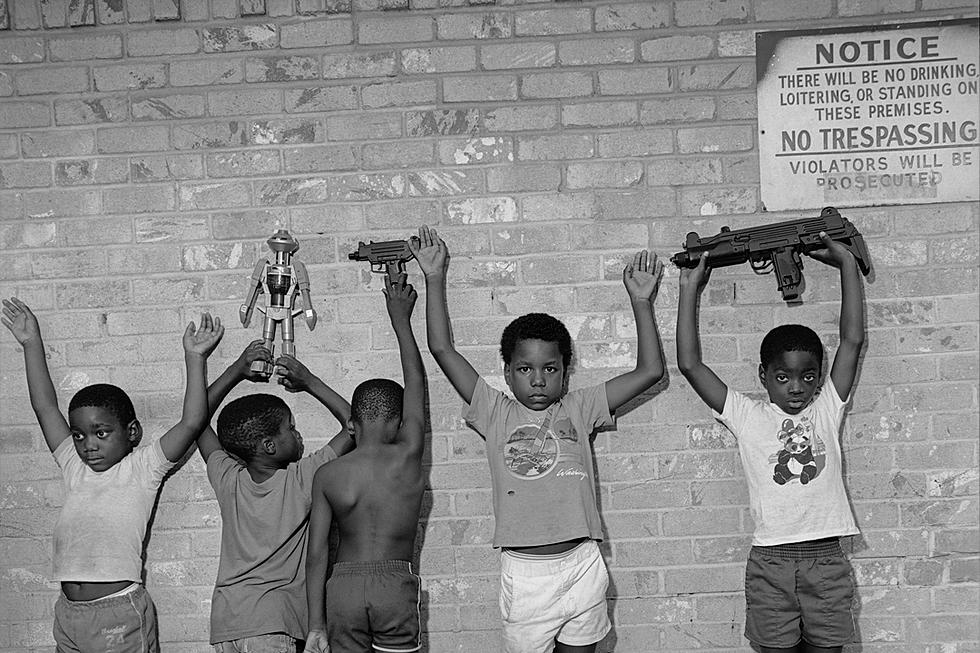 Nas' 'Nasir' Album Is (Good) Rapping for Rap's Sake
Mass Appeal / Def Jam
On "Simple Things," the outro to Nasir, Nas takes special aim at a criticism that's plagued him for much of his career—his beat selection. "Never sold a record for the beat, it's my verses they purchase," he raps over a heavenly instrumental. Nas challenges that long-standing (and oft-exaggerated) flak by teaming up with Kanye West for the entirety of Nasir's seven songs. And the two music minds came up with a project that wavers between brilliant synergy and occasionally uninspired filler.
Whereas the title of Nas' previous album, 2012's Life Is Good, is an optimistic tongue-in-cheek nod to the turmoil in Nas' life, Nasir takes the phrase at face value. He raps about foreign delicacies. Touts his booming businesses. Boasts about making songs that grace Harvard University curriculums. On the frenzied "White Label," he fancies himself a fashion icon ("You impressed with what they wearing, I started that," he scoffs). Yet the best moments, however, arrive when Nas offers introspection. On "Bonjour," Nas reflects on his privilege while Tony Williams lays immaculate vocals over a chopped loop of R.D. Burman's "Dance Music." "Vacations I didn't like, put myself through a guilt trip/All these beautiful places, but the cities be poor/You wealthy when your kid's upbringing better than yours," Nas raps.
The Queensbridge legend can still bend bars with the best, but where the writing of his past work is more holistic and focused in subject matter, here he offers bite-sized maxims that come across like pieced-together scrawls from his book of rhymes. Sure, they often show ingenuity—on "Everything," he nails the succinct, "People do anything to be involved in everything/Inclusion is a hell of a drug." But a vivid narrative like 2002's "Get Down" or conceptual spill like 2012's "Cherry Wine" would help to fill out a project that lacks Nas' signature storytelling or world building.
Nas is a bit girl crazy on Nasir. He recaps his sexploits and stories of past and present flames. On the frenzied "White Label," he brags about bagging "Jet's Beauty of the Week, 1993," while "Simple Things" boasts some more about his dating history. Yet it's the woman that he doesn't directly address—his ex-wife Kelis—that is most noticeable. About two months before Nasir's release, the singer claimed that Nas was physically abusive during their marriage of four years. Here, Nas deflects. On "Everything," the album's sparse centerpiece, he disses journalists and bloggers ("To my life, your life pales in comparison," he snipes) while refusing to address unnamed controversies ("Messiness is not ever the god"). On "Bonjour," he throws a subtle dig at Kelis ("Watch who you getting pregnant, that's long-term stressing"), with whom he's been legally feuding for years. Still, Nas' indirectness is glaring, considering the cloud that the allegations have cast over the album's release and the candor Nas has displayed on Life Is Good.
Nasir suffers from some of the same hindrances as Kanye West's Ye. At times Nas' free thought could be reeled in. The 070 Shake-featured "Not for Radio"—an attempt to recapture the magic and ambiance of 1999's "Hate Me Now"—finds Nas offering questionable alternative facts about Fox News while Puff Daddy drops angry adlibs. Esco goes full anti-vaxxer on the aforementioned "Everything," despite the conspiracy theory being disproved eight years ago. Unfortunately, Nas lacks that same passion on the propulsive, Slick Rick-sampling "Cop Shot the Kid," as he drops impassive bars about police brutality before Kanye chimes in with "I know every story got two sides." It's familiar ground that both artists have handled with more depth and passion in the past (see: Nas' "Cops Keep Firing" or his guest verses on Robin Thicke's 2016 track, "Deep").
Nas is more thoughtful on the closer "Simple Things," despite its abrupt ending. And he shows a passion on "Adam and Eve" that's missing elsewhere, as his words dance to a flawless piano loop. More of this continuity between rhymes and rhythms would help Nasir surpass good music and deliver greatness.
See New Music Releases for June 2018