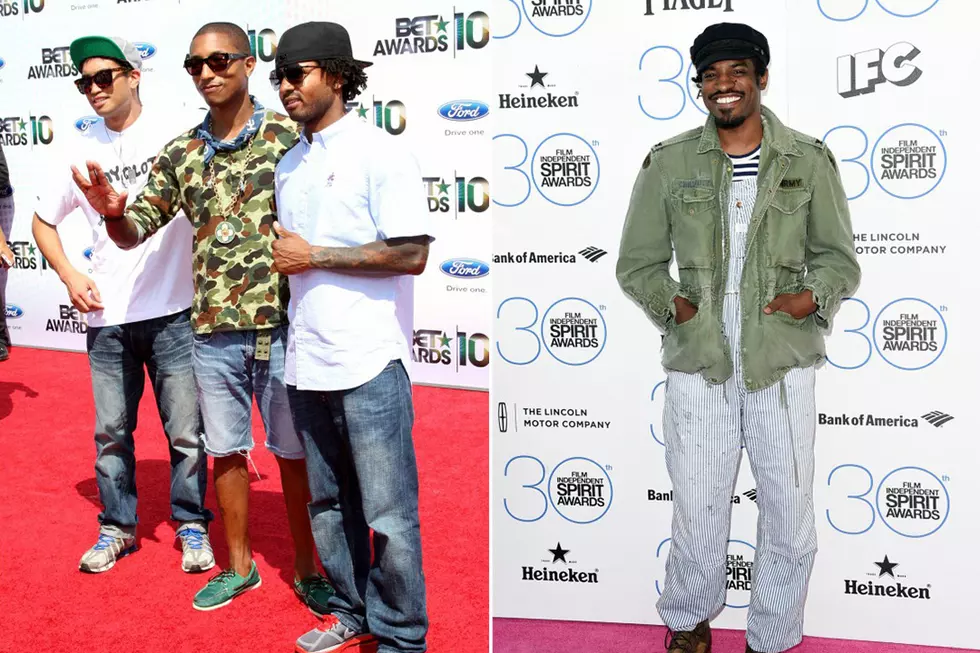 Listen to N.E.R.D's New Song With Andre 3000 "Rollinem 7's"
Frederick M. Brown / Jason Merritt, Getty Images (2)
Ahead of the release of their album No_One Ever Really Dies, N.E.R.D premiered their latest track, "Rollinem 7's," on Friday (Nov. 11) during a segment on Apple Music's Beats 1 Radio.
The song, which features Andre 3000, clocks in at just over five minutes and includes frantic production as Pharrell and 3000 spit their bars. "I got a gash on both my arms and knees, I be/Blockin' Alaska, they be coldin' me, achoo/I can't imagine the hood in harmony, I mean/How can I bask in a bloody sun if he don't see/Me as a man," 3000 raps.
While 3000 is known to usually deliver one verse when appearing on someone else's song, the Atlanta rapper actually gets two on "Rollinem 7's," singing during a beat switch midway through the song.
Although N.E.R.D's upcoming album doesn't have a release date, the trio did recently reveal the project's tracklist. Featuring 11 songs, No_One Ever Really Dies will include guest appearances from Rihanna, Gucci Mane, Wale, Future, Kendrick Lamar, M.I.A., Ed Sheeran and 3000.
Earlier this month, N.E.R.D also dropped the video for their Rihanna-assisted song, "Lemon." The track features Rih showcasing her rapping.
Check out the album's tracklist and listen to "Rollinem 7's" below.
N.E.R.D's No_One Ever Really Dies Tracklist
1. "Deep Down Body Thirst"
2. "Lemon" Feat. Rihanna
3. "Voilà" Feat. Gucci Mane & Wale
4. "1000" Feat. Future
5. "Don't Don't Do It" Feat. Kendrick Lamar
6. "Kites" Feat. Kendrick Lamar and M.I.A.
7. "ESP"
8. "Lightning Fire Magic Prayer"
9. "Rollinem 7's" Feat. André 3000
10. "Lifting You" Feat. Ed Sheeran
11. "Secret Life of Tigers"
See New Music Releases for November 2017