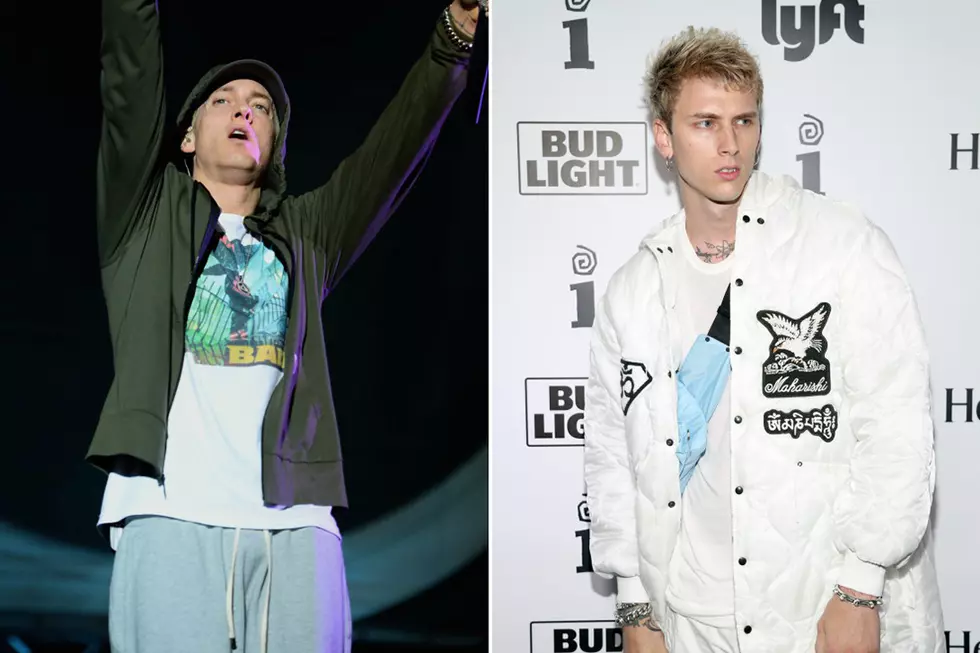 Producer Mr. Porter Claims Eminem Is Working on a Response to Machine Gun Kelly's "Rap Devil" Diss
Theo Wargo / Cassidy Sparrow, Getty Images (2)
Machine Gun Kelly made headlines earlier this week when he dropped his "Rap Devil" diss—a scathing response to Eminem's jabs on the song "Not Alike." While Shady has yet to respond, producer Mr. Porter, who frequently collaborates with Em, claims the Detroit spitter has a reply in the works.
During an interview with Skoglund16 TV, the producer and former D12 member said Shady is already working on a new project and will be getting to recording an MGK diss soon. "We doing something else right now, but trust me, we'll get to it," Mr. Porter said.
The producer also commended MGK for firing back at Em, but said Eminem's response will be akin to what the character Thanos did to Iron Man in the Avengers: Infinity War movie. "The one thing that I'm worried about... You remember when Thanos threw that whole planet at Iron Man?" he added.
On "Rap Devil," which was released on Sept. 3, MGK calls out Em for being the "big bad bully" of hip-hop and suggests the MC can't take a joke.
"The big bad bully of the rap game can't take a fucking joke/Oh you want some fucking smoke (What?)/But not literally, you'll choke/Yeah I'll acknowledge you're the GOAT/But I'm the Gunner bitch, I got you in the scope (Brra)/Don't have a heart attack now (No)/Somebody help your mans up (Help)/Knees weak of old age/The real Slim Shady can't stand up," MGK spits.
Em's diss on "Not Alike" appears to be a response to what Shady felt was a subliminal diss by MGK on Tech N9ne's "No Reason." On the Kamikaze track, Eminem raps, "This little cock-sucker, he must be feeling himself/He wants to keep up his tough demeanor/So he does a feature, decides to team up with Nina/But next time you don't gotta use Tech N9ne/If you wanna come at me with a sub, Machine Gun/And I'm talking to you, but you already know who the fuck you are, Kelly."
Check out Mr. Porter discussing Eminem's upcoming diss below.
See Hip-Hop Fans Name The Most Disrespectful Diss Track of All Time