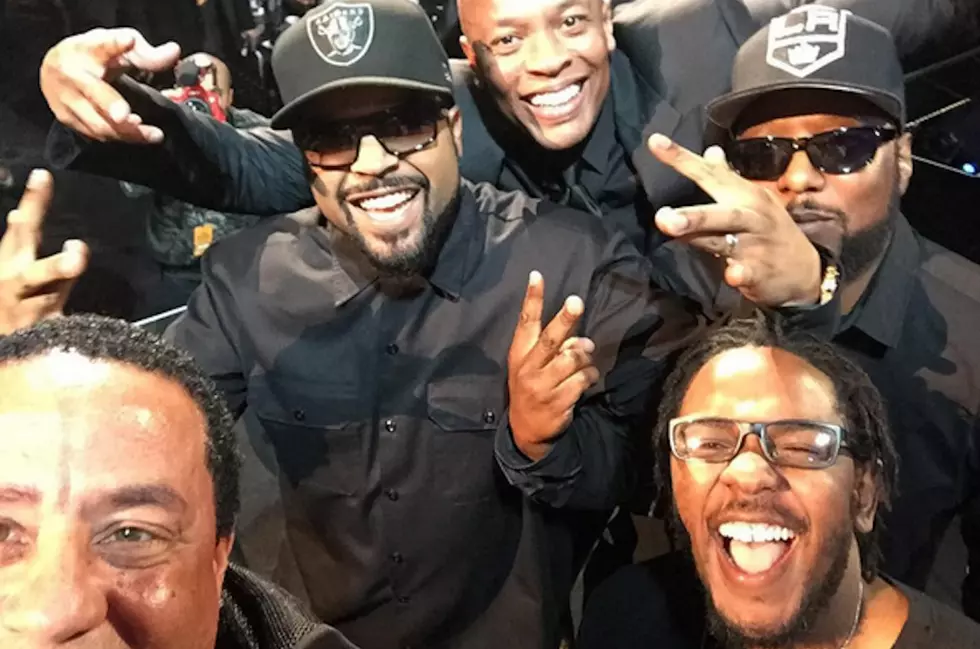 See More Photos From N.W.A's Rock and Roll Hall of Fame Induction
Instagram
On Friday (April 8), N.W.A made hip-hop history. The legendary group was inducted into the Rock and Roll Hall of Fame. As the fifth hip-hop act to do so, following behind Run-D.M.C., Grandmaster Flash and the Furious Five, the Beastie Boys and Public Enemy; the celebrated Compton group basked in the moment of glory but at the same time were saddened by the fact that they had to do so without the group's founder, Eric "Eazy-E" Wright.
The rap realm was undoubtedly on a high this past weekend. N.W.A's induction into the Cleveland, Ohio museum confirmed yet again that hip-hop has broken down what were once towering barriers. Although some rock stars are unhappy about it, most notably KISS member, Gene Simmons, it seems like hip-hop has taken the win. The famed rocker voiced his disapproval with rap being considered for the recognition and recently wished death on the genre. The comment got N.W.A fired up upon accepting their Kendrick Lamar-presented award. MC Ren called Gene out personally. "And I want to say to Mr. Gene Simmons, hip-hop is here forever! Get used to it! Get used to it! We supposed to be here!," Ren professed with Dr. Dre amping him up. Ice Cube also had his choice of words regarding the matter, but in a much less direct manner. "Now, the question is, are we rock and roll?" asked Cube. "And I say, you goddamn right we rock and roll. Rock and roll is not an instrument, rock and roll is not even a style of music. Rock and roll is a spirit. It's been going on since the blues, jazz, bebop, soul, R&B, rock and roll, heavy metal, punk rock and yes, hip-hop," Cube said in defense of the KISS member's comments.
We all know when on top, there will inevitably always be haters, yet this is a moment hip-hop should savor in and enjoy. With that said, check out more photos from N.W.A's induction above.