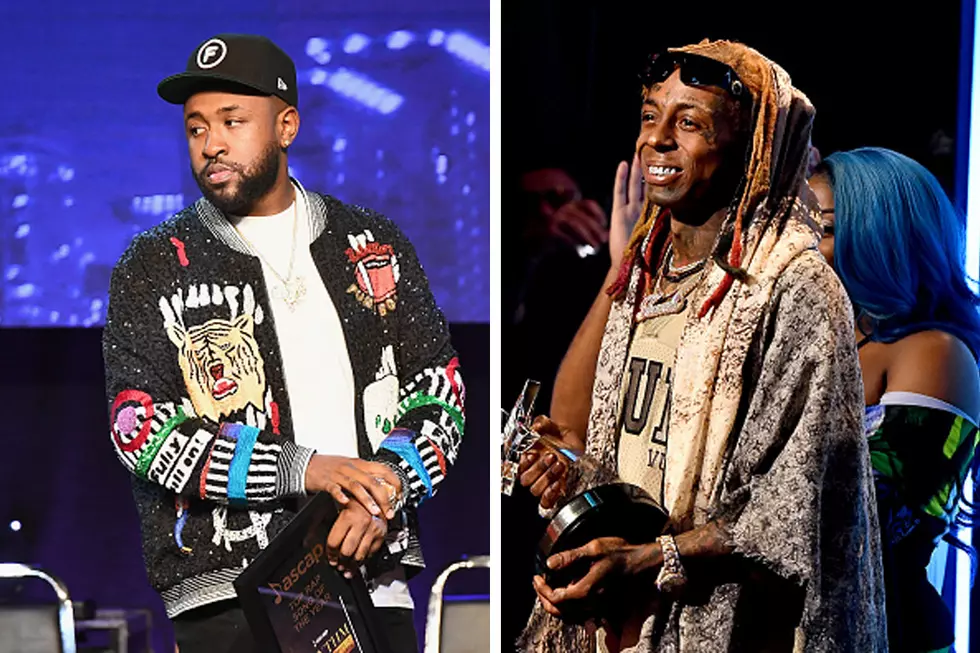 Mike Will Made-It Teases Lil Wayne Vocals for 'Creed II' Soundtrack
Paras Griffin / Paras Griffin, Getty Images (2)
Producer Mike Will Made-It has his hands busy with a new project: making sure the vocals are in for the Creed II soundtrack. On Instagram today (Oct. 22), the Grammy-winning producer, who serves as the executive producer of the Creed II soundtrack, shared a conversation between himself and Mack Maine regarding Lil Wayne's apparent music for the soundtrack.
"DWAYNE CARTER VOCALS ARE IN, AND ARE CURRENTLY BEING MIXED & MASTERED... CAN I GET AN AMEN, #CREEDIISOUNDTRACK," Mike wrote as the caption of the Instagram post.
It was also revealed in the conversation that the track is still a work in progress. "I think u can add drops in the beat on certain parts," wrote Mack, suggesting that the track with Tha Carter V artist isn't complete as of yet.
This isn't the first time that Mike Will has toyed with fans through social media regarding the soundtrack's lineup. One fan tweeted Mike, stating that they didn't want to hear Swae Lee singing on any of the tracks. Mike then cleared the air by stating that Swae Lee, who is currently working on a collaboration with Post Malone, will be singing and it will be a soundtrack worth listening to.
"Swae Lee definitely singing, I advise u to cop, if it's not cool, I do it for the ones tryin to find some solid shit to listen to," Mike replied back to the fan.
When speaking to Variety, Mike Will spoke about the importance of creating movie soundtracks that people are excited to listen to.
"It's important to show the new generation that soundtracks can be just as exciting as traditional albums if put in the hands of the right curator," he said. "After people hear the music, I want them to say movie soundtracks are back."
Creed II arrives in theaters on Nov. 21 and be sure to be on the lookout for the Lil Wayne vocals on the Mike Will Made-It executive produced soundtrack.
See Photos of Lil Wayne's Different Looks Over the Years