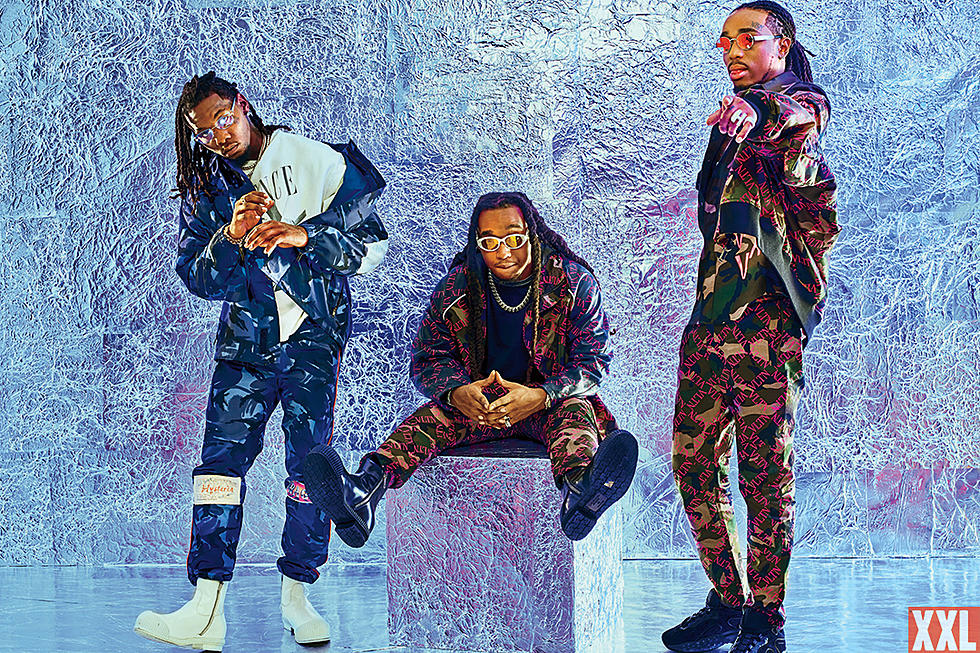 Migos Juggle Group Fame and Solo Stardom
Ahmed Klink for XXL
Kill 'Em With Success
Together, Quavo, Offset and Takeoff make up the Migos, hip-hop's biggest trio. Yet while they've each proven capable of holding their own for dolo with a set of solo albums, it's still family first.
Words: John Kennedy
Editor's Note: This story originally appeared in the Winter 2018 issue of XXL Magazine, coming soon.
INSIDE OF A $6 MILLION-PLUS, five-bedroom waterfront mansion on Miami Beach's Palm Island, Takeoff is concerned about a gunman on the roof. "You on top of the crib, I'ma shoot you!" the Migo roars, as members of his entourage amble around the white marble-floored rental property, unaffected. The 24-year-old rapper is clutching a turquoise PlayStation controller while oversized headphones crown his head. He's been locked in on the online shooter-survival game Fortnite Battle Royale for at least the past 20 minutes, shit-talking and shouting directives, threats and cautions at virtual participants. "Turn around, turn around to the left, nigga, behind you!"
Takeoff is sitting on a sand-colored sectional couch rocking a white wife-beater tee and the same black-and-purple Kappa track pants from his set yesterday, when Migos played the first of two November nights at Miami's AmericanAirlines Arena on the Aubrey and the Three Migos tour with Drake. The run, which will have 54 sold out shows by the time it wraps the upcoming weekend in Atlanta, is a coronation of sorts, solidifying a musical kinship with the Toronto superstar birthed as the Atlanta trappers broke through five years ago. With no daytime commitments before another show tonight, Migos is programming a day of fun.
Quavo sits off to the side in a white leather chair, shirtless. He's cradling his phone horizontally, inches away from his face, transfixed by whatever is happening on its screen. His choice of activity for the day is jetskiing—Migos' day-one manager Jerel "Rel" Nance (who splits the gig with the group's co-manager Danny Zook) is making arrangements for aquatic motorsport vehicles to be delivered to the house's backyard dock, which sits along the Biscayne Bay. Quavo, 27, is growing impatient while waiting for the watercrafts, despite being sore from riding out on choppy waters yesterday. "Waves be so big you just stop going fast," he says. "You just respect the water." Getting a bit restless, he walks past the mounted television, unintentionally kicking the console's plug from an exposed power strip, to Takeoff's aggravation. "Ah shit," Quavo offers in non-apology. "It's OK, you was getting smoked anyway."
Missing from the action is Offset, who's been holed up in a recording studio about 25 minutes away since early this morning, as he toils away at his album, the last in a trio of Migos solo debuts. The three albums—also including October's Quavo Huncho and The Last Rocket, which Takeoff dropped in November—follow an impressive pair of Migos projects (2017's Culture and 2018's Culture II) and strong solo guest features that have become increasingly common. While Quavo has been one of hip-hop's most in-demand collaborators since appearing on Young Thug and Travis Scott's 2016 hit "Pick Up the Phone," Offset has guested on two 2018 singles that have cracked the Top 10 on Billboard's pop chart (Tyga's "Taste" and Kodak Black's "Zeze"). Both artists dropped one-off projects with other collaborators last year (Quavo's Huncho Jack, Jack Huncho with Travis Scott; Offset's Without Warning with 21 Savage and Metro Boomin). Takeoff has been getting looks, too. Today, Mustard puts in a speakerphone request for Takeoff to hop on a track (he faithfully obliges).
The time is ripe for Migos spinoff projects that show the distinctions, styles and idiosyncrasies between the three bando brothers and real-life relatives (Quavo is Takeoff's uncle and cousin to Offset). Quavo says the idea was inspired by Rae Sremmurd's 2018 triple album Sr3mm, which packaged solo projects from Swae Lee and Slim Jxmmi along with a conventional duo album. "We originally wanted to do it as one whole album [and] each have our own section… an A-, B- [and] C-side," says Quavo, who disapproves of the way streaming services bundled Sr3mm's albums sequentially, putting the latter tracks (in this case, Jxmmi's Jxmtro) at a disadvantage. "Everybody just listen to the first couple of songs," Quavo says. "I just wish that Apple [Music] could respect each person. There should be a way they can swipe over or to the side... We just had to do separate ones." Offset, on the other hand, wanted to make a point about Migos' dominance, both as a unit and individually. "I really get mad as hell when they [ask], 'Who's the best artist in the industry?'" he says while backstage after the opening Miami performance. "The top five—we gotta be three out of the five. They try and count that shit out 'cause we a group but that's why we doing this shit, so we can just take over everything."
---
---
AFTER BUBBLING LOCALLY IN Atlanta, Migos' musical takeover began with 2012's "Bando," a flute-powered ditty that makes drug dealing sound angelic. The following year, the trio made Versace (and their oft-imitated triplet flows) ubiquitous with the triumphant "Versace," cracking the Billboard Hot 100 with the help of Drake, who appears on the song's official remix. As the cornerstone of the newly minted Quality Control Music, Migos capitalized on the early success with 2014's No Label II mixtape, which includes the gold-certified singles "Fight Night" and "Handsome and Wealthy." Tongue-in-cheek comparisons to rock icons The Beatles began around this time, yet by the following year it was beginning to seem like the group had plateaued, especially as legal drama threatened to pull it apart.
In April 2015, all three members of Migos (and much of the group's entourage) were arrested on drug and gun possession charges after police interrupted their performance at Georgia Southern University's Spring Bling concert. While Quavo and Takeoff were released on bond just two days later, Offset, who was charged with two felonies and two misdemeanors, was denied bond due to his previous criminal record. The ordeal took place just as Migos prepared to release the group's first studio album, Yung Rich Nation, in July. "I didn't want to be forgotten," Offset says in retrospect, maintaining his innocence and still lamenting how negative publicity from three years ago may have harmed his personal brand. Yet the incident was pivotal in his career, giving the rapper lots of time—including a 12-day stretch in solitary confinement—to recalibrate his life course. "It gave me a drive," he says of the nearly eight-month stint that ended in December 2015, after he and his Migos brethren took a plea deal. "It helped me learn my purpose."
While Yung Rich Nation dropped to a tepid response, selling just 15,000 copies in its first week, Migos continued to embed itself into pop culture. That same year, the group made dabbing hip-hop's favorite new dance craze—Quavo accurately predicted that dictionaries would update the word's definition in the 2015 song "Look at My Dab." The following year, Migos severed ties with 300 Entertainment and appeared (as themselves) in an episode of Donald Glover's FX comedy, Atlanta. Yet everything changed with 2016's "Bad and Boujee," which features Offset's animated verse and a hook so hypnotic that it spawned a meme trend. The song earned the group its first No. 1 hit—Glover famously declared, "There's no better song to have sex to"—and generated excitement for Migos' sophomore album, Culture. "It made me, like, a designated star in a group," says Offset of the breakout hit song. His profile continued to rise in 2017 as he became romantically linked to his now-estranged wife Cardi B, who was a reality TV queen before reigning hip-hop herself. "I feel like a new artist," he says. "I got so much to prove to niggas, like, I'm not a one-hit wonder."
Migos' dominance was confirmed by 2017, as the chart-topping album Culture continued their run with trap-informed hits like "T-Shirt" and "Slippery." As solo acts, they spread their sound to everyone from Post Malone ("Congratulations") to Drake ("Portland") to Gucci Mane ("Met Gala"), also forming like Voltron for Calvin Harris ("Slide") and Katy Perry ("Bon Appétit") collaborations. Culture II continued the momentum in the following year, helping inspire megastars like Beyoncé—who recruited Migos' assistance for her Jay-Z collaboration "Apeshit"—to ride the wave.
"This the three-headed monster," says Takeoff. "We all got similarities, but something stand out about each member." Offset adds: "We can do individual and we can move as group. We do different features by ourselves and be at the top of the charts. It's hard to not see us."
---
---
BACK AT THE HOUSE, Quavo is pacing the backyard pier, slowly wiggling his fingers into the early evening sky, channelling a visceral sixth sense. "Where they at?" he asks rhetorically, before taking a pull from a blunt. The Migos frontman, now dry after riding out on jetskis earlier, settles on the left end of the wooden dock, satisfied with the slight gust carrying from that direction. He retrieves a left-handed fishing rod and reaches into a bait pail to pick up a live jumbo shrimp, impaling its torso with a fishing hook ("Sorry, my guy," he says—a sincere apology). With a drawback and quick flick of his wrist, he flings the line into the water and cranks the spinning reel to give it some slack.
As a kid, Quavo learned how to catch fish from his mother's boyfriend. Then living in Athens, Ga., Quavious Keyate Marshall would fish in the nearby Elberton County, Ga. bodies of water. He still remembers his first big catch: After a day of no bites, he hooked a big-mouth bass that was so large it couldn't fit into the fish bucket. He snuck it out, because as he says, the old heads who permit fishing in those ponds dislike when you catch their big fish, the mommies (mama!) and daddies of the water. When Quavo's family relocated to Gwinnett County, Ga. while he was in middle school, he lost touch with the hobby, becoming preoccupied with playing organized football and making music. But these days, to clear his mind, he fishes whenever he gets the chance.
"It's kind of like making a hit song when you fishing," Quavo says. "You don't know what's in the water. You come out with something big: That's a No. 1 record. You come out with something small—records that keep your head bobbing, people fuck with it, it might creep Top 10, Top 20—we throw it back. But this No. 1 you keep, you hang your plaque on the wall, skin it, filet it, eat with the gang and you back to fishing again."
Quavo Huncho finds Quavo fishing for hits with some tempting bait on his hooks. Migos' most charismatic member puts his charm, Auto-Tuned melodies and street gospel on full display on an album where Juvenile interpolations meet features by Davido and Fifth Harmony alum Normani. He's always been hands-on, but here he's entirely at the helm of his signature trap-pop sound, orchestrating his own project. "[Quavo] knows how he wants something to sound—if he want it to be high, low, if he gon' kill 'em with melodies," says DJ Durel, who's been Migos' tour DJ and in-house producer since 2012. "When I first came, Quavo might be recording a whole session—him, 'Set and Take."
Quavo used that ear, musical vision and technical know-how for Quavo Huncho's most unlikely collaboration, "Champagne Rosé," which features Madonna. He first met the music icon at a 2018 Met Gala after party. They'd already had a connection—unbeknownst to either party, Migos' "Narcos" video was filmed at Madonna's Miami mansion earlier in the year. Later, she sent him an audio note of her singing a melody. He sampled the clip and added some drums to a serene Murda Beatz flute loop, also enlisting Cardi B for the track. "I wanted to create another moment—kind of like 'MotorSport' but just a different… a legend."
Of course, the original "MotorSport," which pairs Cardi and Nicki Minaj on the same track, was a moment for the wrong reasons. The song became the crux of a rift between rap's biggest lady lyricists due to reported requests for verse changes and perceived ungratefulness. But the song's aftermath seems to have affected Nicki and Quavo's relationship as well. In April, she told Apple Music's Zane Lowe that she felt hurt after her frequent collaborator didn't have her back in the dispute. They seemed to have patched things up after appearing together in a video on Nicki's Twitter account shortly afterward. Yet after she playfully nudged him on her Queen track "Barbie Dreams" ("Somebody go and make sure Karrueche OK though/I heard she think I'm tryna give the coochie to Quavo"), Quavo countered with his own "Huncho Dreams," appearing to air out a past fling between the two artists. On the track, he alludes to Chanel bags he allegedly gifted her, as well as some graphic sexual imagery. "Nicki, do you love me?/Why you crying?/She don't wanna be a queen unless she got me/She don't wanna be on scene unless we married," he raps, interpolating Drake's "In My Feelings."
Asked about the motivation behind the track, Quavo deflects. "I'm just having fun with music," he says, declining to speak about the nature of his relationship with the Barb. "If y'all listen to music the way I listen to music, y'all will get it. I don't gotta explain it." Have they spoken since the song's release? "She ain't talked about it, why are we?"
Something is tugging on Quavo's line. He's on the right side of the dock now, seated on the bow of a navy blue Riva Rivarama luxury yacht facing Downtown Miami. He begins reeling it in with his right hand, holding the rod in his left, struggling a bit as he pulls a medium-sized snapper from the water. "Yessir!" Quavo shouts, as the fish flaps on the hook. "Goddamn! He big. And hungry… I told you I was gon' catch something."
While Quavo is tight-lipped with regards to Nicki Minaj, he's more open when talking about Saweetie, a rookie rapper who first made waves in 2017 with her viral Khia-sampling single, "ICY GRL." She plays Quavo's love interest in the video for his song "Workin Me," which dropped in August. Saweetie also appears on his song "Give It To Em." The two artists have been rumored to be dating. "We just getting to know each other," Quavo says with a smile. "I like her style. She a pretty girl, she nice. Just a cool person to hang around with—and she rap."
---
---
OFFSET IS DEAD TIRED by the time he enters Bay Eight Recording Studios near North Miami Beach just before 5 a.m. Migos' opening night concert wrapped hours earlier and after a fan meet and greet and some post-performance clubbing, the 27-year-old rapper and his entourage hit the studio for an early-morning session.
The tranquil two-room studio is the perfect setup for a snooze. An aroma of incense and scented candles wafts throughout. Lava lamps and mood lighting paint the walls in warm red, blue and yellow hues. Offset walks into the main studio wearing an oversized orange short-sleeved shirt with green pants and white Nike Air Force 1s. He apologizes for his drowsiness and plops down into a cushy chair upholstered with Aztec-inspired print, quickly nodding off.
Offset's yet-to-be-titled album doesn't have a solid release date and the rapper, born Kiari Kendrell Cephus, has been working tirelessly to complete the LP that he says will be like his "biography." He's been recording through the Aubrey & the Three Migos tour, which has given him lots of time to reflect. "He always sleep in the studio—that's how he work," says J. Rich, an in-house engineer for Quality Control Music who sports a mohawk, mullet and ponytail that extends past his shoulders. "I put the mic in front of him and he just record like that." There's nothing sleepy about the sound or substance on Offset's maiden solo release, though. There's a strong emphasis on family, whether eulogizing his grandmother, reflecting on his brother's 15-year jail sentence, describing his dad's drug addiction or dropping a dedication record to his children. These tracks still slap—the bass on "Made Man" momentarily shakes Offset from his slumber—but the content is a refreshing pivot from the Migos' usual drip and drug raps.
"I'm not rapping about all the good shit that's going on, like, I'm lighting up in the Maserati," Offset says of the album. "I'm giving things other people scared to talk about. Rapping about shit that matters to me. Not deep, but feelings, street shit that I went through to get to this point… Real-life situations with my kids. I'm giving you me."
It makes sense that Offset has been in a reflective state of mind. In July, he and his wife Cardi B welcomed their first child together, Kulture Kiari Cephus, into the world. [Editor's Note: This interview took place before Cardi announced the couple's split.] While the baby girl is Offset's fourth child (he also has Jordan, age 9, and Kody and Kalea, both age 3), his new experience as a dad has been singular. "I gotta protect her," he says, adding that he has been flying Cardi and Kulture around on private jets so that they can avoid being in the public eye. "My other kids, I gotta protect them too. There's so many people that wanna cuss at [Kulture's] mom in entertainment. And now I'm getting so big that my other kids is going through hell. It just scares me. I just pray for my kids 'cause people evil as a muthafucka."
Stardom has clearly taken a toll on Offset over the past couple of years. "This shit hard—it's a lot of pressure to please everybody," he says. But still, the trap dad wouldn't give it back for a more anonymous life. "Niggas gotta stop shitting on the fame. People pay me to speak. [My] words travel the earth; it's crazy. So, when niggas shit on fame, I laugh. That fame bring you a bag."
---
---
FORTNITE HAS BEEN PAUSED and Takeoff is sitting in the same spot on the couch when he hops on a FaceTime call with 50 Cent. The Queens-bred rap legend shares some supportive words before attempting to persuade him to consider boosting his clout by orchestrating a power couple, citing Ice-T and Coco, Bow Wow and Ciara and, yes, Offset and Cardi B. "It can't just be anybody, though," Takeoff replies, halfheartedly entertaining the scheme. 50 agrees—"You gotta like the shit a little bit"—before closing the call with congratulations on his success. "I love to see you winning."
Takeoff is the youngest of the three Migos and also the most withdrawn. But on the mic, the gruff-voiced rapper is agile and forceful. Takeoff has a lot to say—he tends to over-explain in conversation—but his enigmatic persona is all a part of his own personal marketing plan. "I'm the only one in the group that don't say too much, just to keep it low-key," says Takeoff, who became the subject of a series of internet memes stemming from Migos' appearance on The Late Late Show with James Corden segment, Carpool Karaoke, in November. "You don't really know too much about me. Can't just give them the whole pot. I give it piece by piece and they want more—they want to hear from you. I can get outspoken when it's time for it [so] I got something to give you later."
The Last Rocket is a big step for an artist who's dreamed of rap stardom for as long as he can remember. As a kid, the rapper born Kirshnik Khari Ball would dress up like all of his favorites (T.I., Gucci Mane, 50 Cent) and retreat to his closet to perform their hit songs to an imaginary audience. When he was a teenager still too young to go to the club with Quavo and Offset, he'd have a new song ready for them by the time they came home. Takeoff's first solo album is proof that the years of groundwork have paid off. "I Remember" is a stone-faced look back at ghosts of trapping past, while lead single "Last Memory" finds Takeoff shifting cadences from passive to aggressive over a potent MonstaBeatz chop. And "Infatuation" is a rare take on romance, a song so reminiscent of classic soul that Takeoff had to Shazam the Masked Man-produced beat to make sure it was an original. "You gotta talk to the ladies," he says of the track, which features newcomer Dayytona Fox. "Everybody feels that type of way at one point about this one special person. I know that song is how it make you feel." Takeoff kept The Last Rocket short on both guests and runtime. Only Quavo and the aforementioned Fox pop up over the album's 38 minutes, much more economical than Migos' stacked tracklists. "I ain't really want no features on there," he says. "In the second project, whatever, but the first time, they gotta hear me."
Chatter for Culture III dropping in 2019 has already begun. Quavo says there's a stockpile of Migos music in the stash, as they record frequently. But the trio's next act seems to be remaining a unit in an artform that has historically favored splits. Even the Beatles broke up. Yet despite any solo ventures, Quavo, Takeoff and Offset seem set on sticking together. "This shit is just showcase," Offset says of the solo releases. "We just wanted to show the world that it can be done and you still be home team. But the group is for all the shit."
"All of the great groups that we've seen have never let their group be what they could have been," Quavo adds, just before retiring his fishing rod for the night. "Ain't nothing gonna stop us but us and God. Everything else is in this water."
See Photos From Migos' XXL Winter 2018 Cover Story