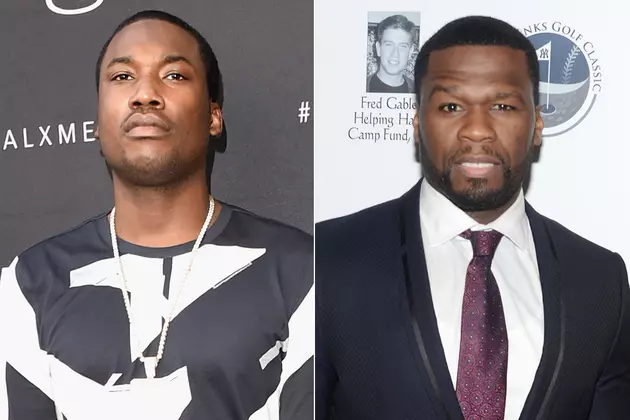 Meek Mill Performs "Dreams and Nightmares" Alongside 50 Cent in Las Vegas
Noam Galai / Jason Merritt, Getty Images (2)
According to HHNM, it really went down last night at Drai's where Meek Mill performed on a star-studded stage that included former nemesis, 50 Cent as well as the likes of Chance The Rapper, Allen Iverson, James Harden, Trey Songz and Jeezy.
In footage from the club, Meek performs his hit "Dreams and Nightmares," while a grinning 50 Cent serves as his hypeman.
A year ago, the two rappers being in this close proximity might have caused a fight. The two MCs were engaged in a tense beef that lasted for the parts of 2015 and 2016.
However, Meek recently revealed on the Angie Martinez Show that they quietly settled their differences almost a year ago. "People don't know this, I actually seen 50 Cent one day," he told Angie. "He coming out of the hotel. You know we going back and forth on the Internet. Believe it or not, 50 and them a serious situation in traffic. This ain't no average little light-weight rapper. 50 ain't…he ain't light weight when it come to traffic. Yo, we holla'd. We went to side like men. Had a good conversation. 'You know we both come from the streets, you know what this can lead to. You got these type of dudes with you. I got these type of dudes with me. I always looked up to, fam. I don't know how we got on this foot.'"
Meek added, "He said what he had to say, I respected what he said. I said what I said, he respected what I said. That was nine months ago. We left that in the dark."
Now will we get Fif and Meek on the same record?
Check out footage from the lit show below.
See Photos of Meek Mill's Different Looks Over the Years