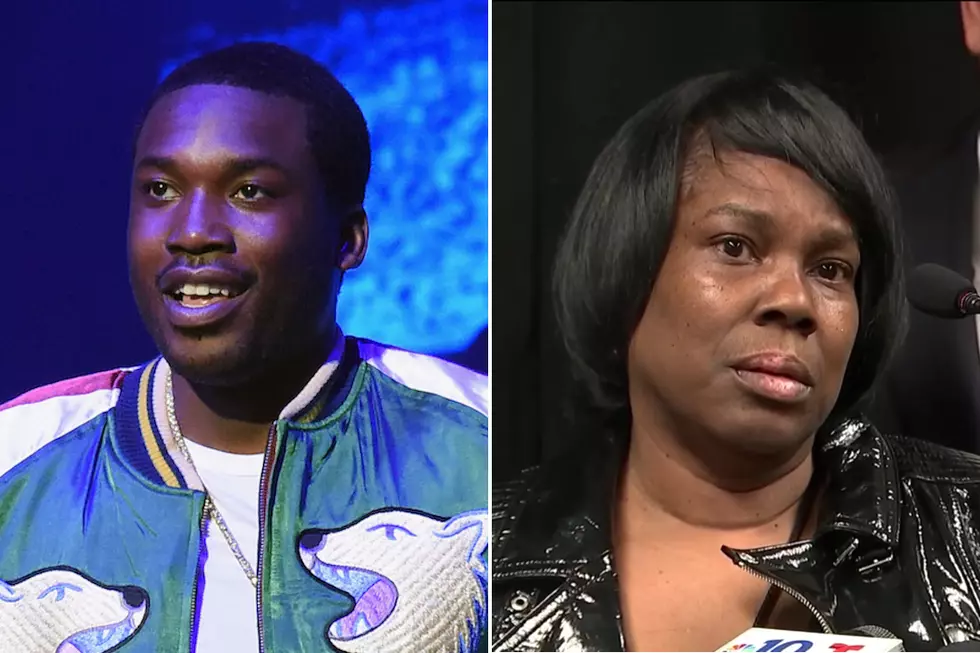 Meek Mill's Mother Pens Emotional Open Letter to the Justice System
Rick Diamond, Getty Images/CBS Philly via Youtube
Meek Mill is still behind bars due to his probation violation, but supporters of his release following controversial prison sentencing are working hard, none more so than his own mother. Earlier today (March 26), Billboard released an emotional open letter that his mother, Kathy Williams, penned to Lady Justice (meaning the justice system) pleading for his freedom.
The letter begins with Williams writing about her previous faith in America's justice system, but after the treatment of her son, she no longer feels that it serves to help others receive fair trials and verdicts. She also mentions that the death of Meek's father at a young age took a large toll on him.
"I was always taught — and always believed — that you, Lady Justice, were fair, impartial and balanced," she begins. "That was until you took my son from me at the tender age of 19. His whole life he was struggling with the death of his father and the void of my presence since I worked three jobs to keep the lights on. In fact, he would hardly utter a word and mostly stayed quiet until he started rhyming."
She continues on to say that Lady Justice has "failed" Meek, and has allowed corruption "at the highest levels of the system," and is not doing what is right. Williams believes that the Wins & Losses rapper has been scarred "physically and emotionally" by the betrayal of the justice system.
"The problem is that the justice system has failed my son at every turn and hasn't let go," she continues. "You, Lady Justice, have allowed corruption at the highest levels of the system, and cruelty and spite have cast doubt on your very foundation. You are supposed to balance fairness and blindly always do what's right, yet injustice has taken 11 years of our lives. My son had to choose between seeing his child and his mother in a hospital or going to prison. My son – who was 19 when he was introduced to the justice system – has been scarred physically and emotionally by your betrayal, and now you threaten his own son's sense of security."
"Today feels heavier because, now that the truth has finally been revealed, for some reason Lady Justice you are not weighing in. Where are you?" she asks. "The District Attorney and Governor Wolf had the courage to say let my son out of prison due to this injustice. You've taken his innocence and abused his pride. He's suffered loss of family and freedom. No human being should know his truths and be accosted by lies and false judgment under your shelter."
Finally, Meek's mother pleads to Lady Justice to release her son after he has suffered his "unjust punishment."
"On behalf of every mother whose son suffers the cruelty of unjust punishment, I now beg you to hear the words of the DA and the Governor and release my son," she concludes.
We will keep you updated on Meek's case as details progress.
See Photos of Meek Mill's Different Looks Over the Years