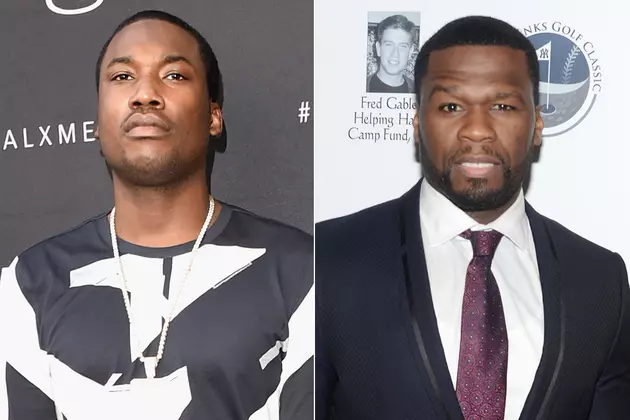 Meek Mill Says He Met Up With 50 Cent and They Squashed Their Beef
Noam Galai / Jason Merritt, Getty Images (2)
Meek Mill put out his latest LP, Wins & Losses on Friday (July 21) and has been on an NYC press run in promotion of the project. He recently checked in with The Angie Martinez Show and revealed that he no longer has issues with 50 Cent.
The problems between the two rappers seemed to start in late 2015, when Meek commented on a video of G-Unit horsing around. 50 did not like the jokes and responded in typical Fif fashion. Meek's affiliation with Rick Ross didn't help. From then, the beef was on for weeks, mostly consisting of social media disses.
Meek addressed the friction during the lengthy interview with Angie saying, "People don't know this, I actually seen 50 Cent one day," he says at the 27:55 mark. "He coming out of the hotel. You know we going back and forth on the Internet. Believe it or not, 50 and them a serious situation in traffic. This ain't no average little light-weight rapper. 50 ain't...he ain't light weight when it come to traffic. Yo, we holla'd. We went to side like men. Had a good conversation. 'You know we both come from the streets, you know what this can lead to. You got these type of dudes with you. I got these type of dudes with me. I always looked up to, fam. I don't know how we got on this foot.'"
Apparently, the beef ended nearly a year ago, unbeknownst to the public. "He said what he had to say, I respected what he said. I said what I said, he respected what I said. That was nine months ago. We left that in the dark."
Check out the entire interview below.
See Photos of Meek Mill's Different Looks Over the Years